Who Needs An Elf On A Shelf For Christmas?
---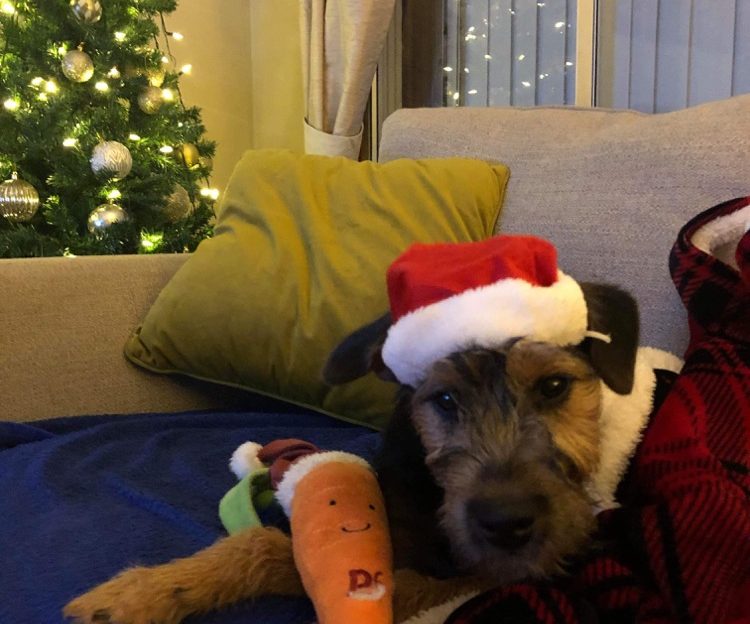 Roo getting into the festive spirit. Photograph by Yvonne McKenzie.
Any parents of young children will know Elf On The Shelf has been a phenomenon causing chaos in the lead up to Christmas for many years now.
The new-ish tradition of the elf sent by Santa to check if children are being naughty or nice began on the back of American mother and daughter team, Carol Aebersold and Chanda Bell, writing a storybook of the same name.
Ever since that publication in 2005, the elf has found his way into more and more homes, wreaking havoc. His mischievous ways see him doing everything from messing about with festive decorations, to filling his boots from the biscuit barrel leaving a crumbly trail behind him (much to the amusement of little ones).
This year, our household is enjoying our own little mischief-maker. That's a puppy by the name of Roo.
Naughty, or nice?
(I have to admit there are times when "Rue The Day" springs to mind. Particularly 4am toilet trips to the garden, or when he's using my arm as a teething stick).
This little fellow has turned our house — and lives — upside down.
There's now a safety gate installed at the foot of the stairs, which our resident cat, Peaches, has been happy to barricade herself behind.
The traditional real tree has been replaced by a fake, as Roo vacuums up everything in sight and I know pine needles would not be a great addition to his diet.
Our festive decorations include snowmen and reindeer, but I fear the enthusiasm shown for them by our four-legged rascal will soon have the stuffing knocked out of them.
No need for Santa to check Roo's name against that Naughty or Nice list twice!
However, throughout all the turmoil and upheaval our little bundle of fur has created, we wouldn't be without him.
Top of my wishlist from Santa this year is that the frosty reception our cat greets our dog thaws before spring.
Looking on the bright side, we certainly have no need to join the army of households with a Christmas elf, we have enough mayhem as it is, thank you!
---
For more from the "Friend" team, click here to read our blog.