Book Review: "The Foundling" By Stacey Halls
---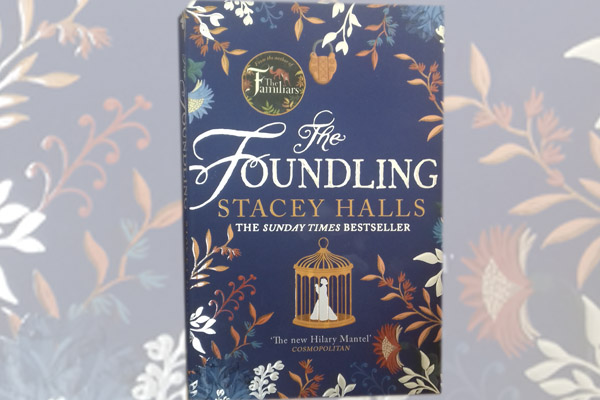 Photograph by Lucy Crichton.
"The Foundling" begins in Georgian London, in November, 1747.
Bess Bright has discovered that she's with child. Unmarried, and poor, the best option for girls in her predicament is the Foundling Hospital.  Founded by Sir Thomas Coram in 1739 to look after babies whose parents were unable to care for them, admittance was by lottery, as demand exceeded available spaces.
Although she's sad to be asking for the chance to leave Clara in their care, Bess sets her mind to patiently saving the money needed to reclaim her. Like the other mothers, Bess also leaves a token by which Clara can be identified.
Who has taken Clara?
Six years later, Bess returns. What she fears most is that Clara has died; what she wasn't expecting to hear was that Clara has already been claimed, allegedly by Bess — the very day after she'd been left there.
Who has taken Clara? Why? And where is Clara now?
A meeting at the Hospital leads to an offer of employment for Bess — as nursemaid to Charlotte, whose mother Alexandra is widowed.
Agoraphobic, widowed Alexandra is a complete contrast to capable Bess.
She rarely leaves the house, unable to touch or interact with her daughter meaningfully on any level. Alexandra and Charlotte are recluses, to all intents and purposes, with only the servants and family doctor allowed into the house.
Whilst caring for Charlotte, can Bess solve the mystery of who took Clara, and why?
The characters are splendid
The characters are splendid. Icy Alexandra and strong, able Bess, with her ne'er-do-well brother, Ned, and kind, reserved father, Abe.
The settings spring from the page. Georgian London, a tale of two cities, one of wealth and privilege and the other of squalor and misery.
Stacey Halls splits her book into four sections, alternating between the lives of Bess and Alexandra.
Well-researched and touching, it makes for a gripping read. And what a beautiful cover, too!
---
For more on Stacey Halls, click here.
For more book reviews from the "Friend" team, click here.