A Moment Of Joy For Our Close-knit Friends
---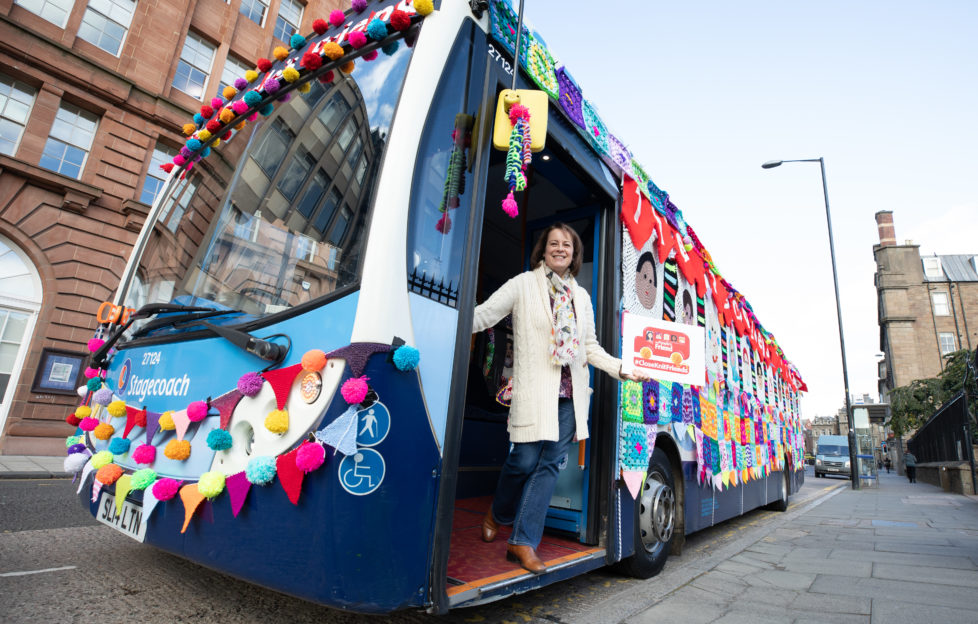 Photograph by DC Thomson Ltd.
Back in September, our colourful yarn-bombed bus set out on a mission to spread cheer to our Close-knit Friends across Great Britain.
In the midst of what was an incredibly difficult year for everyone, our expert knitter Emma Leith and her team, with a little help from wonderful "Friend" readers, knitted and crocheted a vibrant design big enough to cover an entire bus!
Its travels began in the south of England. And despite a few unfortunate but necessary last-minute tweaks to the schedule due to the pandemic, the bus made its way from Torquay to Barnsley, on to Cumbria and finally to Dundee, home of the "Friend".
The reaction from the residents and staff was overwhelming
Gillian Lamont of creative agency Wire, who accompanied the bus on its journey, can testify that the bright and cheerful vehicle raised many smiles as it made its way up the country.
"After such a difficult year, it felt like the bus was a moment of joy for many people.
"We visited around ten care homes whilst we were on the road. Getting to see the reaction from the residents and staff was overwhelming.
"There were many highlights, but one that sticks out is when we went to Balhousie Care Home in Dundee.
"Three ladies that were coming out to see the knitted bus did their hair and make-up specially. They knew they were getting their picture taken!" Gillian says.
However, the journey didn't end when the bus finally reached Dundee.
With a bus-load of wonderful hand-made knitting suddenly going spare, we wanted to find a new home for it.
"There was a huge amount of time and effort that went into creating the eighty-feet-long knitted wrap by the 'Friend' readers and Emma Leith and her team of urban knitters.
"We were able to recycle the knitted squares into smaller sections. This meant we could donate around twenty-five blankets to the Cats Protection charity," Gillian explains.
Cats Protection is the UK's largest feline welfare charity and helps around 200,000 cats and kittens every year. The charity rehomes cats, campaigns on cat welfare issues, educates the public on cat ownership and much more.
Cats Protection is a charity we have supported for years here at the "Friend".
Donations continue to spread happiness
Our readers have kindly knitted and crocheted toys, blankets and beds for the cats in its care over the course of several of our Love Darg campaigns.
Now, the charity has a fresh batch of repurposed blankets, made with love by our fantastic friends.
And that's not all.
We sent the bunting from the bus to the care homes we visited on the tour. We hope it helps to brighten them up a little!
"The residents who got to see it in person often commented on how much work must have gone into creating the knitting. So it was nice to be able to donate it to them for their enjoyment," Gillian says.
We hope our readers will be pleased their fantastic donations have not gone to waste, and continue to spread happiness.
---
For more on our Close-knit Friends campaign, click the tag below.