Nutella + Cocoa Breakfast Oat Muffins
---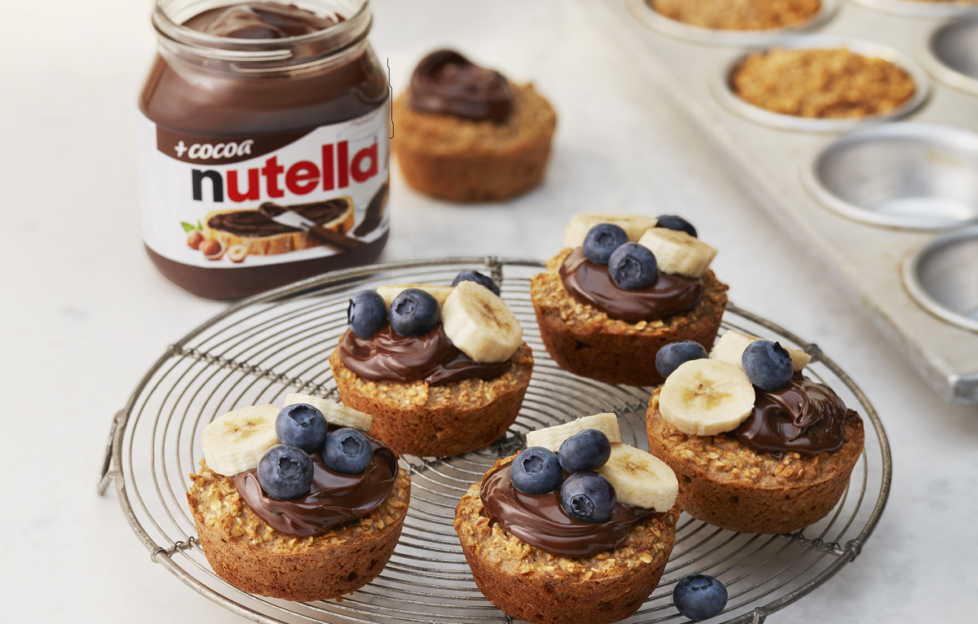 Image courtesy of Nutella.
Ingredients
75 ml (2½ fl oz) rapeseed oil
2 large eggs
3 bananas, peeled and mashed
60 ml (2¼ fl oz) oat milk
100 g (3½ oz) wholemeal or spelt flour
115 g (4 oz) oat flour
35 g (1¼ oz) rolled oats, plus a little for sprinkling on the top
50 g (1¾ oz) pecan nuts, chopped roughly
1 tbs baking powder
Pinch of salt
1 tbs soft brown sugar
4 heaped tsp Nutella + Cocoa per portion, about 15 g (½ oz)
To Decorate (optional): sliced bananas and berries.
Recipe courtesy of Nutella.
Today is World Nutella Day!
Now, some of these holidays are a little silly, I'm sure you'll agree . . . but World Nutella Day is one we can get behind!
If you're still on the fence, try these Nutella + Cocoa Breakfast muffins. We guarantee you'll change your mind . . .
Method:
Pre-heat the oven to 180 deg. C., 350 deg. F., Gas Mark 4, and line a 12-hole muffin tin with muffin papers.
In a large bowl, beat the rapeseed oil, eggs and bananas together.
Add the flours, oats, pecan nuts, baking powder and salt. Carefully fold all together, being careful not to over-mix and make the muffins tough.
Divide the batter evenly between the muffin cases, filling each to about two-thirds full. Sprinkle the tops with the reserved oats and a sprinkle of soft brown sugar.
Bake for 20 to 25 minutes until risen, golden and a cocktail stick placed in the centre of the muffin comes out clean.
Remove the muffins to a cooling rack to cool.
Top muffins with a portion of Nutella + Cocoa. And extra fruit, if you like!
Nutella would also go wonderfully well with our Manon's Chandeleur crêpes! Try them out here.
---
For more recipes from "The People's Friend", click here.