Features Sneak Peek: February 13, 2021 Issue
---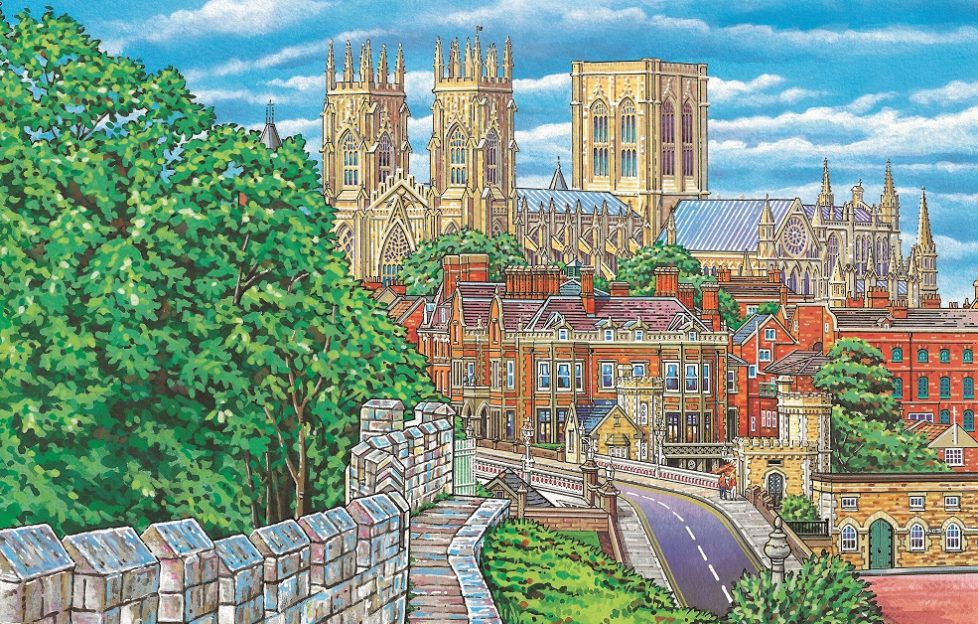 Illustration by DC Thomson Ltd.
The latest issue of "The Friend" is in shops tomorrow so here's a sneak peek at the features we have for you this week.
Neil McAllister discovers the twists and turns hidden in the mediaeval city of York.
Within the ancient walls, York is ideal to explore on foot, small enough to amble around, but packed with interest, with many places to stay.
The Shambles is York's most famous lane, where we find the Harry-Potter-themed Shop That Must Not Be Named.
We will also visit York's Chocolate Story, a tempting attraction which explains the story of cocoa from its Mayan roots.
Other popular attractions on our itinerary are the JORVIK Viking Centre and the National Railway Museum, home to a vast array of locos, carriages and wagons from almost two centuries of rail travel.
Boots And Beards
Garry Fraser laces up his boots for a chat with Kashif Butt, founder of Boots And Beards, the club that's getting its members out of the house and into the hills.
The group first started as a family project in 2015, with members of Kashif's family getting together and going for an early morning hill walk every two weeks.
After receiving lots of comments on social media, the group expanded into the wider community.
Kashif and fellow founder member Zain Sehgal have adopted a user-friendly three-tier system – family walks, intermediate and tougher hikes for Munro baggers.
Washed Up Cards
Mairi on the Features team discovers a greetings-card business with a difference.
As the UK went into lockdown last year, Flora Blathwayt posted cards through her neighbours' doors in Peckham, offering help in any way she could while restrictions were in place.
The cards were handmade, featuring designs using pieces of plastic she had picked up on a beach clean. When Flora's neighbours told her how much they loved the cards, with one even saying he would pay money for them, a project presented itself.
Flora called her new venture Washed Up Cards. Flora brainstorms quirky designs for her cards based on the plastic she finds. She wants the designs to be very uplifting, especially in the times we're in now, and make people smile.
Fencing Fun
Mairi Hughes learns more about how the sport of fencing has kept retiree Joy Fleetham on her toes.
When Joy retired at the age of sixty-three, she spotted an advert in her local newspaper seeking new members for the town's fencing club. Her first trip would be the start of a new-found passion.
Now, twenty-four years later, she is still fencing. In fact, at the age of eighty-seven, Joy believes she is the oldest active fencer in the whole country.
That doesn't hold Joy back. She recently beat a seventeen-year-old boy!
Guide Dogs At 90
For decades Guide Dogs has transformed the lives of people with sight loss, as Janey Swanson discovers.
The organisation was founded in 1931 and since then it has helped almost thirty thousand people achieve life-changing independence. Today there are approximately 5,000 guide-dog partnerships in the UK.
To commemorate the 90th anniversary, Guide Dogs is planning a number of special events throughout this year.
Elsewhere, we celebrate fifty years of decimalisation, and we have a pattern to make a beautiful spring crochet wreath. Plus we have a feast of delicious recipes to mark the Chinese New Year. Enjoy!
---
Has this sneak peek encouraged you to subscribe to the "Friend"? Click here. This will mean your "Friend" will come straight to your doorstep! 
You can also take out a digital subscription, meaning your issue will come straight to your computer, tablet or phone! And it's great value for money. Click here for more details.
We also take a regular sneak peek at our Specials. Click here for more on Special 204, on sale this week.