"O Pioneers!" by Willa Cather
---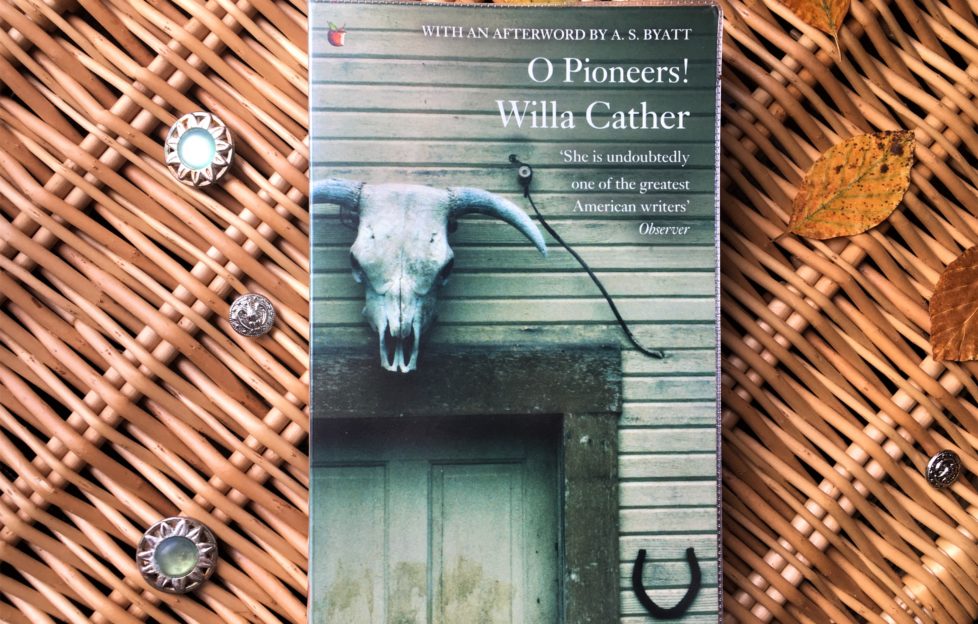 Photograph by Kirsty Souter.
"O Pioneers!" by Willa Cather is one of my favourite (modern) classics.
Published in 1913, the language is beautifully descriptive without being heavy.
And it tells a universal story; one of survival, family, tragedy, strength in adversity — and hope.
"A pioneer should have imagination, should enjoy the idea of things more than the ideas themselves"
The novel opens and we meet the Bergson family; settlers to "the Divide", a hard and punishing area of the American prairie. John Bergson, the patriarch, is dying.
He and his family arrived from Sweden eleven years prior. Attempting to tame his acres of inhospitable land, they experience sickness, debt and death.
On his deathbed, he calls for the eldest of his four children, Alexandra. She is the one who will be responsible for his property and her three brothers after his death.
For three years, the Bergsons begin to prosper, and then a series of poor summers leave the area demoralised, and many in debt. Alexandra's best friend Carl leaves with his father to find work in the city.
Unwilling to give up on her land, Alexandra makes some tough decisions and favours some experimental planting to try and save the homestead.
What follows is a time skip of almost sixteen years. The reader is reintroduced to a transformed Divide, which thrives, and boasts several different immigrant communities.
Of course, it's not all a bed of roses. There are the usual to-dos over wealth, inheritance and so on. The mix of immigrants from Scandinavia and Bohemia provide lots of fodder for dramatic tension.
The sudden reappearance of Carl leads Alexandra to question the direction that the rest of her life will take.
Her youngest brother, Emil, also returns home. Now finished with university, he finds himself restless on the land that his sister loves so much.
Unfortunately his restlessness and wandering spirit may have consequences that no-one could have foreseen.
The story isn't really about the land, it's about Alexandra
"O Pioneers" is a relatively short novel, and by all accounts, relatively light on "plot". At times it's almost a slice-of-life series of episodes where we're introduced to Alexandra's neighbours, her brother's new wives and children, and the various other characters who populate the Divide.
It's a rather romantic vision of America's pioneer past, but the enjoyable twist for me was the central character herself.
At first, when I was reading, I thought the fact that the novel spent roughly 50 pages talking about the tribulations of settling the land, and then skipped ahead to a sort of farming utopia was a very odd choice.
But the story isn't really about the land, it's about Alexandra. And I soon found myself absolutely enthralled by her story.
Alexandra is an unflappable woman-of-action, breaking nineteenth-century gender roles. She works her land just as any man would; cultivating her crops where others have failed.
A lifelong spinster, her long drawn-out love affair is not with a man, but with the land itself.
As the novel goes on, we also learn of another short-lived and explosive love affair that threatens the very foundations she's spent her whole life setting down.
The characters really allow this novel to shine
As a whole, I found this a really refreshing read.
At first, I had no idea that it had been published in 1913, thinking it was much more modern.
While the story itself might be idealised, skipping neatly over a long decade of drudgery for the pioneers, you don't even mind
The writing is engaging, and the characters really allow this novel to shine.
With its sense of growth and success from hopelessness, and Alexandra's quiet endurance, it's actually the perfect read coming out of a long dreary winter, with seemingly never-ending nights.
It's definitely a classic I'd recommend to anyone who says they won't read classics!
Revisiting the classics
I was really interested to read an explosion of articles discussing the sudden rise of people reading classic novels at the beginning of lockdown last year .
Braver folk than I took the time to tackle tomes like Tolstoy's "War And Peace" or George Eliot's "Middlemarch".
Other more aptly chosen titles rose in popularity, including "A Journal Of The Plague Year" by Daniel Defoe or "The Decameron", a collection of stories from the 14th century – as told by a group of people sheltering from the plague in Florence. (I may even be a little guilty of this sort of reading myself, as I did re-read Edgar Allan Poe's "Masque of the Red Death"!)
It can be reassuring to read an old book and find out that there are experiences and lessons that are still applicable to today.
---
For more book reviews from "The People's Friend" team, click here.
To buy "O Pioneers!" from bookshop.org, click here.