Knitting Preview: April 17, 2021 Issue
---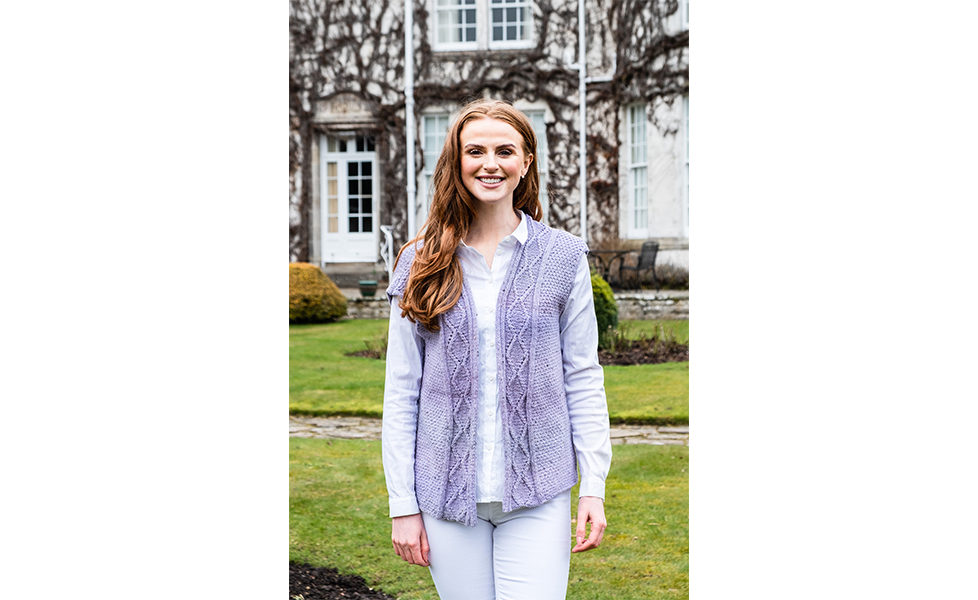 Photograph by Ally Stuart.
Our knitting preview features a peek at the versatile gilet from this week's issue of "The People's Friend". Perfect for our changeable climate!
This diamond-patterned gilet comes in a large range of sizes from 76/81 cm (30/32 ins) to 127/132 cm (50/52 ins). The front borders are designed to roll over, creating a firm edge.
The border pattern is worked over a 20-row repeat with rib either side. The back is a rib and textured pattern throughout.
There is no armhole shaping, just basic shoulder and neck shaping, so this will work up very quickly.
The yarn we have used is Rico Fashion Cotton Light & Long Tweed DK in Purple Haze (014). This yarn is a soft cotton mix. Its lightweight chainette construction includes tweed neps and, as you knit, it creates a gentle colourful gradient.
You can view alternative shades and order direct from www.blacksheepwools.com.
This gilet makes the perfect extra layer and is the perfect choice for indoors or out. We think it is a great addition to a spring wardrobe and hope you love it, too.
---
Knitting preview piqued your interest? Click here for more great craft content, including Lisa's adventures with watercolour painting!
Or you can subscribe to "The People's Friend" here. That way you'll never miss another one of our great patterns and projects!
A digital subscription means you can download every issue straight to your laptop, tablet or phone. Try it today.