"His Queen" By Mrs Neish
---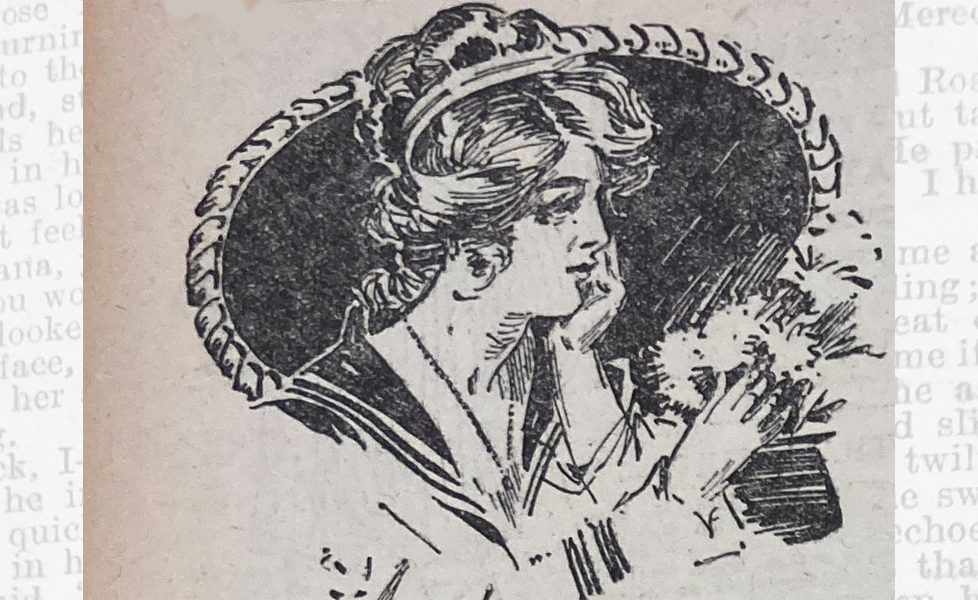 Illustration by DC Thomson Ltd.
This is part one of "His Queen", by the intriguingly named "Mrs Neish".
We're not sure who Mrs Neish is, but one thing's for sure: her story is very good!
We'll publish the second and concluding part of "His Queen" in next week's Fiction newsletter.
Hopefully you won't mind waiting!
---
Diana Seymour looked up from her book with a smile.
"Yes, Jane, what is it?" she asked.
The maid handed her a note.
"This has just come, miss — by hand. There is no answer."
Diana took the note, her face flushing as she took it.
"Thank you," she said quietly, and Jane left the room again.
Diana tore open the letter.
Dear Diana,

I am coming to see you this afternoon at four, if I may. I think you have guessed why I am coming.

Yours,

Richard Meredith
Diana laid the note in her lap, then she took it up and read it over again and again.
"I think you have guessed why I am coming."
Of course she had guessed, yet, even while hoping, she had never dared believe until this very moment that it could be true.
He cared then, and it had only been her fancy that his manner was not exactly that of a lover.
Oh, Dick! Dear, dear Dick! She kissed the little note passionately once of twice, and glanced hurriedly up at the clock. It was already a quarter past three, and he would be here in three-quarters of an hour.
Diana moved restlessly about, and crossing the room, looked out of the window of the little flat where she and her sister lived together, then ran lightly down the stairs and called a man who was passing with a cart of flowers.
"Yes, I'll have those wallflowers," she said, "and one bunch of forget-me-nots, and one of narcissi."
As she carried her fragrant burden up the stairs, she met her sister coming down.
"Are you going out, Rosemary, darling?"
"Yes, Di, have you forgotten it's my singing lesson day. What delicious flowers, and how extravagant to buy so many."
"Yes, wasn't it?" laughed Diana, "but they looked so lovely I really couldn't help it."
She fastened a few forget-me-nots in her sister's coat as she spoke, and ran up the stairs again to the sitting-room.
The very room itself seemed transformed, so great and potent is the power of Love. Diana walked about, putting her deft woman's touch on a cushion here and a flower vase there; then she sat down for a moment to reconsider her new and lovely happiness.
It seemed almost impossible that Dick Meredith should have written so suddenly — yet was it so sudden? Had she not expected it? She blushed deeply as she recalled the warm pressure of the strong, firm hand, and she remembered again the eager way he had greeted her when he met her suddenly one day in Bond Street, and how disappointed he seemed because she had promised to be home early, and could not stay to have tea with him.
Had he been going to tell her then, she wondered happily; but of course he had. What a lovely world it was, the world that held Dick.
She started when the electric bell rang suddenly, and her heart beat almost uncontrollably.
She rose impulsively to her feet, and, turning, held out a trembling hand to the man who came quickly in, and, striding across the room towards her, took the slim white hands in his, and said in a voice that was low and vibrant with life's deepest feeling —
"Diana, you know what I've come for — you won't refuse to give it me?"
She looked up at the strong, handsome face, and her heart thrilled within her at the eager note of questioning.
"Dick, I —"
But he interrupted her, speaking in his quick, intense way, and still holding her hand in his —
"Diana," he said, "you must have seen I loved her, you who have been a mother and more than a mother to her, and who love her so dearly. You must know how dear she is to me. Will you, can you trust her to me; can you, Di, dear?"
"Oh! I don't know." Diana involuntarily drew her hand away, and Dick Meredith looked at her in some amazement, a little hurt at the note of real anguish in her voice.
"Diana!"
"Oh, you must give me time!" She spoke quickly, almost shrilly, and suddenly a life-long habit of quiet self-control came to her help.
"Of course, Dick," she faltered, "if—if you think she loves you."
"I do think so," he said quietly; "I am almost sure of it."
"She—she has never said anything to me," said Diana faintly, "but I daresay you know."
"May I speak to her? I came to you first, Di, because she is so young and childish. I couldn't startle her, I want you to help me."
Diana's heart grew cold and sick within her, but she made an almost superhuman effort to hide her feelings. This would be the crowning agony if Dick guessed; it would be unbearable.
"I will speak to her if you like," she said, "but won't you ask for yourself?"
"Dear Di, I'm afraid. I'm an arrant coward with girls — you're different, you know, you've been so sweet to me."
Diana looked away from him for fear he should see the dumb and silent misery in her eyes.
"I feel with Rosemary, that she might laugh at me, she is so gay, so clever and witty, and I always feel such a clod beside her."
"Nonsense!" Diana spoke almost sharply, and again Dick wondered a little at her voice.
"You must go away now," she said. "I—I have a bad headache. I—I will speak to Rosemary, and she will write to you."
"Will you wire me, Di, I'm so anxious. I don't want to be snubbed and refused, but if she loves me . . ." he raised his head and gave a boyish laugh, "dear Di, if she loves me, I cannot wait a single minute to hear it."
He went at last, and Diana sank in the chair where less than an hour ago she had sat awaiting him.
She did not cry, it was not Diana's way to cry — that would have been what Rosemary would have done. She only sat very still, her face set and white, and her hands clasped tightly in her lap, and presently a gay voice broke in on her tortured thoughts.
"Hullo, Di, darling, what are you doing in the dark?"
"I was just idling," said Diana, speaking as lightly as she could.
"It doesn't sound like you to idle," laughed Rosemary. "I've had such a lovely afternoon, Di, darling! Madame Bettini said I'm getting on splendidly with my singing, and she kept me on to tea, and Mr Morton came in and sang divinely, and he and I sang duets, and oh! I'm so tired!"
Rosemary took off her hat as she spoke, and throwing it lightly on the sofa, sank on to a low chair at Diana's feet, and rested her pretty head against her sister's knee.
"Darling, I want to speak to you," said Diana slowly. "Dick Meredith has been here this afternoon."
"Has he?" Rosemary said eagerly. "Did he say anything about taking us to the Coliseum on Saturday? He promised he would, to see Genee, you know. I hope he is going to take us. Is he, Di?"
"He did not come about the Coliseum, Rosemary. Listen, darling; I—I want to talk to you."
Diana, with a great effort, steadied her voice.
"He came to ask me if he thought there was any hope for him if he asked you to marry him,"
Her voice faltered slightly in spite of herself; but the merciful twilight shadows hid the tortured look and the sweet grey eyes.
"Marry me!" echoed Rosemary, in such obvious amazement that Diana drew a breath of quick relief. Then her voice grew very sweet and tender.
"Rosemary, don't you love him, darling?"
There was a note of keenest anxiety in her voice, yet she scarcely knew what she wanted her sister to say.
She was glad that Rosemary had not expected this, and yet so great and unselfish was her love for Dick Meredith that she wanted only to know he was happy.
"Love him!" said Rosemary. "No, of course I don't; why, I'm in love with Jack Morton. I was only waiting to tell you, Di."
She hid her face with a little caressing movement against her sister's knee.
"Oh, Di, I love him so dearly — and I'm so hopelessly happy, because I know he cares."
"Because I know he cares!" These words echoed and re-echoed through Diana's heart. If only Dick had cared for her, how proud and glad she would have been to make him happy.
"Rosemary, he will be so hurt, so cruelly hurt!"
But Rosemary laughed a clear, girlish laugh that held no unkindness, only a little light amusement.
"My dear Di, no man's hurt lasts for very long. Di," she added, "do let me talk to you about Jack Morton. You do like him, don't you, darling?"
"Yes, Rosemary, of course I like him,"
Unknown even to herself a note of gladness had crept into her voice, and bending she kissed her sister's face.
"But, dear, you will write to poor Dick tonight, won't you?"
"Not I," said Rosemary. "You're the medium, Di, and you must do the dirty work. But never mind kind poor old Dick just now. I only flirted a very little with him — he's much too old and too solemn for me. I want to talk about my Jack. Do let me tell you all about it."
It was written at last, the little letter that looked so cold and bald:
Dear Dick,

I am sorry, but Rosemary does not love you. I am very sorry, but I know it is of no use, for she loves someone else.

Yours sincerely,

Diana Seymour

P.S. — please forgive me for hurting you. I know you will not blame my little Rosemary.
---
To be continued next week!
In the meantime, find more fantastic fiction content by clicking here.