Knitting Preview: June 19, 2021 Issue
---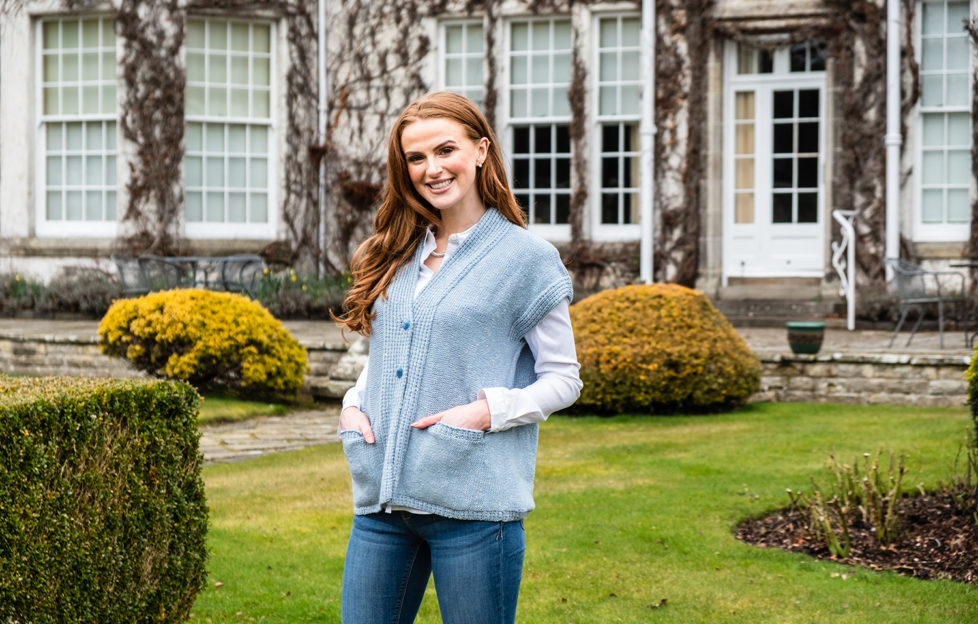 Photograph by Ally Stuart.
Have you ever tried knitting a waistcoat? It's a winner all year round!
We have a smashing waistcoat for you this week featuring wide borders and two pockets for a casual, informal look.
This waistcoat features King Cole Cotton Top DK, a mix of cotton and acrylic, which is very comfortable to wear. The flecked yarn comes in 10 alternative shades so if blue is not your choice, check out the other shades at www.kingcole.com. You can find your nearest stockist there, too.
Instructions are available for sizes 76/81 cm (30/32 ins) through to 127/132 cm (50/52 ins).
Actual size is around 17/12 cm (6½/4½ ins) bigger so your usual size will give you a good fit over a layer.
We have graded this as an easy design. It is mostly worked in reverse stocking-stitch (purl 1 row, knit 1 row) with the wide borders worked in a broken rib pattern (one row K1, P1 rib, one row purl).
The pockets are simple to do, but if you don't want them, just continue up the front and omit the place pocket lining instructions.
Finally, two buttons complete the look.
We hope you love our casual waistcoat, designed with your comfort in mind.
---
Knitting preview piqued your interest? We have lots more great craft content.
Or you can subscribe to "The People's Friend" here. That way you'll never miss another one of our great patterns and projects!
A digital subscription means you can download every issue straight to your laptop, tablet or phone. Try it today!