Picnic Week: Pea and Feta Salad
---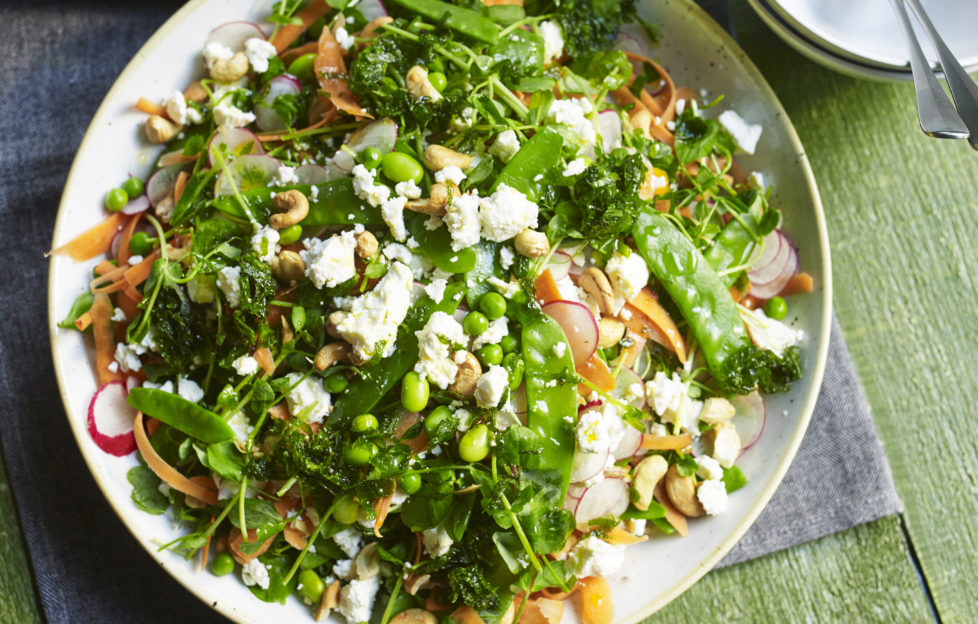 Image courtesy of The National Trust.
Ingredients
125 g (5 oz) mangetout
200 g (8 oz) peas
200 g (8 oz) edamame beans
120 g (5 oz) radishes, sliced thinly
150 g (6 oz) carrot, sliced thinly
150 g (6 oz) fresh pea shoots, chopped roughly
90 g (4 oz) cashew nuts
150 g (6 oz) feta cheese, crumbled
For the Dressing:
100 ml (4 fl oz) cold pressed rapeseed oil
30 ml (2 tbs) white wine vinegar
2 tsp caster sugar
35 g (1½ oz) fresh finely chopped mint
Salt and ground white pepper to taste
Recipe courtesy of The National Trust.
This Picnic Week, we have a delicious selection of recipes from the National Trust cafes for you to enjoy. Picnic Week runs from June 19-27 this year. It's the perfect opportunity to pack a tasty selection of snacks and find an idyllic spot to relax and chat!
To make dressing, place the oil, white wine vinegar, caster sugar, half the mint and a little salt and pepper to taste, in a pan. Put on the hob and heat gently on a medium heat until just simmering, remove straightaway and leave to cool.
To make the salad, in a steamer or in a saucepan of boiling salted water, lightly cook the mangetout, peas and edamame beans until al dente. Remove and rinse in ice cold water before draining.
Place the radishes and carrots into a bowl along with the remaining finely chopped mint.
Add the pea shoots and combine with the carrot and radish mix, then add the mangetout, peas and edamame beans.
Toast the cashew nuts in a dry frying-pan, taking care not to burn them; then, when cool, chop them roughly .
Lightly dress the ingredients and mix together until evenly combined.
Place the salad mix in a bowl; crumble over the feta cheese and cashew nuts.
Finish with an extra drizzle of the dressing and serve.
---
For more recipes from "The People's Friend", click here.
For another tasty picnic treat, why not try this Picnic Week: Roasted Vegetable Brioche Baguette!