Halloumi And Apricot Kebabs With Summer Couscous
---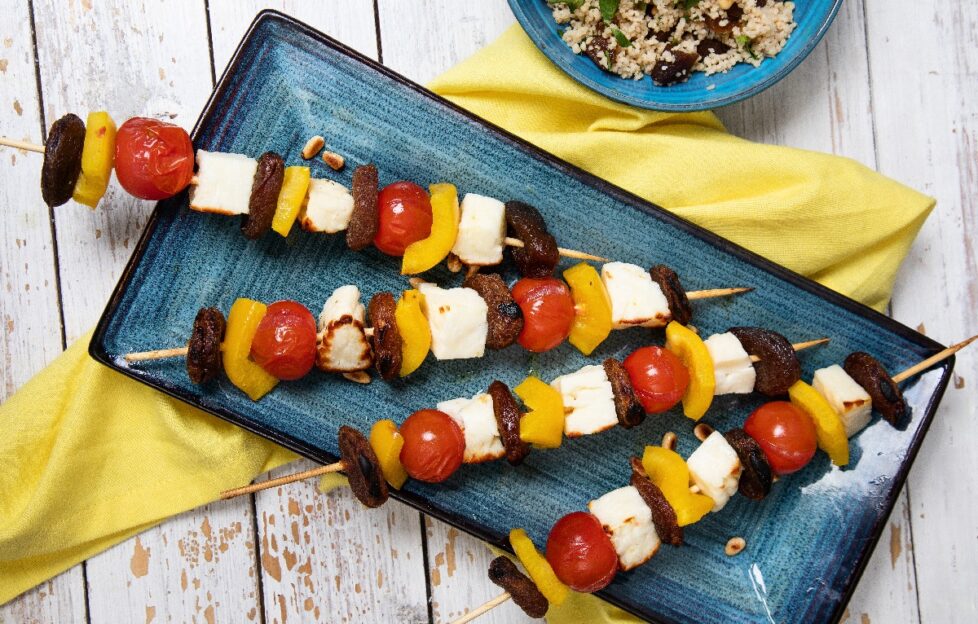 Image courtesy of Crazy Jack Organic.
Ingredients
1 x 250 g pack halloumi, cut into 12 cubes
1 yellow pepper, diced
8 cherry tomatoes
150 g (5½ oz) Crazy Jack Organic Soft Apricots, 16 left whole, remainder chopped
100 g (3½ oz) Crazy Jack Organic Wholewheat Couscous
200 ml (7 fl oz) hot vegetable stock
25 g (1 oz) Crazy Jack Organic Pine Nuts, toasted
½ x 28 g pack coriander, chopped
Salt and freshly ground black pepper to taste
Recipe courtesy of Crazy Jack Organic.
National BBQ Week runs until July 18, so we've decided to reach into our cookbook for these tasty Halloumi And Apricot Kebabs. They're perfect for a summer afternoon out in the garden!
There's just a few simple steps you need to follow to put your next BBQ meal together. Take a look below.
Method:
Place the halloumi, pepper, tomatoes and 16 of the apricots alternately on to 4 skewers.
Place on grill pan or barbecue and grill for 6 to 8 minutes, turning once until golden.
Meanwhile, place the couscous in a small bowl and pour over the hot stock. Cover with clingfilm and leave for 5 minutes.
Fluff up with a fork and stir in the pine nuts, coriander and the remaining chopped apricots.
Season and serve with the kebabs.
Serve your Halloumi And Apricot Kebabs with sunshine and happiness!
---
Keep food bugs at bay with these tips from an environmental health expert.
If you're looking for more recipes from "The People's Friend", why not try this Courgette, Sweet Potato And Chickpea Veggie Burger, or these delicious Thai Turkey Burgers? Both are great on a BBQ!
We also have plenty of other recipes, from soups to salads to steak pies. Try one today!