Irish Beef Brisket Buns w/ Home-made BBQ Sauce
---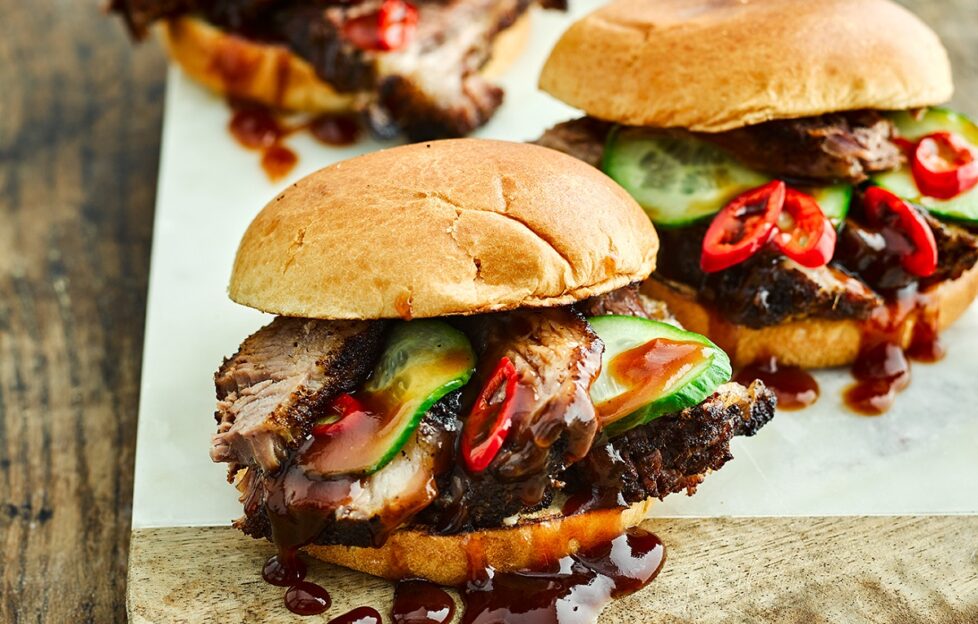 Photograph courtesy of www.bordbia.ie
Ingredients
5 kg (11 lb) Irish beef brisket
For the BBQ Sauce::
1 tsp of garlic purée
500 ml (18 fl oz) ketchup
100 ml (3½ fl oz) Worcestershire sauce
2 tbs brown sugar
1 tbs malt vinegar
400 ml (14 fl oz) orange juice, reduced to around 130 ml (4 fl oz)
2 tbs English mustard
1 tsp Tabasco
For the Pickled Cucumber and Chilli:
200 ml (7 fl oz) white wine vinegar
100 g (3½ oz) sugar
One cucumber, chopped roughly
A handful of chillies
For the Dry Rub:
2 tbs chilli powder
2 tbs mustard powder
3 tbs smoked paprika
2 tbs ground cumin
3 tbs black pepper
2 tbs garlic powder
2 tbs coarse sea salt
Recipe by chef Terry Edwards
If you haven't had Irish Beef Brisket before, a summer heatwave seems like a good time to start!
Although National BBQ Week finished on July 18, that doesn't mean you can't keep the party going with this recipe courtesy of the Irish Food Board.
Method:
Mix all the dry rub ingredients together and rub into the beef. Wrap well in 5 layers of tinfoil and allow to sit in the fridge overnight.
To make the BBQ sauce, add all ingredients into a saucepan, mix well and slowly bring to the boil. Allow to simmer for 5 minutes then set aside to cool.
To make the pickled cucumber and chilli, place the sugar and vinegar in a saucepan with 300 ml (½ pt) of water and set over a low heat until the sugar has melted. Allow to cool before pouring over the chillies and cucumber. Leave to sit in the liquid for a minimum of one hour.
When ready to cook the beef, pre-heat the oven to 165 deg. C., 325 deg. F., Gas Mark 3.
Place the brisket in the pre-heated oven and cook for 4 to 5 hours or until the core temperature reaches 160-170 deg C. when measured with a meat thermometer.
Once cooked, remove from the oven and allow to cool completely before unwrapping.
To serve, slice thin long strips then barbecue, or finish in a griddle pan, and serve with the pickle.
---
If you're looking for more recipes from "The People's Friend", why not try this Courgette, Sweet Potato And Chickpea Veggie Burger, or these delicious Thai Turkey Burgers? Both are great on a BBQ!
We also have plenty of other recipes, from soups to salads to steak pies. Try one today!