Calligraphy Fun For Lisa
---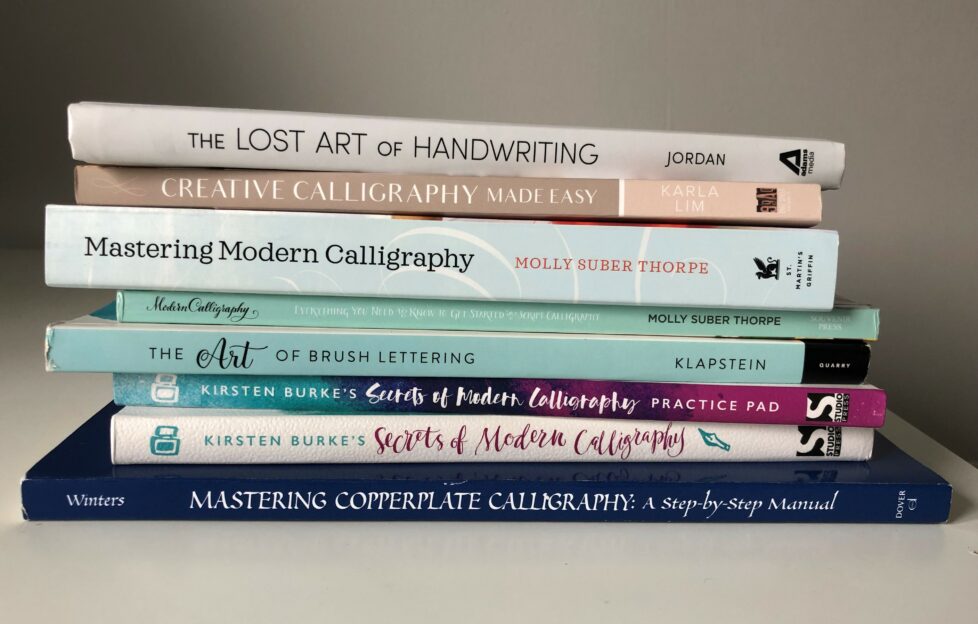 Photograph by Lisa Crow.
I recently blogged about being able to take my daughter to visit friends for a play date as Covid restrictions eased off. This week I had some calligraphy fun.
It was great to be able to tick something else off my list of things that make life feel like it's returning to some sense of normality. I attended a calligraphy class. In person. Actually sitting next to people and not looking at them through a computer screen!
As a mum of a twenty-month-old, and given the recent pandemic, being able to get out for an evening was absolute bliss. There were some nerves, though, with no-one else there to hold my hand, so to speak.
I started learning calligraphy in January, so it's still quite a new hobby. I'd been interested in learning for a while, though, having interviewed Kirsten Burke a couple of years ago.
It has been such a great pastime to have over these last few months with life a little odd – to say the least! So when I discovered there was a calligraphy practice evening at a local coffee shop, I jumped at the chance to go.
Meditative and relaxing
The thing with calligraphy is that you have to really concentrate on each stroke, applying more pressure when your pen is moving down and less when it is moving up. That's how the contrast between thick and thin lines is achieved.
Lean even just slightly too heavily on your nib and you'll find you have an ugly blob of ink on your page. Trust me, that has happened to me. A lot! The concentration required means it is meditative and relaxing, much like another of my hobbies, Zentangle.
As much as I love Zentangle, calligraphy is fast becoming my favourite hobby. Who knows, maybe one day I might even be able to sell some greetings cards on Etsy for some extra "pocket money".
Room For Improvement
I think with calligraphy, there's always room for improvement and I certainly have a long way to go before I'd ever be considered good at it.
I've joined a few courses online, though, and bought loads of books on the subject. I've probably bought too many. Shh, don't tell my husband!
But what makes calligraphy fun is you will always be learning. There are so many styles, you'll never get bored.
The courses I am taking online are fantastic, but it was so great to be able to sit in the company of other calligraphers with some coffee and cake. Jenni, the teacher, was able to give me some brilliant pointers for how to improve my calligraphy. She even inspired me to learn copperplate, which is a more-traditional, strict hand.
I had been focusing on a modern style but copperplate is more formal and I think learning that can only improve my modern hand. This is just the beginning.
If you are interested in learning calligraphy yourself, here are some of my favourite online resources, for pointed pen and brush calligraphy.
Scottish Fine Art Calligrapher | Jenni Liandu Calligraphy (jlcalligraphy.com)
Learn Modern Calligraphy, Hand Lettering & Art – The Happy Ever Crafter
Kelly Creates – Welcome to My Creative Journey
I hope you enjoy!
---
For more great craft content from "The People's Friend", click here.