Knitting Preview: July 31, 2021 Issue
---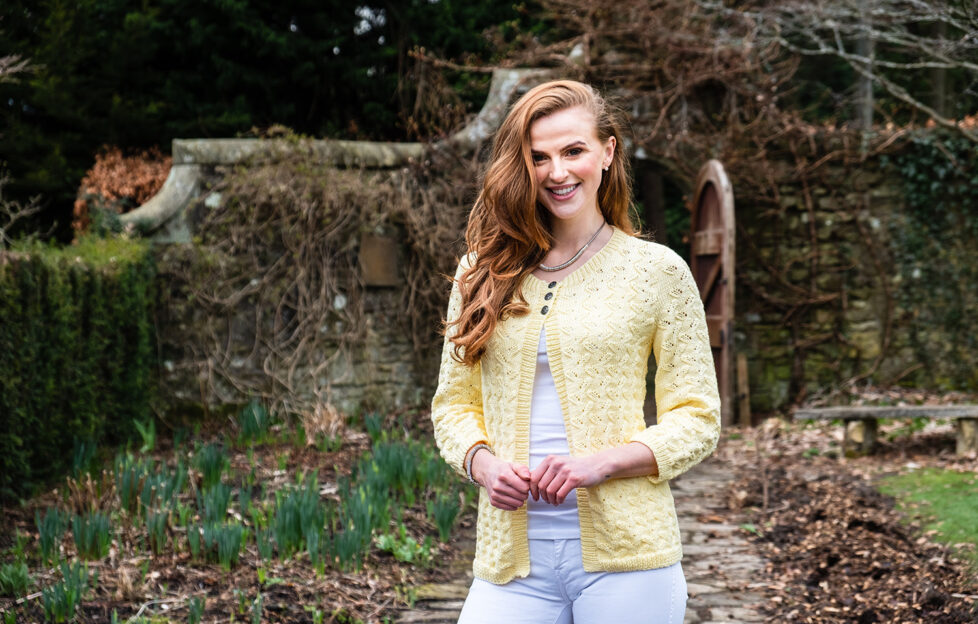 Photograph by Ally Stuart.
Bring a splash of colour to your day with a lovely lacy cardigan.
Make the most of sunny days with our lace cardigan in the aptly named Pastel Yellow (009). The yarn used is Rico Design Creative Silky Touch DK, which has a subtle, glossy finish. Although it feels very silky, it is completely vegan, and is made of high-quality micro-acrylic fibres.
You can find out more about the yarn or order direct from www.myyarnery.co.uk.
Instructions come for eight sizes ranging from 81 cm (32 ins) to 117 cm (46 ins) and actual size is around 5 cm (2 ins) bigger. We recommend you choose your usual size.
The sleeves are three-quarter length, finishing just below the elbows, very comfortable for this time of year. Three buttons compete the look.
The lace panel is worked over 9 stitches and 12 rows and uses standard lace stitches. There is nothing too difficult but you do need to keep track of where you are in the row. For this reason, we have graded our cardigan intermediate.
We named this cardigan "Sunny And Bright" because we feel it captures the fun of summer.
We hope you love it, too.
---
Do you like the look of this lacy cardigan? Subscribe to "The People's Friend" here, and you'll never miss another one of our great patterns and projects!
You can also keep an eye on our website's craft pages, or take out a digital subscription, and download our issues straight to your laptop, tablet or phone. Try it today!