Raise Your Mug For Macmillan Cancer Support
---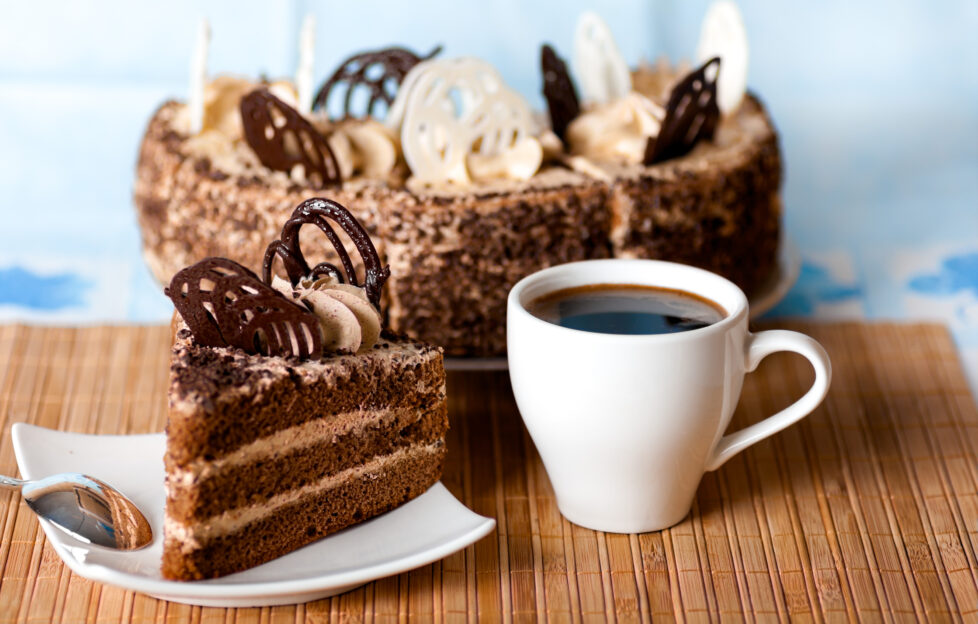 Shutterstock.
It's almost time for the Macmillan Cancer Support annual Coffee Morning fundraiser.
The official date for your diary is Friday, September 24 and it's a great way to support such a worthy cause. It also provides an excuse – if needed – for a get together with friends while sharing home baking and a chat.
One loyal supporter is Caroline, who notched up her 30th year of holding Coffee Mornings in 2020. The fifty-nine-year-old is currently putting the finishing touches to her plans for this year's event.
"A Joyful, Busy Celebration"
Since her first Coffee Morning in 2004, Caroline has made fundraising an annual event. But it's not just confined to one day. In fact, it sees her preparing almost year round!
From making countless jars of raspberry jam to sell on the day, to baking and freezing up to 60 apple pies for the event. The baking alone begins as early as June! With up to 80 guests per year (pre-Covid) Caroline describes the event as a joyful, busy celebration.
She started hosting Coffee Mornings after doctors diagnosed her father with kidney cancer. She has since seen Macmillan offer support to other friends and relatives diagnosed with the disease.
Her hard work has certainly paid off. She's raised an incredible £30,000 for Macmillan.
Macmillan's Coffee Morning Details
What Is It?
Macmillan's Coffee Morning is an annual event bringing people together to raise vital funds for people living with cancer.
When Is It?
This year the official event date is Friday September 24. However, you can hold a Coffee Morning at any time.
Why Do It?
Whatever your reason to host, it will help Macmillan directly support people living with cancer.
Macmillan is doing whatever it takes to provide vital emotional, financial and clinical support for people living with cancer who are going through a challenging time. However, almost all of the charity's funding comes from donations. It is calling on the public to take part in Coffee Mornings and raise funds to support its vital work.
Before Covid-19, many patients told Macmillan that being diagnosed with cancer and going through treatment was the scariest thing that they could imagine. These anxieties and concerns have not gone away during the pandemic. In fact, this crisis has made them worse. It means that Macmillan needs support from the British public more than ever to continue to provide crucial support.
Where Do The Coffee Morning Donations Go?
Every penny raised at a Coffee Morning helps Macmillan to provide support for people with cancer, This could include:
£10 – This could help run Macmillan Support Line, the vital phone service for cancer patients. It could lead to their welfare rights advisers helping people affected by cancer claim £355 in benefits they are entitled to.
£30 – This could pay for 50 copies of cancer information booklets, offering advice and information on sources of support. This helps people affected by cancer who may experience a wide range of emotions including fear, loneliness, and anger.
£60 – This could pay for a mindfulness session for up to 20 patients at a Macmillan cancer information and support centre.
£100 – This could pay for a health professional to attend a specialised conference on approaches to cancer treatment, run by Macmillan.
£200 – This could pay for the training of a person affected by cancer to become a Cancer Support Course facilitator. This is an accredited course which develops skills to better support other people affected by cancer.
How To Take Part
Search Macmillan Coffee Morning for more information, or sign up at macmillan.org.uk/coffee to receive a fundraising kit.
---
Help Macmillan Cancer Support by signing up now here to host a Coffee Morning on 24th September, or whenever suits you best.