Features Sneak Peek: September 18, 2021
---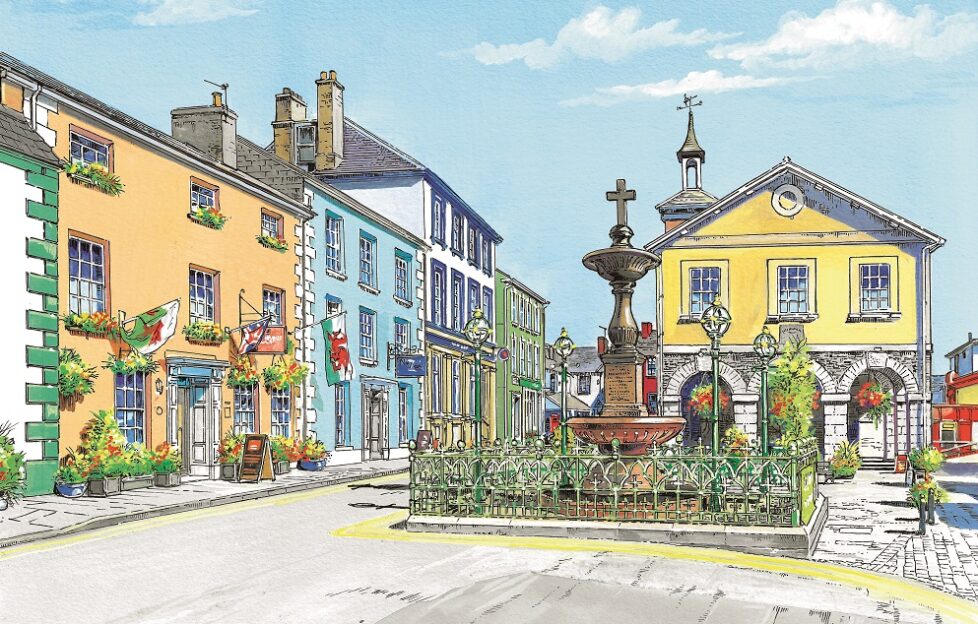 Illustration by DC Thomson Ltd.
Neil McAllister takes in history and wildlife in Llandovery in our September 18, 2021 issue.
The pretty Welsh town is a popular base for exploring nearby Black Mountain on foot, cycling, or enjoying a weekend motorbike ride.
While we're here we'll pass through Llanddeussant, home to one of Wales's most spectacular wildlife sights.
After former Manchester cabbie Peter Faulkner relocated to the area, he spotted a breeding pair of kites at Carreg Crennan Castle. Inspired by the sight, he and a local farmer set up a feeding station.
Every afternoon, eagle-eyed visitors start to spot these huge birds waiting in the trees or soaring above.
The kites are far from the only beautiful sight in the area. A wander through Cwm y Rhaeadr – the valley of the waterfalls – is just one of many examples.
Jackie Weaver
Many of us have attended work meetings or social events on Zoom over the last year without incident.
However, when a recording of Jackie Weaver's Zoom meeting with Handforth Parish Council went viral in February, she was thrust into the limelight.
The clip shows Jackie staying calm in the face of aggressive behaviour by councillors. As a result, many viewers praised the strength Jackie demonstrated.
It led to Jackie releasing a track, "Jackie Weaver's Kicked Him Out", with music producer Helen Meissner aka "Helenfonix". Gillian Harvey finds out more.
A Hare-raising Situation
It's an emotional time for Polly Pullar as her orphaned leveret prepares to leave the nest.
Polly has looked after many birds and animals, but some are more special than others. In fact, the leveret completely enchanted Polly.
In the magazine, Polly writes about the various quirks that make hares so unique.
Penny Batchelor
Penny Batchelor is on a mission. The forty-seven year-old is tired of the way those with disabilities are portrayed in fiction and is determined to change it.
Born with osteogenesis imperfecta (OI), Penny had to undergo several painful operations as a child. With limited scope for activity, Penny became an avid reader. In many books, disabled people were miraculously cured. Therefore, Penny realised many books are unrealistic.
Now a published author herself, Penny is setting out to redress the balance in the portrayal of disabled people. Gillian Harvey finds out more.
Elsewhere, we have gathered together some recipes that are good for your mood, keeping your insides – and you – happy. Plus we have a pattern to make a beautiful quilt.
We do hope you enjoy it. Let us know what you think.
---
Has this sneak peek at our September 18, 2021 issue encouraged you to subscribe to the "Friend"? Click here. If you do, your "Friend" will come straight to your doorstep! 
You can also take out a digital subscription, meaning your issue will come straight to your computer, tablet or phone! And it's great value for money. Click here for a sneak peek at that!