Fiction Sneak Peek: September 25, 2021 Issue
---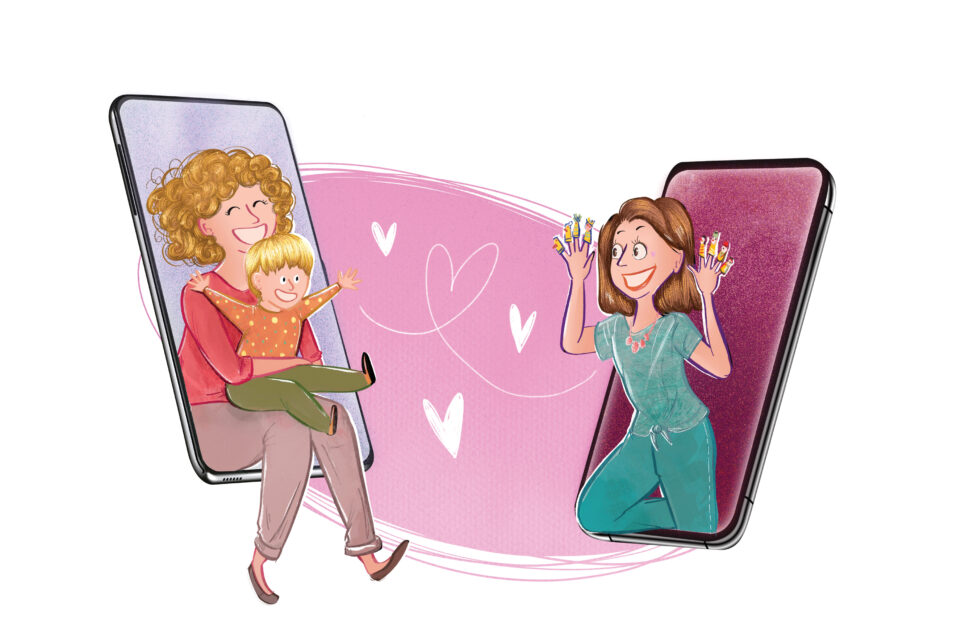 Artwork: Manon Gandiolle
Welcome! If you're wondering which stories and serials you can look forward to in our latest issue, here's our sneak peek.
In this week's opening story, Stephen visits the same hotel every year. He's in love with Gracie, the hotel's owner, but too shy to say anything… "A Yearly Courtship", by Suzanne Ross Jones, has a gently autumnal illustration by Helen Welsh.
Our next story is Deborah Tomlin's "For Ever Love".  Tessa attends her god-daughter's baptism and reflects on the love she and her late husband shared. Thoughtfully illustrated by Jim Dewar.
An auntie worries about losing her connection with her young nephew in "Screen Time", by Alison Carter. With a joyful illustration (above) by Manon Gandiolle.
We go back to late September 1944 for our next story – and a downed parachute leads to a discovery. Jessma Carter's exciting "Parachute Silk" has a striking illustration by Sailesh Thakrar.
Forty years proves to be the mere blink of an eye, in "Lakeside Reflections", by Lydia Jones. With a beautifully calming illustration by Shutterstock.
Alice decides to join a walking group in "Saturday Girls", only to discover some surprising connections! By Beth Watson. Wonderfully bright accompanying artwork by Kirk Houston.
A misunderstanding leads to a break-up in "Mixed Messages", by Fiona Thomson. Accompanied by a Shutterstock illustration.
Serials
In "Shadows Of St Morfa Hall", Zoe is preparing the stalls for the wedding fair, and wondering if Lady Alex would have approved. Lydia Jones's five-part serial, with illustrations by Helen Welsh, concludes next week.
It's finally time for the ladies' first exam, but unrest is haunting Surgeons' Hall… Part Six of "In A Class Of Their Own" by Anne Stenhouse is illustrated by Gerard Fay.
Series
Who are the mystery new home-owners in the village? All will be revealed, in Stefania Hartley's "Tales From The Parish".
And in Glenda Young's "Riverside", George and Mary are at the Ship Inn – and they have the place to themselves!