Knitting Preview: October 2, 2021 Issue
---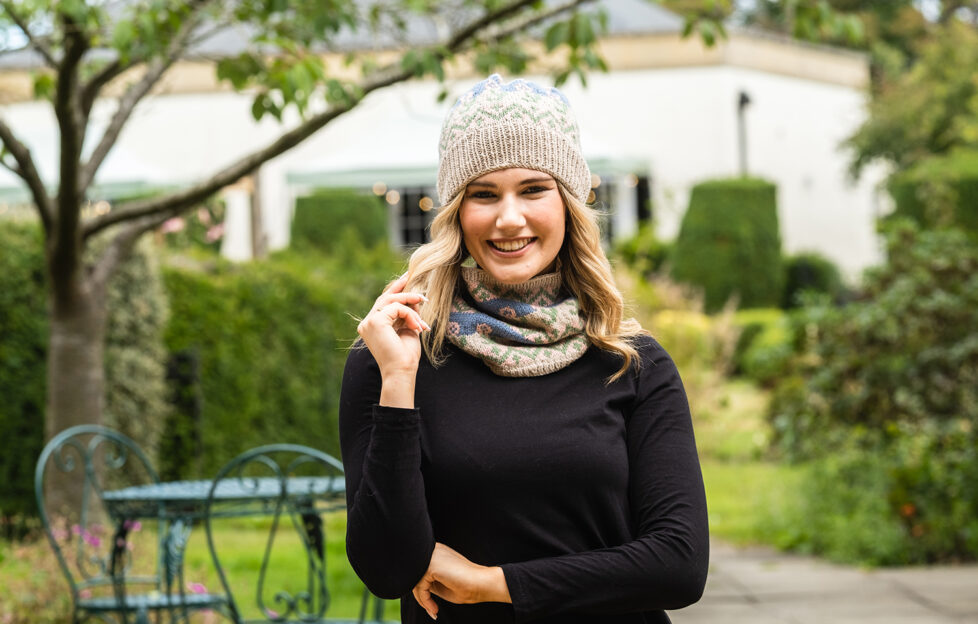 Photograph by Ally Stuart.
We have a set of stylish accessories for you this week.
Our hat and snood combination features a modern floral pattern worked in a pure wool heritage yarn.
We have chosen West Yorkshire Spinners Bo Peep Pure DK 100% Falkland Islands Wool for our set. The shades of Sand (208), Rosemary (381), Blush (287) C and River (194) all complement each other. In addition, you will need a 4.5 mm circular needle for both hat and snood and a 3.75 mm circular needle for the hat.
The yarn is available in a pack from designer Monica Russel. You can also buy a signed copy of her book, "Fair Isle Knitting" direct, too.
The Fair Isle method
Both these designs are best worked using the Fair Isle method. With this technique, you strand the yarn not in use behind the row, and catch it in every few stitches so that the loops at the back of the row are not too long.
This creates a very cosy fabric, as it is almost double thickness.
It is important not to pull the loops too tightly or you will end up with a puckered fabric. Try, too, to keep the yarns apart to prevent tangling.
In both hat and snood, the 26-row pattern is repeated throughout. The snood has no shaping and the hat has the usual decreases to shape the crown.
The bonus of working in the round is that every row is a knit one so you can focus on the chart pattern.
We have graded this duo as advanced because working colour changes takes a bit of practice. However, both designs are ideal to build up your confidence.
With autumn beginning to make its presence felt, we are sure you will love these colourful accessories.
---
If you're keen on these stylish accessories, pick up this week's issue of "The People's Friend" from Wednesday.
Or you can subscribe to "The People's Friend" here, to make sure you'll never miss another one of our great patterns and projects!