Gluten-free Cinnamon Rolls
---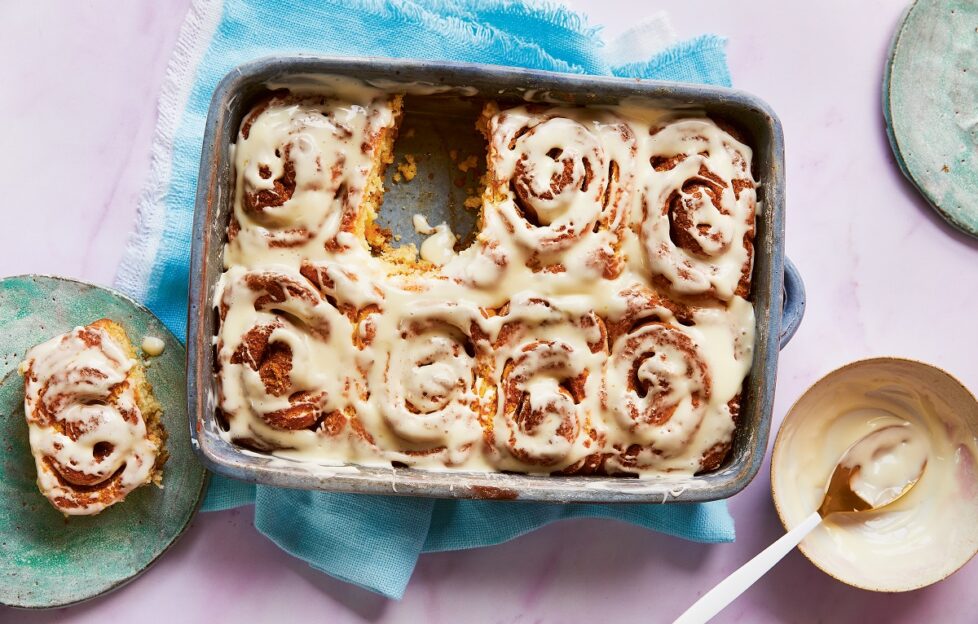 Ingredients
350 ml (12 fl oz) warm milk 
10 g (¼ oz) dried active yeast (ensure gluten-free) 
170 g (6 oz) caster sugar, plus 15 g (½ oz) 
360 g (12½ oz) gluten-free plain flour 
80 g (2¾ oz) tapioca starch (ensure gluten-free), plus extra for dusting 
50 g ( 1¾ oz) skimmed milk powder 
2 tsp xanthan gum 
2 tsp gluten-free baking powder 
15 g (½ oz) psyllium husk powder (ensure gluten-free) 
1 tsp cider vinegar 
2 large eggs 
165 g (5¾ oz) butter, melted and cooled, plus extra for greasing
For the Filling: 
70 g (2½ oz) butter, very softened
90 g (3¼ oz) light brown sugar 
1 tbs ground cinnamon
For a Cream Cheese Frosting: 
30 g (1 oz) butter, softened 
115 g (4 oz) full-fat cream cheese 
1 tsp vanilla extract 
200 g (7 oz) icing sugar, sifted 
1 tbs milk 
For a Simple Glaze:
200 g (7 oz) icing sugar, sifted
1 tsp vanilla extract
2–4 tbs milk or water
Becky Excell's new book "How To Bake Anything Gluten Free". We've featured some of our favourites in this week's issue, and here's an extra one for Becky's "real deal" gluten-free Cinnamon Rolls.
Makes 8 large or 16 small rolls
In a jug, stir together your warm milk, yeast and 15 g (½ oz) of sugar. Allow to stand for 10 minutes until frothy.
In a large bowl or the bowl of a stand mixer, mix together your flour, tapioca starch, milk powder, xanthan gum, baking powder, psyllium husk powder and remaining sugar until well combined. Add the vinegar, egg, melted butter and yeast mixture.
In a stand mixer fitted with a beater attachment, or using an electric hand whisk, mix on a high speed for 3 to 5 minutes until well combined. It should look thick and sticky.
Place in a clean bowl, cover and place in the fridge for at least 4 hours (or overnight) to completely chill (or chill in the freezer for 2 to 3 hours). After chilling, I check the dough's internal temperature using a digital food thermometer – it usually gets down to about 8 deg. C.–13 deg. C. (45 deg. F–55 deg. F). This will ensure the dough is workable and no longer sticky.
Lightly grease a baking tin about 28 x 18 cm (11 x 7 in), or two 20 cm (8 in) round cake tins.
Place your chilled dough on a surface well dusted with tapioca starch. Knead until smooth then roll out to a rectangle 40 x 25 cm (16 x 10 in) and 5 mm (¼ in) thick. Spread the softened butter all over your dough. Mix together the brown sugar and cinnamon, then sprinkle this over the butter. With a long side closest to you, cut the dough into 8 strips (for large rolls), or 16 (for small rolls). Roll each into a tight swirl and place in the tin(s), with a little room between each. If they won't all fit, pop any extra in another tin. Cover and leave to prove in a warm spot (not too warm or the butter will melt) for 1 to 2 hours until doubled in size.
Pre-heat your oven to 180 deg. C., 350 deg. F., Gas Mark 4. Bake for 35 minutes until golden. Halfway through baking, cover with foil (shiny-side up) if they're getting too dark. While baking, prepare the frosting or glaze.
To make the cream cheese frosting, beat together the butter, cream cheese and vanilla extract until smooth. Add the icing sugar and mix well. Add enough milk to achieve a spreadable consistency.
To make a simple glaze, mix the icing sugar and vanilla together, then add enough milk or water so that it is smooth but thick and spreadable.
While the rolls are warm, spoon and spread the frosting on or drizzle over the glaze. Enjoy fresh and warm on the day that they're baked or refresh in the microwave.
Recipe from "How To Bake Anything Gluten Free" by Becky Excell (Quadrille, £20), photographs by Hannah Rose Hughes, out now.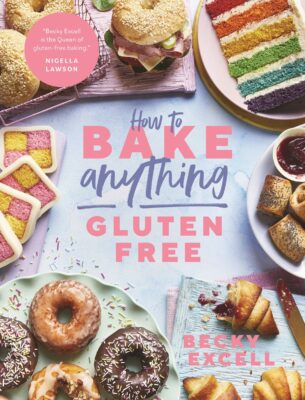 You can see more recipes from Becky's book in our issue dated October 9, which is on sale now.
---
Click here for more recipes from "The People's Friend".