Craft Preview: October 16, 2021 Issue
---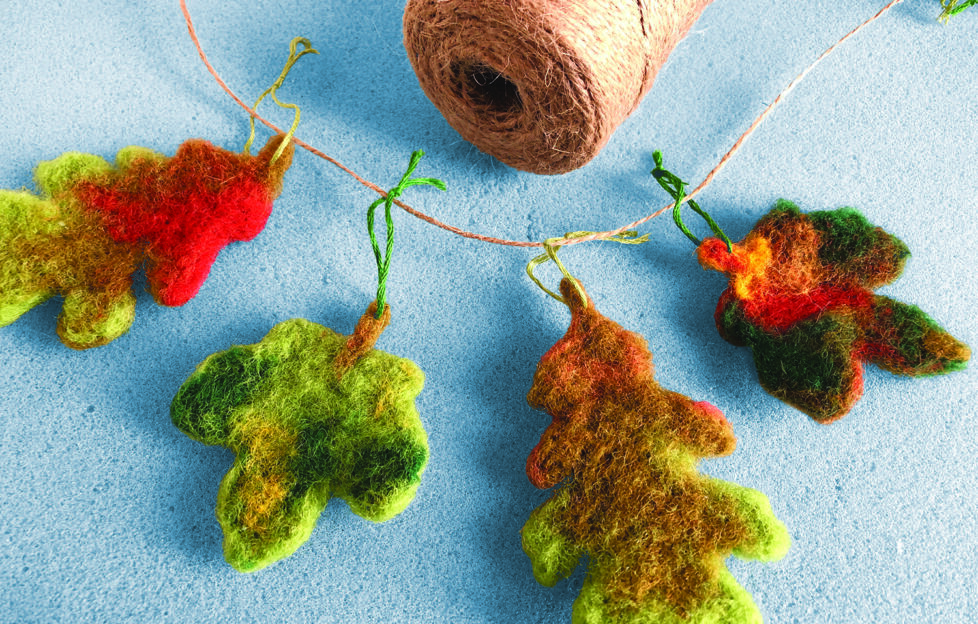 Photograph courtesy of GMC Publications.
We have a felted garland for you this week.
Capture the rich colours of autumn with our felted garland by following our step-by-step instructions.
If you have never needle felted before then this is the ideal project to start with. You need a selection of carded wool in autumn shades and oak-leaf and maple-leaf cookie cutters.
In addition, you will need a 38-gauge felting needle and a felting foam block or thick upholstery foam.
To make each leaf you just fill the cookie cutter with wool, place it on the foam block and stab away. Do take care not to stab your fingers, though, as that will hurt!
You can make as many leaves as you like, and it is easy to vary the shades by adding or taking away pinches of the carded wool.
We have graded our garland as easy. Follow the step-by-step instructions, keep your fingers out of the way and you will have a garland to display with pride.
If you want variation, check out the cookie cutters in your local baking shop or online. There are plenty of different woodland shapes available.
Looking for more felting designs? This garland was taken from the book, "Needle Felting" by Emma Herian which is published by GMC Publications, RRP £14.99. You can find it in good bookshops or online.
We hope you enjoy this felting project, it is a great way to learn a new skill.
---
If you want to make this felted garland, pick up this week's issue of "The People's Friend" from Wednesday.
Or you can subscribe to "The People's Friend" here, to make sure you'll never miss another one of our great patterns and projects!