Knitting Preview: November 6, 2021 Issue
---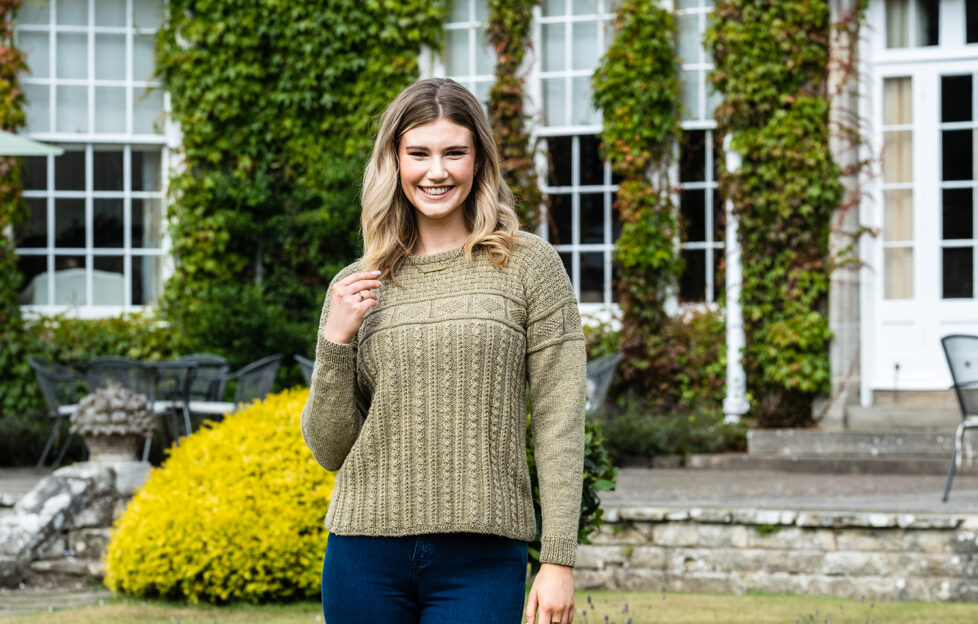 Photograph by Ally Stuart.
We have a traditional sweater for you this week.
Our sweater, inspired by the gansey, is worked in a pure wool yarn. We have chosen byLaxton's SheepSoft DK 100% British Wool to make it. The shade is Carleton and the yarn is sourced and spun in Yorkshire.
To find out more about the yarn or to order direct, visit www.bylaxtons.co.uk.
We have graded our design as intermediate, with a diamond panel worked over 13 stitches and 13 rows and the main pattern including a twist stitch for texture.
You will find instructions for six sizes, ranging from 78/81 cm (30/32 ins) to 127/132 (50/52 ins). Actual size is approximately 12/9 cm (5½/3½ ins) bigger, so we would recommend you work your usual size.
The set in sleeves mean that there is no shaping required on the front and back until the neck and shoulders allowing you to concentrate on the pattern.
You will work the sleeves from the top down to the cuff. Once you finish the top diamond band, the rest is straightforward stocking-stitch (knit 1 row, purl 1 row).
If you are looking for a cosy sweater, this certainly fits the bill.
And being produced in Yorkshire, it will help you keep your carbon footprint low, too.
---
You can find this traditional sweater pattern in this week's issue of "The People's Friend", on sale from Wednesday.
Or you can subscribe to "The People's Friend" here, to make sure you'll never miss another one of our great patterns and projects!