Features Sneak Peek: November 20, 2021 Issue
---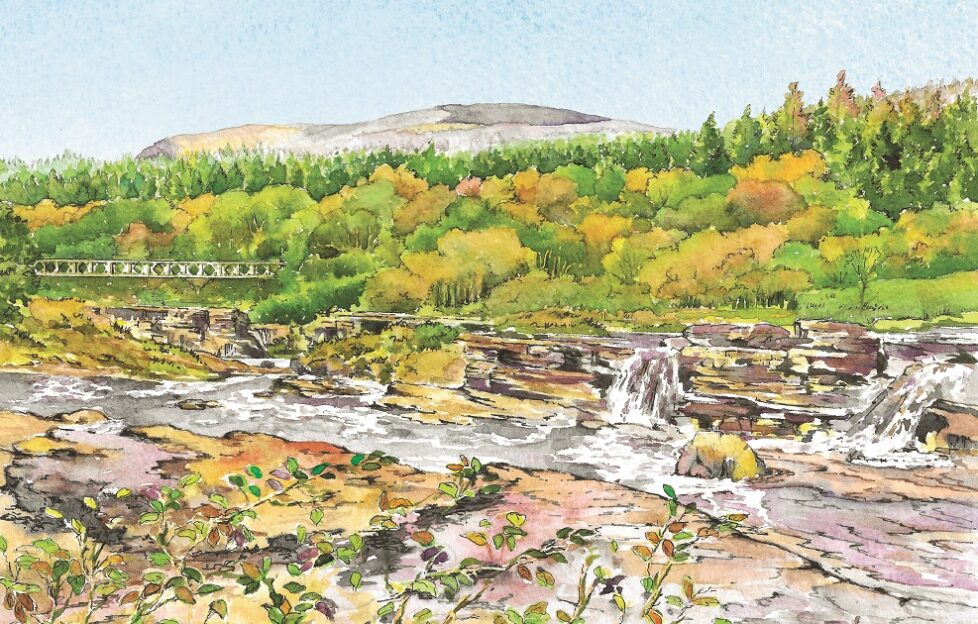 Illustration by DC Thomson Ltd.
Willie Shand is in the Scottish Highlands, photographing waterfalls and being enchanted by a section of the West Highland Way, in the November 20, 2021 issue of "The People's Friend".
Join Willie as he takes in the beauty of Glen Orchy. With all the silver birch and rowans lining the riverbank, this is a lovely road to drive in the autumn. The River Orchy flows for nearly 18 miles from Loch Tulla at the edge of Rannoch Moor before spilling into Loch Awe near Kilchurn Castle.
The Falls of Orchy are definitely worth a visit while in the area. Although reduced to five or six small falls, the exposed water-sculpted architecture in the rocks is just amazing.
Be on the lookout for black grouse, crossbills and red squirrels while in the area.
Project Pony
Dina Shale is no stranger to the wonderful ways of the horse. As a victim of violence and abuse from the age of seven, she found her beloved horse Beauty brought her some peace and comfort.
Years later, Dina tried to exorcise the demons of her past and ease the PTSD that plagued her, but found traditional therapies didn't work.
Dina bought a couple of ponies for her daughter and had an instinct to help people the way the majestic horses helped her. Following training, Dina set up Project Pony.
The programme is teaching people new methods and changing their lives. Project Pony has worked with many NHS workers who have found the horse therapy invaluable. Ali Henderson finds out more.
A New Mythology Of Britain
Soaked in mist and old magic, ancient stories of Britain are both enchanting and enticing.
Now, artist and art historian Dr Amy Jeffs has breathed new life into these old tales by writing and illustrating a mythology of Britain.
Dawn Geddes is led down a legendary rabbit hole as Amy tells her more about her book, "Storyland: A New Mythology Of Britain".
The Magic Of Mushrooms
They've been on the planet for more than a billion years. Fungi are everywhere – in soil, air and water, including inside and on the surface of our bodies.
Without them, we could not survive. A new report looks at the importance of fungus for our future. Marion McGivern picks out the highlights.
Elsewhere, we have a collection of delicious comfort-food recipes. Plus we have a craft project to make a lovely cardigan.
We hope you enjoy it. Let us know what you think.
---
Has this sneak peek at our November 20, 2021 issue encouraged you to subscribe to the "Friend"? Click here. If you do, your "Friend" will come straight to your doorstep! 
You can also take out a digital subscription, meaning your issue will come straight to your computer, tablet or phone! And it's great value for money. Click here for a sneak peek at that!