Crochet And Craft Preview: December 18, 2021 Issue
---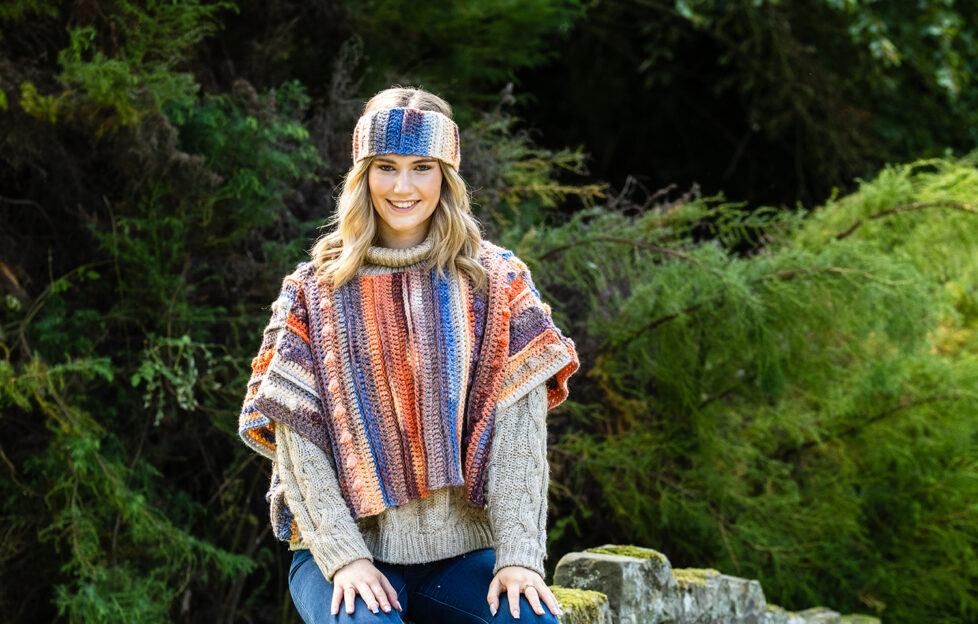 Photograph by Ally Stuart.
Our December 18, 2021 issue is another bumper offering, bringing both crochet and craft for you!
Which will you tackle first?
Crochet
Crochet a super fashionable poncho and create simple festive gift bags.
For crochet fans, we have a simple poncho, worked in a variegated chunky yarn. As a bonus, there are instructions to make a matching headband.
This poncho comes in three sizes, S/M, M/L and L/XL with the actual width being approx. 87 cm (34¼ ins), 92.5 cm (36¼ ins) and 98 cm (38½ ins). The length is approx. 42 cm (16½ ins), 47 cm (18½ ins) and 52 cm (20½ ins).
The front and back are worked the same, each in one three-section piece: the right popcorn section features a 12-row repeat, the centre ridged section 4-row repeat and the left popcorn section a 6-row repeat.
The headband will fit an average head. To make it, you crochet a 4-row repeat.
The colourful yarn used is Rico Melange Chunky in shade Orange-Blue (062) a gorgeous mix or colours that are perfect for this time of year.
You can find out more about the yarn and order direct from www.material-needs.com.
Craft
For crafters, we have some very easy gift bags to make. These are a great way of using festive fabrics and useful for gifts at any time of year. It is easy to adjust the sizes, too.
Our fabrics came from Hobbycraft who have a big range available.
Our instructions are in a step-by-step format with photographs showing each stage. There is no need to be very experienced in sewing to create these.
If you are trying to be environmentally friendly then these are a good idea, too, as you can reuse them many times.
Whether you choose to make our bags, crochet our poncho or do both, we hope these help you have a crafty festive time.
---
Keen to start on the crochet and craft in our December 18, 2021 issue? Pick up your copy in shops from Wednesday.
Or you can subscribe to "The People's Friend" here, to make sure you'll never miss another one of our great patterns and projects!