Features Sneak Peek: January 22, 2022 Issue
---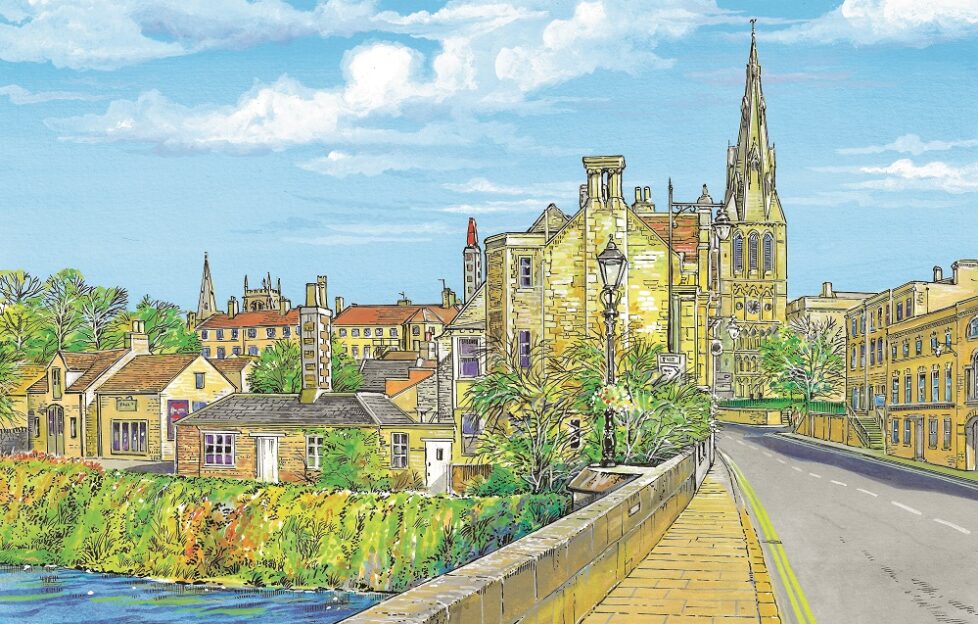 Illustration by DC Thomson Ltd.
Neil McAllister enjoys the historic charm of the attractive town of Stamford, in the January 22, 2022 issue of "The People's Friend".
Join Neil as he strolls the streets of a town that may be familiar to many, as it has provided the backdrop to film and television productions over the years.
The film adaptation of "Pride And Prejudice", starring Keira Knightley, used Red Lion Square, and the area also set the scene for "Middlemarch".
We'll visit Burghley House, the gigantic Elizabethan mansion on the edge of town. It was being constructed for 32 years before its completion, in the mid-16th century.
The town is keen to conserve its original look, with new builds having a similar appearance to old buildings. The area is home to five churches but not all remain in use. In fact, one has since become a row of shops. You'll find yourself charmed with the town, too.
Woman's Best Friend
As a primary-school teacher, daily life followed a routine pattern for Jessica Knowles.
After looking after her young charges, her evenings saw her putting her feet up and watching TV. The arrival of her first dog, Pepper, changed everything. After that, Jessica swapped the sofa for hiking, cycling, paddleboarding and kayaking, with Pepper by her side.
When she tragically lost Pepper, she couldn't bear to be without a canine companion, and now has a new dog, Rufus.
Jessica documented on a blog that attracted 40,000 followers, how her wellbeing improved immeasurably by getting out with her dog. Now she's written a new book. In "DogVentures", she shares her off-the-beaten-track adventures. Bill Gibb finds out more.
Nocturnal-Wildlife Photographer
As we slip into bed at the end of the day, we're saying farewell to the world for a few restful hours. But the natural world never sleeps, and amateur photographer Ola Maddams has stunning pictures to prove it.
Each night, she sets up a camera in the garden of her Buckinghamshire home, often waking to incredible images of the wildlife that has wandered in under cover of darkness.
She has amassed quite a portfolio of photographs of, in particular, foxes and hedgehogs living the nocturnal lives we so rarely glimpse. Find out more in the magazine.
Snowdrop Enthusiasts
It doesn't matter how deep the snow has been or how many rain puddles cover the ground, snowdrops appear when winter's at its bleakest, providing a welcome reminder that spring is around the corner.
Snowdrops are the perfect antidote to the winter blues, according to George Plumptre of the National Gardens Scheme. They organise the Snowdrop Festival, which takes place across England and Wales every year.
Janey Swanson celebrates the arrival of snowdrops with some fellow enthusiasts.
Elsewhere, we have a collection of recipes all made using mustard – perfect for keeping out January's chills. Plus we have a craft project to make a lovely hand-embroidered cushion.
We hope you enjoy it. Let us know what you think.
---
Has this sneak peek at our January 22, 2022 issue encouraged you to subscribe to the "Friend"? Click here. If you do, your "Friend" will come straight to your doorstep! 
You can also take out a digital subscription, meaning your issue will come straight to your computer, tablet or phone! And it's great value for money. Click here for a sneak peek at that!