Book Review: Kidnapped by Robert Louis Stevenson
---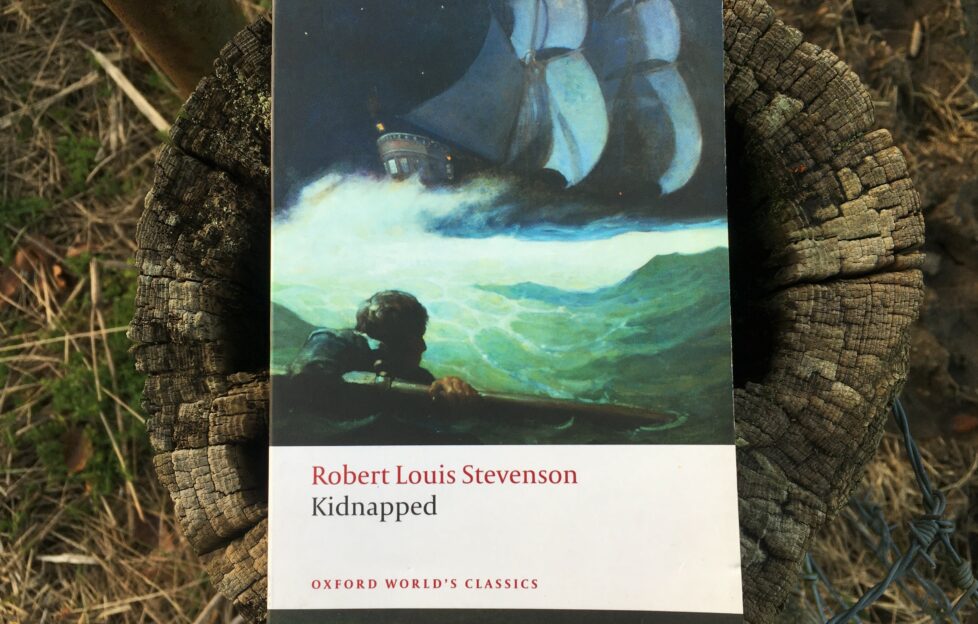 Photograph by Kirsty Souter.
"Kidnapped" by Robert Louis Stevenson is a book I've got a nostalgic fondness for – despite never having read it until very recently.
I've always been a fan of "adventure" novels. When I was little, I used to live on a diet of cosy Enid Blyton tales about precocious children and various animal companions, before graduating to Willard Price's "Adventure" series, set in exotic climes all across the world.
Jolly good 1950s fun all round!
But there was one story above all that fascinated me. Thing is, I'd only read one paragraph of it. (During a typing exercise, of all things.)
This paragraph was so enthralling that I had to get myself a copy of "Kidnapped".
It was the betrayal of my young life when I didn't enjoy it one bit. I gave up a few chapters in.
However, over the years I've read other things by Robert Louis Stevenson. I particularly enjoyed his short gothic tales, such as "The Body Snatcher" (inspired by Burke and Hare) and the curious vampire tale "Olalla".
So, I finally decided to revisit "Kidnapped".
The beginning of a swashbuckling adventure . . .
The novel opens with David Balfour, setting off on a journey to his family's ancestral home at Cramond, just outside of Edinburgh. The House of Shaws and its lone inhabitant, Uncle Ebenezer, are odd and unwelcoming – as you might expect!
Davie soon begins to get the distinct impression that his uncle is plotting against him. Sure enough, after a bit of nefarious trickery, he finds himself unwittingly taken to sea on board the Covenant, with its rag-tag crew of miscreants.
Luckily for David, the next accidental acquisition to the crew is the Jacobite Alan Breck Stewart. He's taken aboard after the Covenant mistakenly sinks his ship.
Together, Alan and David over turn a murder plot, and embark on a series of swashbuckling adventures together, as their journey leads them back across Scotland – as both men have scores to settle.
The novel surprised me from the get-go
The novel surprised me from the get-go. I'd remembered the novel as being too dry and Victorian for my youthful tastes. This time around, I found the book drew me in completely.
Not only did Stevenson's descriptions of the landscapes around the city of Edinburgh strike a chord with me, the book actually had me chuckling to myself with its observations about people that still ring true, over a hundred years later.
Touches of Scots dialect here and there, as well as banter between the characters really brought the book to life for me.
The star of the show is, perhaps unsurprisingly, sword-slinging hero Alan Breck. His martial prowess is matched by his quick wit, and his confidence in his own abilities. (It takes a certain sort of person to get into a bagpipe duel, after all . . .)
The action scenes were flashy and well-paced. I was disarmed, in a good way, by how enjoyable this novel turned out to be.
It may not have been a creepy, dark story about Spanish vampires, or grave-robbing doctors, but it got me thinking.
Whilst "Kidnapped" and "Treasure Island" are both brilliant tales, I found more to enjoy about them now than I ever did when I was younger!
How unfair it is that some still regard Stevenson and his adventures as being just "for children".
Why should they get all the fun?
---
For more book reviews from "The People's Friend", click here.