Knitting Preview: January 29, 2022 Issue
---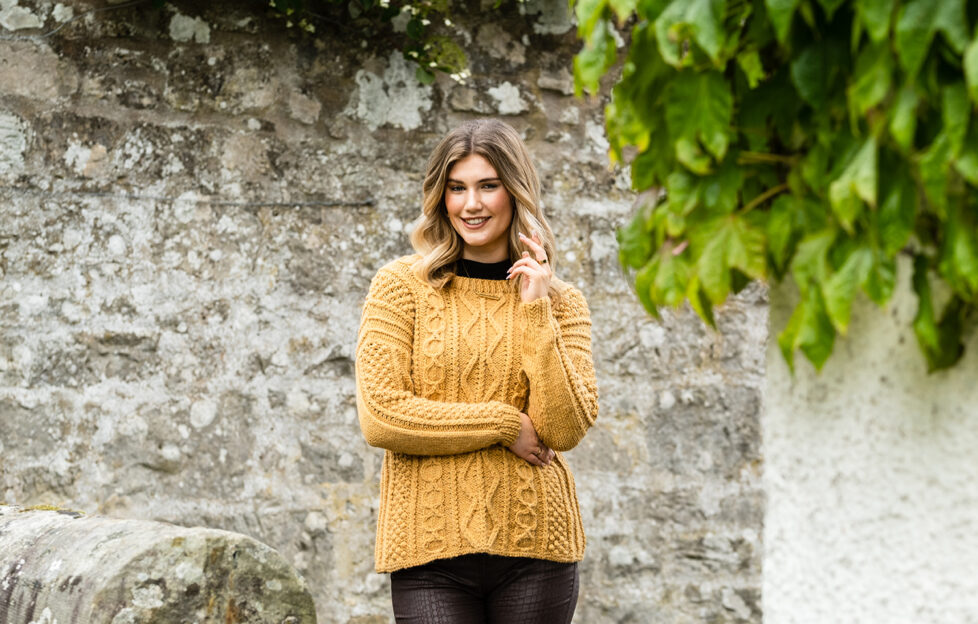 Photograph by Ally Stuart.
We have given traditional stitches a new look with this modern sweater.
We chose King Cole Timeless Chunky in the perfectly named shade of Harvest (2921) to make this sweater. It is available from many shops and online stockists and you can find out more about it at the King Cole website.
The sweater comes in six sizes ranging from 76/81 cm (32/34 ins) to 127/132 cm (50/52 ins) making it great choice for men, too. Actual size is around 18/13 cm (7/5 ins) bigger offering a comfortable fit with a layer underneath.
The pattern consists of cable and diamond panels worked over 10 and 20 rows respectively. These repeat on the front and back. You will need a cable needle to work them.
The bobble effect, which also features front and back, is repeated on the sleeves.
We have created a drop sleeve, keeping the shaping to a minimum.
A final touch, there is no rib front or back but four rows of purl to give a looser effect, more like a tunic.
Why not treat yourself to some diamond knitting? We are sure you'll soon look on this sweater as your best friend!
---
Find the full pattern for this modern sweater in the January 29, 2022 issue of "The People's Friend". On sale this week!
Or you can subscribe to "The People's Friend" here, to make sure you'll never miss another one of our great patterns and projects.