Spring Onion And Celery Loaded Potato Skins
---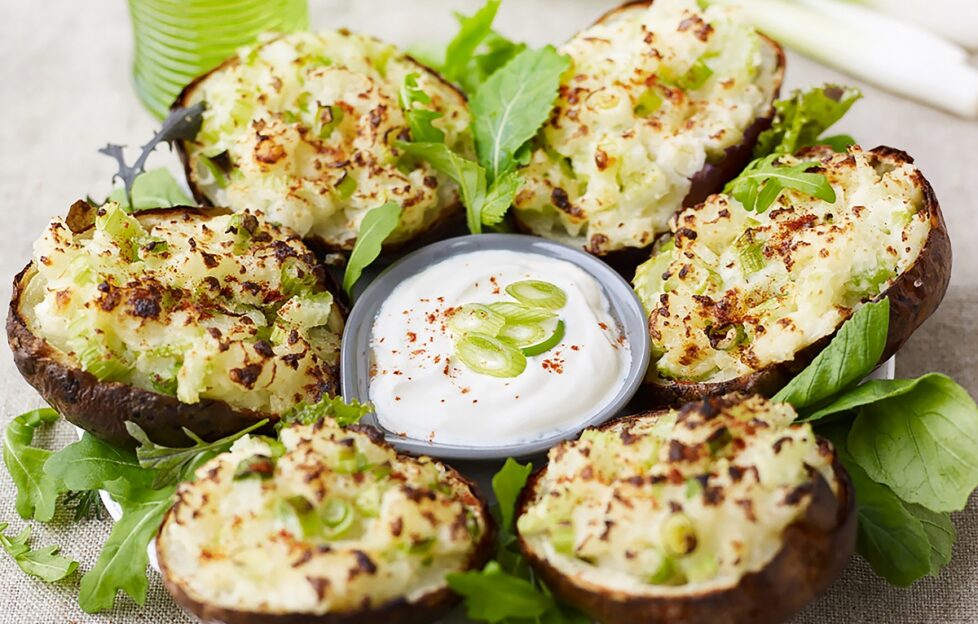 Image courtesy of Love Celery.
Instructions
2 large baking potatoes
2 tsp olive oil, plus extra for dressing the leaves
Salt and freshly ground black pepper, to taste
2 tbs sour cream
25 g (1 oz) Cheddar
4 spring onions, chopped finely
2 sticks of celery, chopped finely
Pinch of smoked paprika, optional
1 x Bag of Fresh & Naked Spicy Mixed Leaves
Recipe courtesy of Love Celery.
Is the potato our most versatile vegetable? That's a tough question . . . and while we're contemplating it, we can try out these Spring Onion And Celery Loaded Potato Skins!
They're tasty and quick, which makes them the perfect brain food!
This recipe serves two (as a main course).
Method:
Pre-heat the oven to 200 deg. C., 400 deg. F., Gas Mark 6.
Prick the potatoes a few times with a fork. Put the oil in a medium bowl with a good pinch of salt and pepper and roll the potatoes in it, one at a time, so they're completely covered. Bake in the oven for 1 hour until crispy on the outside and soft in the middle. Leave to cool slightly.
Once the potatoes are cool enough to handle, cut in half and scoop out the centre. Use a fork to mash the potato in a bowl with the sour cream and Cheddar then stir in the spring onions and celery. Season to taste.
Load the mash mixture back into the skins, sprinkle with a pinch of smoked paprika, if using, and grill for a few minutes until the tops start to brown.
Toss the mixed leaves in a little olive oil and put on a platter or divide between plates and top with the loaded skins.
Enjoy!
---
If the chef in you has been inspired by these Spring Onion And Celery Loaded Potato Skins, there are plenty of other recipes on our Cookery pages, and in our magazine.
Why not try this Nectarine And Hazelnut Open Crust Pie? Or maybe Chantenay Toad In The Hole?