Knitting Preview: February 9, 2022 Issue
---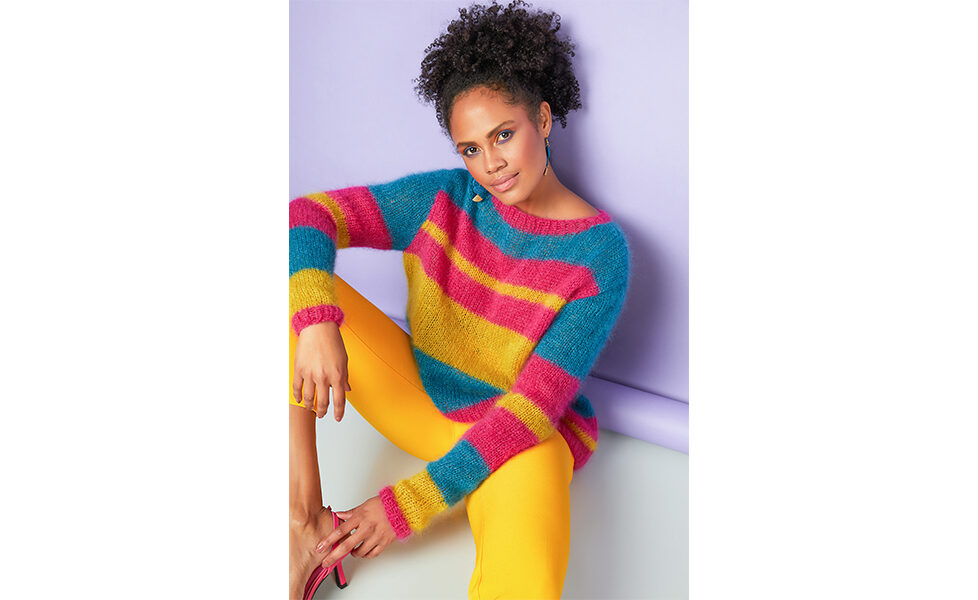 Photograph courtesy of GMC Publications.
We have a colourful, fun sweater for you in our February 9, 2022 issue.
Stand out from the crowds in our striped sweater, which you can also work in a solid colour.
The yarn is Rowan Kidsilk Haze, a lovely soft yarn that you use double throughout.
We have chosen the bright shades of Candy Girl (606), Eve Green (684) and Peacock (671). In the magazine, you can also see it worked in a one-shade version using Peacock.
You can find out more about the yarn and your nearest stockist by visiting www.knitrowan.com.
The sweater comes in five sizes ranging from 81/86 cm (32/24 ins) to 122/127 cm (48/50 ins). Actual size is around 32/27 cm (12/10 ins) bigger giving you a comfortable, casual fit.
We have graded this sweater as easy, it is worked in stocking-stitch (knit 1 row, purl 1 row) throughout with very little shaping.
This design is taken from the book, "Essential Brights" by Quail Studio, RRP £11.99, and is available online or from all good bookshops. If you like a colourful garment then this is the book for you.
Whether you like the stripes or prefer to opt for a solid colour, this sweater is the perfect way to brighten up a grey day.
---
Find the full knitting pattern in our February 9, 2022 issue of "The People's Friend". On sale this week!
Or you can subscribe to "The People's Friend" here, to make sure you'll never miss another one of our great patterns and projects.