Knitting Preview: February 16, 2022 issue
---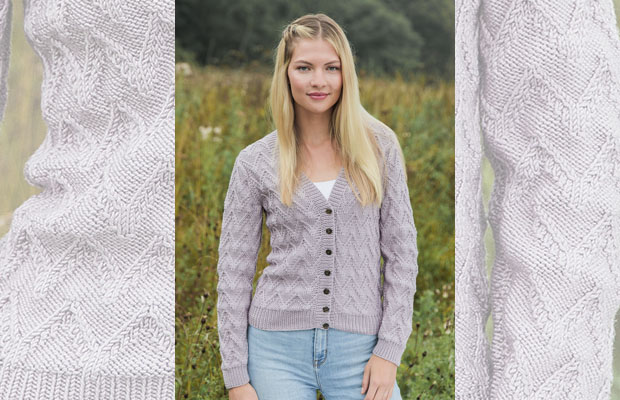 See what's coming in this week's magazine with our knitting preview for the February 16 issue.
We have a lovely V-neck cardigan for you this week.
We have used Rico Creative Silky Touch DK for our cardigan, a vegan yarn with a light sheen that is soft to the touch and kind to the environment.
It comes in five sizes ranging from 81/86 cm (32/34 ins) to 122/127 cm (48/50 ins). Actual size is approx. 16/10 cm larger (6/4 ins) larger giving you a comfortable fit.
You work the chevron pattern over 12 stitches and 16 rows over the entire cardigan. Once the front, back and sleeves are complete, the neckband and borders are added in one piece.
To complete the garment you will need eight buttons, 1.7 cm in diameter.
We have knitted our cardigan in the shade Dust (21) one of many available. If you would like to see the range or order direct, visit www.blacksheepwools.com.
This cardigan is graded intermediate. It can be a bit tricky to work the pattern and shape the neckline if you have never done anything like that before. However, if you are new to this, just take your time and jot down the decreases as you go.
We think this is a versatile design that is perfect as a top layer or on milder days, great worn over a  t-shirt as our model is showing.
Whatever you choose, we are sure you will love this week's design.
---
Find the full knitting pattern in our February 16, 2022 issue of "The People's Friend". On sale this week!
Or you can subscribe to "The People's Friend" here, to make sure you'll never miss another one of our great patterns and projects.