Features Sneak Peek: March 12, 2022
---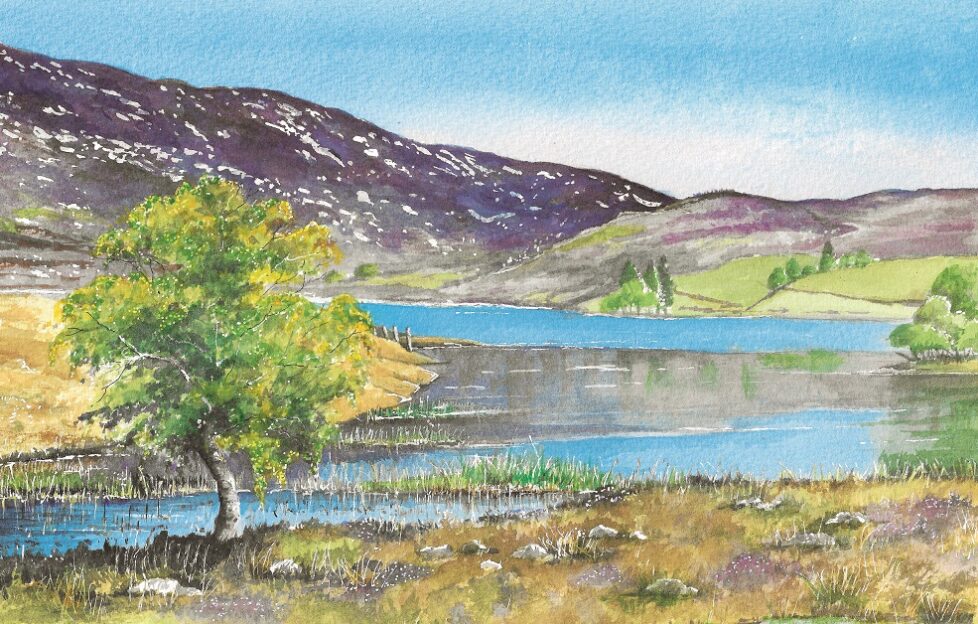 Illustration by DC Thomson Ltd.
Willie Shand heads off the beaten track beside Scotland's most famous loch, in the March 12, 2022 issue of "The People's Friend".
Join Willie as he explores such beauty spots as Fort Augustus and Inverness.
We arrive in Fort Augustus bright and early. Loch Ness is part of nature's contribution to Thomas Telford's 60-mile-long Caledonian Canal. There's something pleasantly relaxing in watching boats slowly climb through the locks. While here, we'll visit a pepper-pot lighthouse which claims to be the smallest in the UK.
We'll take a walk that follows in the footsteps of Robert Burns, William Wordsworth and John Keats, to name but a few.
While we're in the area, we visit the shores of Loch Ness, hoping to catch a glimpse of Nessie. She's renowned for hiding, though. Nonetheless, it's fun to see if we can spot her.
Plastic-hunting Pirates
The statistics are shocking. An estimated eight million tonnes of plastic waste escapes into our oceans every year. Once in the sea, much of the plastic stays in coastal waters.
However, when it gets caught up in ocean currents, it can be carried around the globe. It can be so far reaching that plastics have even been found in polar ice!
Millions of species of wildlife are killed by plastics. However, Cornishman Steve Green and his partner, Monika, decided to do something about it.
Using their boat, the couple and a band of volunteers sail on expeditions to collect plastic waste from remote areas of coastline. Clean Ocean Sailing have already collected over fifty-five tonnes of deadly marine rubbish.
Some plastic is recycled as kayaks which are used to collect more rubbish. Gilly Pickup learns more about Cornwall's plastic-hunting pirates making waves with their mission to clean up our seas.
Eyes On The Pi(e)s
School maths lessons imprinted on most of us the formula for the circumference of a circle. However, there's a lot more to pi than going around in circles. It appears in nature wherever there's a circle or sphere, as well as describing waves of all kinds (on a beach, in sound, the way light travels).
If you've ever relied on GPS to get you anywhere, it's pi that makes it possible.
Marion McGivern celebrates pastry-encased goods and maths in a Pi Day concoction of catering and geometry!
Steve Cotterill
At three months old, William Cotterill struggled to feed, and then a doctor spotted he had a heart murmur. He was diagnosed with left ventricular cardiomyopathy with non-compaction. Furthermore, it transpired that William had a rare genetic disorder called Barth syndrome.
He needs to eat little and often to counter a metabolic weakness, plus he often vomits, losing that hard-won nutrition.
William regularly receives support from a range of specialists and the charity Barth Syndrome UK.
Since 2014, Steve has run 100 marathons in aid of the charity. Five of the marathons were run on consecutive days.
In April, 2021, Steve took on an even bigger challenge – the Kent 50 Mile Endurance Run. Sally Jenkins learns about Steve's efforts to raise funds for a charity close to his heart.
Elsewhere, we have a collection of delicious dishes featuring seasonal vegetables. Plus we have a knitting pattern to make a lovely top.
We hope you enjoy it. Let us know what you think.
---
Has this sneak peek at our March 12, 2022 issue encouraged you to subscribe to the "Friend"? Click here. If you do, your "Friend" will come straight to your doorstep! 
You can also take out a digital subscription, meaning your issue will come straight to your computer, tablet or phone! And it's great value for money. Click here for a sneak peek at that!