Features Sneak Peek: March 26, 2022 Issue
---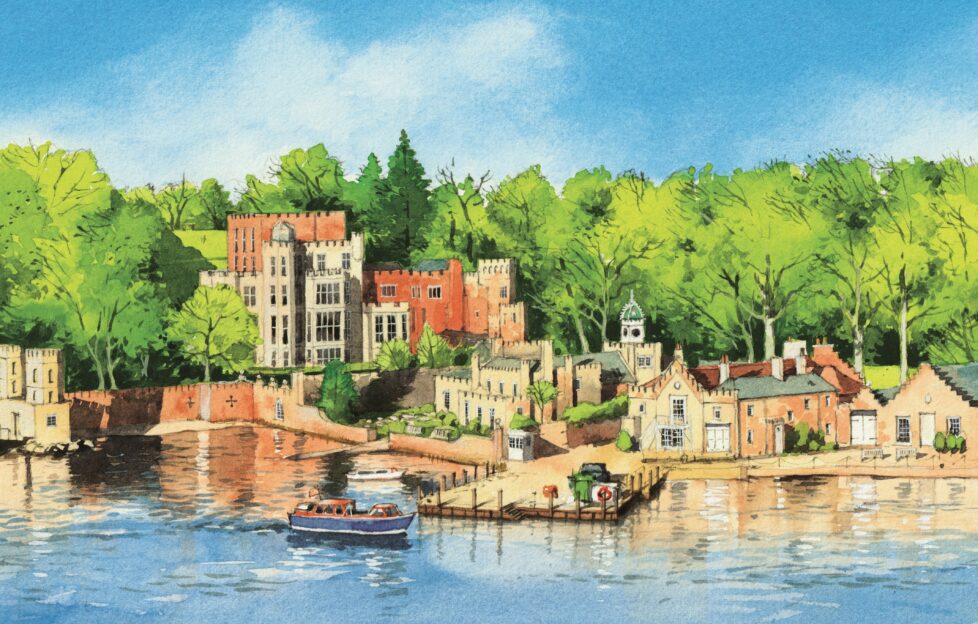 Illustration by DC Thomson Ltd.
Pat Coulter and Poppy explore perfect Poole, in the March 26, 2022 issue of "The People's Friend".
Join Pat and her dog as they stroll along Sandbanks, more colloquially known as Millionaire's Row. Grand, traditionally built brick mansions surround us and we'll see plenty of sleek, swanky yachts in the harbour. However, visitors here need not worry about having to finance a yacht to get around. A chain ferry is the answer. It's an eco-friendly trip that avoids a laborious 25-minute car journey around the harbour.
The area is linked to many famous names. It was here that radio pioneer Marconi set up his Wireless Telegraph and Signal company in the late 1800s. John Lennon visited for escapism from Beatlemania, too. Fans of Enid Blyton will be interested to hear that the author was inspired to write her "Famous Five" series after spending a lot of time here.
Corfe Castle and Swanage Railway are a nostalgic family throwback to Blyton's day. These and many more attractions keep tourists flocking to this gorgeous part of the world. Read more about it in the magazine.
Fox And Windmill Publishing
Fox and Windmill might sound like a publishing company that's been around since Victorian times. However, the business, set up by friends Habiba Desai and Sara Razzaq, only began last year.
The venture is designed to give a space for British South Asian writers to be heard, and despite only being a year old, is already making waves in publishing.
The friends' brave step has earned them the industry spotlight, receiving a nomination as "The Future Bookseller" FutureBook Startup of the Year 2021.
Features Ed Alex finds out more.
Creature Comforts
Our favourite cuddly toy is a round-the-clock companion when we're young, but a lot of us spend our adult lives without the warm embrace of a teddy – or so it seems!
Research shows that almost seven million grown-ups in the UK still share their bed with a plush pal every night. What's more, there is such comfort to be found in their furry familiarity that experts believe having a soft toy to squeeze can be surprisingly beneficial for our health.
Laura Brown salutes the humble teddy bear, providing companionship to children and adults alike for generations.
World Piano Day
World Piano Day is celebrated annually on the 88th day of the year, which means that in 2022, it falls on Tuesday, March 29. Why that particular day? Well, there are 88 black and white keys on a modern piano, of course!
Holly Hunter starred in 1993 film "The Piano". Holly had learned to play the piano when she was nine years old, so played most of the piano sequences herself.
In the magazine, Lorna Cowan shares this and other amazing facts to celebrate World Piano Day.
Elsewhere in the March 26, 2022 issue, we have a collection of fuss-free recipes for easy baking. Plus we have a knitting pattern to make a simple sweater.
We hope you enjoy it. Let us know what you think.
---
Has this sneak peek at our March 26, 2022 issue encouraged you to subscribe to the "Friend"? Click here. If you do, your "Friend" will come straight to your doorstep! 
You can also take out a digital subscription, meaning your issue will come straight to your computer, tablet or phone! And it's great value for money. Click here for a sneak peek at that!