Fiction Sneak Peek: March 26, 2022 Issue
---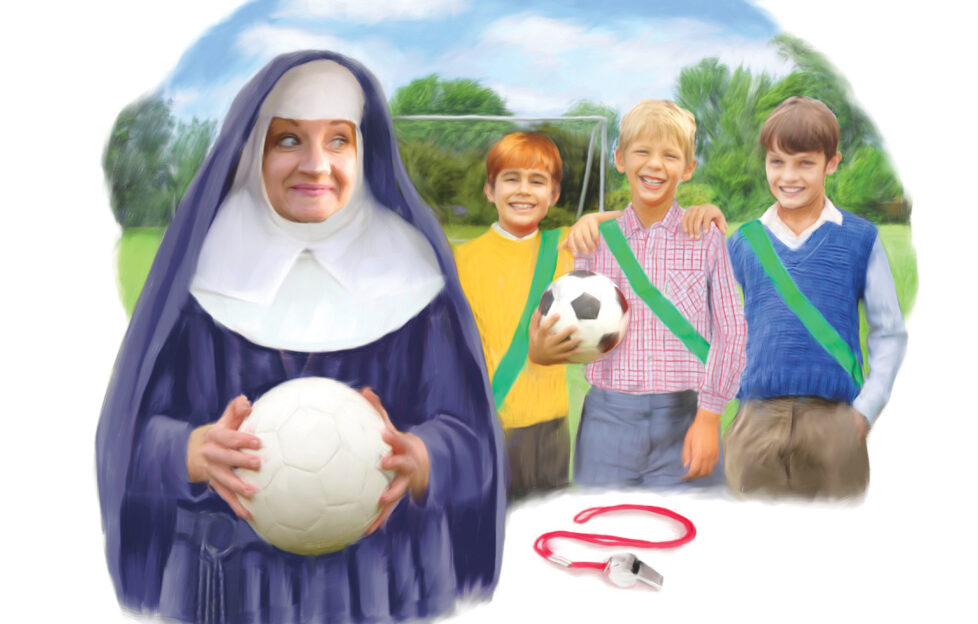 Artwork: Pat Gregory
Welcome to our Mother's Day issue.
We have seven brand-new stories, two specially-written serials, and two series instalments, ready for you to read and enjoy.
Let's begin with our Opener. Will unexpected news take a bus driver down a new route? "A Bump In The Road" by Teresa Ashby is illustrated by Gerard Fay.
We're in 1957 for our next story, and Sister Bernadette sets out to prove that her football team is as good as the next man's – or woman's! Tony Redcliffe's light-hearted "Game On!" is illustrated by Pat Gregory (above).
Andrea returns to her childhood village after a bereavement, and finds hope there. "Green Fields Of Home", by Susan Sarapuk, has a Shutterstock illustration.
A mother's work is never done, they say, and that's true in our next story. "Missing Mum", by Eirin Thompson, is illustrated by Martin Baines.
Seeing the man in the van every Tuesday is the highlight of the week for Cherry, in "Dancing In The Street"! By Beth Watson, it's illustrated by David Young.
One piece of furniture tells the story of a lifetime, in Marie Penman's "Table Of Contents". Artwork by Shutterstock.
Our final story for this issue is "All About Family", by Susan Blackburn. When a rescue dog won't settle, he's returned to the rehoming centre – where a surprise awaits. Artwork by Shutterstock.
Serials
In Part Three of "Coronation Gardens", can Caroline convince Darren of how important the gardens are to the town? Laura Tapper's five-part serial features artwork from Ruth Blair.
And in Part Four of "A Light Between Oceans", Sandy reminisces about the illustrations Hans Van Bakker created for her. Deborah Siepmann's eight-part serial features illustrations throughout by Sailesh Thakrar.
Series
Josie and Carrie wonder who would play them in a film of their lives, in Eirin Thompson's "Read All About It"…
…and in Glenda Young's "Riverside", will Margaret fit the bill when it comes to cleaning the Ship Inn?