Traybake Pancetta Chicken with Olives and Tomatoes
---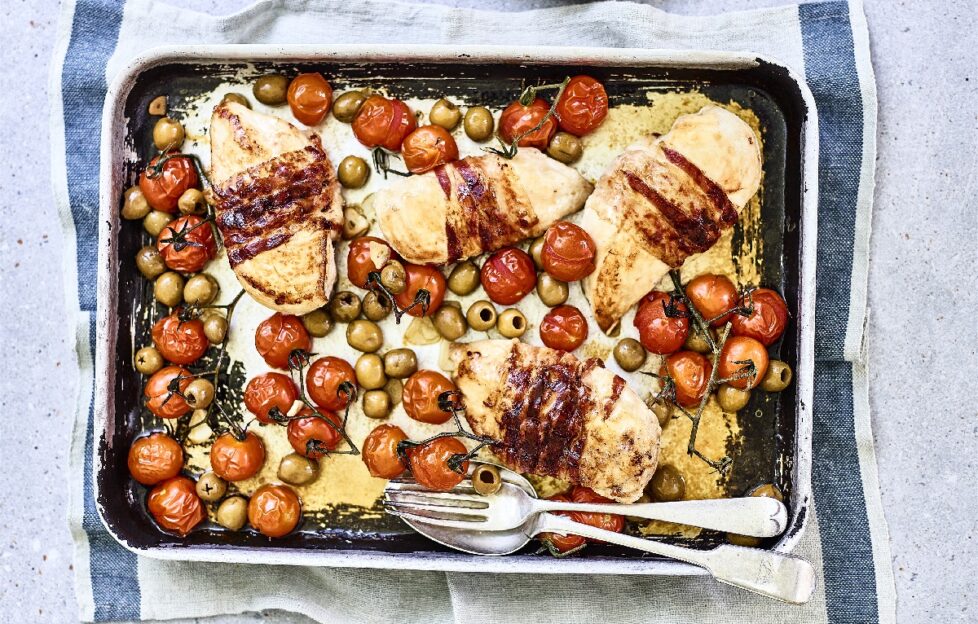 Ingredients
8 slices pancetta
4 chicken breast fillets
2 tbs olive oil
400 g (14 oz) vine-on cherry tomatoes, snipped into small bunches
100 g (3½ oz) Crespo Pitted Green Olives
2 cloves garlic, sliced thinly
To Serve: green salad; new potatoes.
Recipe and image courtesy of Crespo Olives.
This Traybake Pancetta Chicken with Olives and Tomatoes makes such an easy meal for 4!
Pre-heat the oven to 200 deg. C., 400 deg. F., Gas Mark 6.
Wrap 2 slices of pancetta round the middle of
each chicken breast.
Heat 1 tablespoon of the oil in a large frying-pan and fry the chicken for 2 to 3 minutes each side.
until golden, then transfer to a baking tray and bake in the pre-heated oven for 10 minutes.
Toss the tomatoes, olives and garlic in the remaining oil and add to the tray around the chicken.
Bake for a further 15 minutes until the chicken is cooked through and the tomatoes are softened.
Serve with a green salad and new potatoes.
---
Enjoyed your Traybake Pancetta Chicken with Olives and Tomatoes, and looking for more one-pot dishes from "The People's Friend"? Why not try this delicious Cannelloni With Ricotta And Spinach or this tasty Chicken Traybake With Marmalade And Mustard?