Chicken Traybake With Marmalade And Mustard
---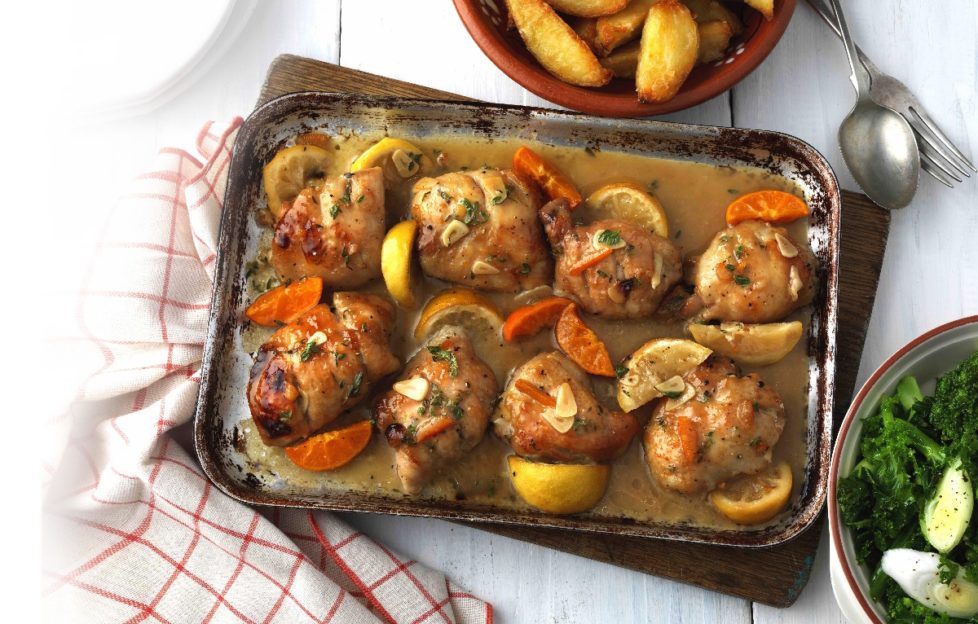 Image courtesy of Duerr's
Ingredients
4 tbs Duerr's Thick Cut Classic Seville Orange Marmalade
2 tbs olive oil
2 cloves garlic, sliced
2 tsp Dijon mustard
A few sprigs of fresh thyme or lemon thyme, plus extra for garnish
8 chicken thighs, boneless with skin
1 lemon or satsuma
Black pepper
1 tbs flat-leaf parsley, chopped
To Serve: steamed green vegetables; home-made potato wedges.
Recipe courtesy of Duerr's.
If you like your chicken with a little extra kick to it, try this tasty traybake recipe with marmalade and mustard!
Method:
Pre-heat the oven to 200 deg. C., 400 deg. F., Gas Mark 6.
In a large bowl, combine the marmalade, olive oil, garlic, mustard and thyme leaves.
Score the skin of each chicken thigh a couple of times then add to the marinade and stir to coat. Leave in the fridge for half an hour if possible.
Arrange the chicken pieces in a shallow ovenproof dish and pour over any remaining marinade.
Slice the lemon or satsuma and tuck in and around the meat. Place the dish on to a baking tray and cover with foil.
Bake in the pre-heated oven for 20 minutes then remove the foil and baste the chicken with the juices. Return to the oven, uncovered, for 30 to 35 minutes, depending on size, or until the chicken is completely cooked through and the juices run clear.
Season with black pepper and scatter over the chopped parsley and some extra fresh thyme. Serve with your choice of side dishes.
Enjoy!
---
Click here for more great recipes from "The People's Friend". If you're looking for more ideas for your chicken, why not try baking some chicken thighs with cashews and peppers? Or adding a little peri peri kick to chicken burgers?
If you can't get to the shops just now for your "Friend", subscribe now by clicking here. It means your magazine will come straight to your door every week — all you have to do is put the kettle on!
You can also take out a digital subscription, meaning your issue will come straight to your computer, tablet or phone! And it's great value for money. Click here for more details.