Fiction Sneak Peek: April 16, 2022 Issue
---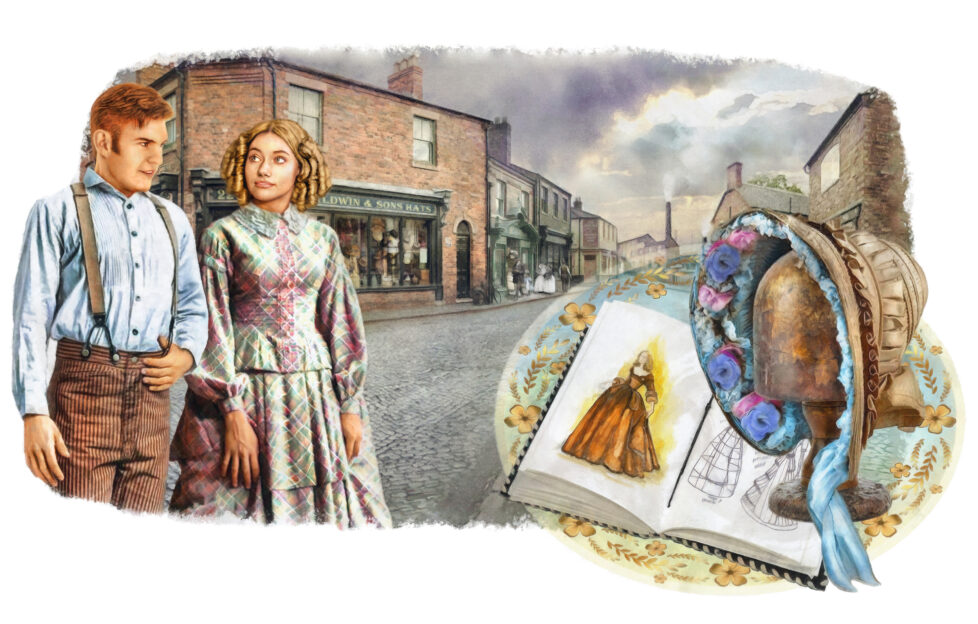 Artwork: Gerard Fay
Happy Easter! And a warm welcome to the fiction you'll find in our latest issue, on sale Wednesday, April 13.
"A Bonnet For Alice" is this week's opening story. Set in the 1860s, it tells of would-be doctor, Mattie, and mill worker, Alice – good friends whose lives seem to be set on different paths. Until an accident at the loom changes everything…Pamela Kavanagh's lovely Easter story is illustrated by Gerard Fay.
When a run-down alleyway needs some TLC, "Guerilla Gardeners" Roger and Malcolm come to the rescue! Maggie Cobbett's short story has a Shutterstock illustration.
Amy needs to find an Easter Bunny for the upcoming party. Find out if a 'hoppy' Easter is in store, in "All According To Plan" by Carrie Hewlett. Image by Shutterstock.
Ariana is a chocolatier with Easter egg orders to fulfil – but someone is stealing her recipes! "The Price Of Success" by Stefania Hartley is illustrated by our own Manon Gandiolle.
With a full nest at home, Iris finds peace and friendship on "The Friendly Bench". Written by Alison Wassell; artwork by Jim Dewar.
Teaching has changed in the forty years of Helen's career, and she's beginning to feel out of touch. But experience wins out, in "Class Act" by Marie Penman. With a Kirk Houston illustration.
In "You Are Not Alone" by Catherine Baird, Sonia returns to her island home, unsure of what the future holds. Artwork by Martin Baines.
Serials
A new serial begins today – Alison Carter's "On The Right Road". Nadine is looking after her brother's taxi firm while he swans off abroad – and it's not quite the life she had planned…With illustrations throughout by Gerard Fay.
It's the penultimate instalment of "A Light Between Oceans", by Deborah Siepmann, and Hattie must tell Lucas and Sandy everything – beginning with that fateful night back in 1941…with artwork by Sailesh Thakrar.
Series
Carrie and Josie are ready to play matchmaker in "Read All About It", by Eirin Thompson.
Mary decides it's time to be honest with Susan, in "Riverside", by Glenda Young.