Features Sneak Peek: April 23, 2022 Issue
---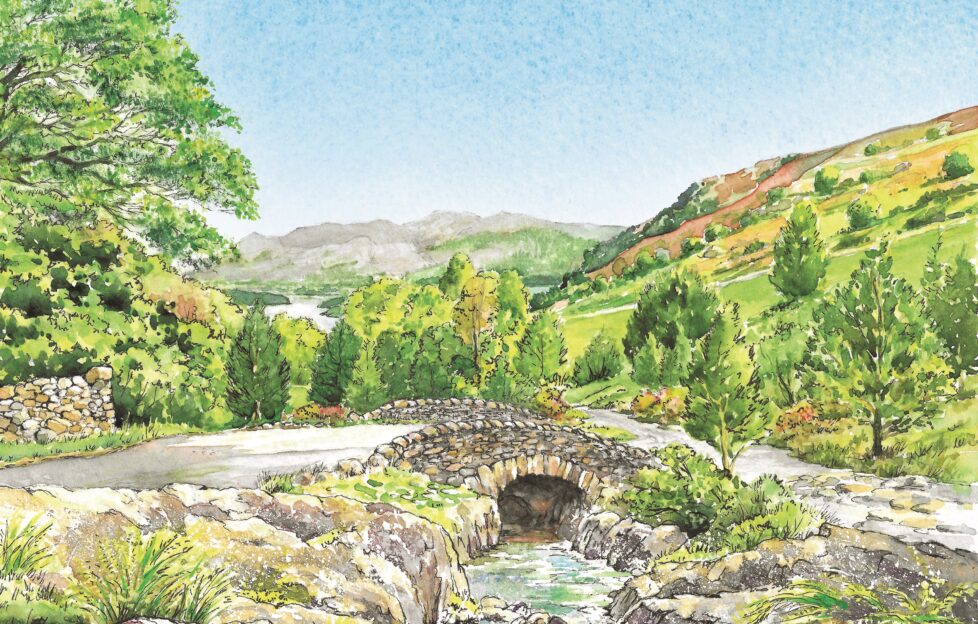 Illustration by DC Thomson Ltd.
Neil McAllister explores the Lake District's most northerly town, Keswick, in the April 23, 2022 issue of "The People's Friend".
No matter how familiar an area, there are always new discoveries, surprises and delights hidden around the corner. Keswick is no exception!
The disused railway line following the River Greta makes a lovely traffic-free walk.
When shepherds working on Seathwaite's upper fells stumbled across an unusual black rock amongst the roots of a fallen tree, they started an industry that continues to this day. Thinking the rock a type of coal, they tried burning it with no success, but seeing it blackened their hands, they used it to mark sheep.
When this was identified as graphite, Keswick's pencil industry was born. Of course we'll visit the Pencil Museum while we're here. We'll see the world's largest pencil along with various other fascinating exhibits.
Alongside graphite, Skiddaw rock was found to make a musical note when struck. This led to stonemason Joseph Richardson making a lithophone. If you fancy a go, this huge instrument awaits you in this welcoming, always appealing part of beautiful Cumberland.
Trash Free Trails
Dom Ferris doesn't want us to focus on our hatred of litter. The forty-two-year-old founder of Trash Free Trails – an organisation that supports the monitoring and cleaning up of plastic pollution form woodlands – wants us to embrace a more positive message.
Dom wants people to focus on restoring the natural beauty of their surroundings rather than the things that spoil it. He came up with the idea for Trash Free Trails in 2014 after realising how important natural areas are to people. In 2017 he started talking about it all from his perspective on social media and made contact with a lot of like-minded people.
Since then, Dom and thousands of volunteers have been tackling the problem collectively. Read more about Dom and Trash Free Trails in the magazine.
Remembering 1926
On April 21, 1926, a little girl called Elizabeth Alexandra Mary Windsor was born. Little did her family know of the series of events about to happen that would change their lives for ever.
King Edward's abdication in December 1936 meant Elizabeth's father ascended to the throne, and the young princess was suddenly thrust into the spotlight as the UK's future Queen.
Taking up that role in 1952, Elizabeth II has reigned for 70 years, and celebrates her Platinum Jubilee this June.
As the Queen celebrates her ninety-sixth birthday, Lorna Cowan looks at key events in the year of her birth.
Barbra Streisand at 80
With a career spanning seven decades, Barbra Streisand is an American singer, actress, writer and philanthropist who has won the heart of fans all over the world.
She's one of the few entertainers who has been awarded an Emmy, Grammy, Oscar and Tony award. She's also sold an estimated 72 million records.
As Barbra celebrates her eightieth birthday this week, we take a look back at her amazing life and many outstanding achievements.
Elsewhere in the April 23, 2022 issue, we have a collection of delicious recipes for a St George's Day feast. Plus we have a craft project to make a pretty and practical fabric pouch.
We hope you enjoy it. Let us know what you think.
---
Has this sneak peek at our April 23, 2022 issue encouraged you to subscribe to the "Friend"? Click here. If you do, your "Friend" will come straight to your doorstep! 
You can also take out a digital subscription, meaning your issue will come straight to your computer, tablet or phone! And it's great value for money. Click here for a sneak peek at that!