Fiction Sneak Peek: May 21, 2022 Issue
---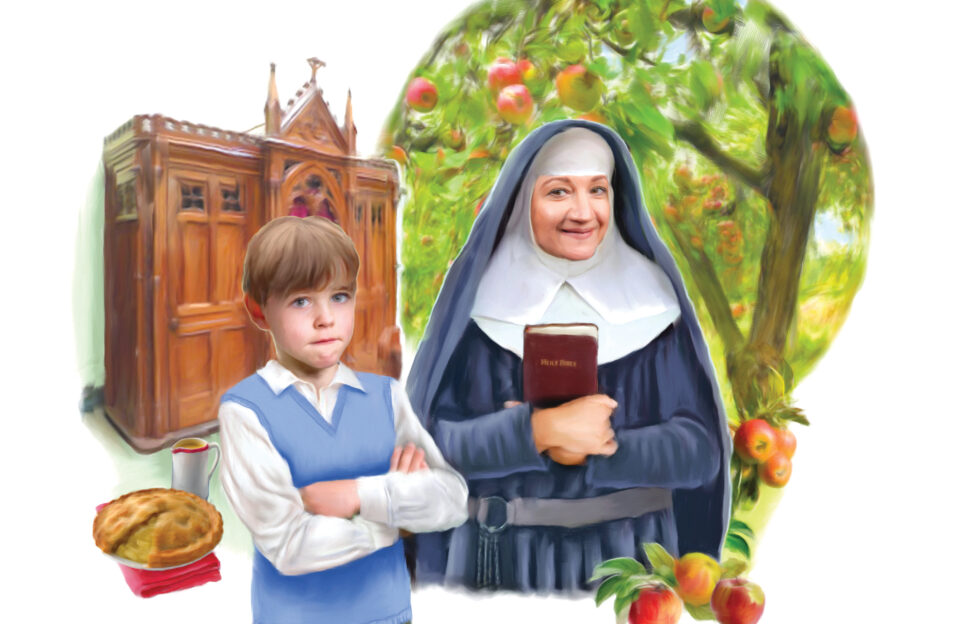 Artwork: Pat Gregory
Hello, and welcome to our weekly round-up of fiction in our latest issue.
Our opening story this week is "Healing Waters", by Becca Robin. Newcomers, Cathy and Danny, are welcomed to the village, but still have to contend with grouchy neighbour, farmer Alf Prossington. Does he have a softer side? Illustrated by Kirk Houston.
One little lad has a good reason for being worried about his First Confession, in Tony Redcliffe's lighthearted "Forgive Me, Father". Artwork by Pat Gregory (above).
In "It's Good To Talk", by Gabrielle Mullarkey, cleaner Trudi finds her choice of conversation partner is often limited! With a Shutterstock illustration.
James and Vanessa are at a crossroads – since they started looking for a house together, they can't seem to agree on anything. Aunt Thelma's tea set comes to the rescue, in "China Crisis!" by Vanda Inman. Artwork by Ruth Blair.
A little more colour is needed in one woman's life, in "Sparking Joy", by Beth Watson. Illustration from Manon Gandiolle.
Our next story is by a debut author – a warm welcome to Writer of the Week, Cathy Cade. In "Making Amends", a new grandchild is on the way, and it's time to forgive and forget…Artwork from Jim Dewar.
When Helen's sister-in-law asks what she'd like for her birthday, Helen jokingly asks for a man. When her birthday arrives, the doorbell rings, but it can't be…can it? Eirin Thompson's "A True Gentleman" has a Philip Crabb illustration.
Serials
A brand-new three-part serial begins today – "Lily Of The Valley" by Alison Carter. We're in 1924, and Lily is determined to make it in the perfume business….With artwork throughout by Andre Leonard.
In Part Three of "The Roses Of Weston Bridge", seeing Ken for the first time since their parting is bound to have an effect on Roxie…Petrika North's serial is illustrated by Helen Welsh.
Series
There's an exciting announcement, in Eirin Thompson's "Read All About It"…
While in "Riverside", by Glenda Young, will Mary's advice to Jim fall on deaf ears?