The Big Jubilee Lunch: Nadia Sawalha's Jubilee Sherry Trifle
---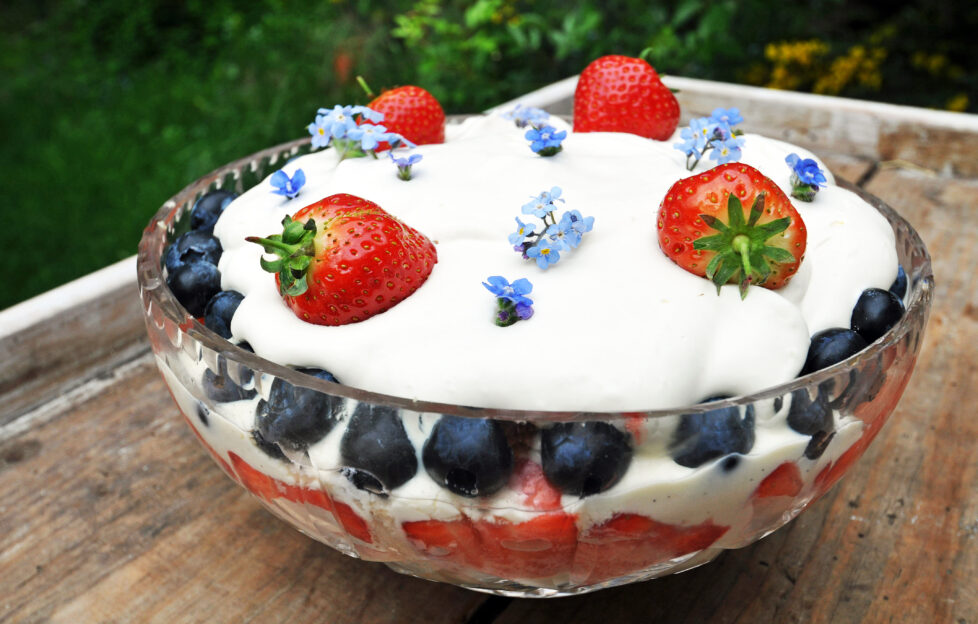 Ingredients
300 ml (½ pt) double cream
1 tbs vanilla extract
Icing sugar, optional
1 Madeira loaf
100 ml (3½ fl oz) sherry
2 heaped tbs strawberry jam
1 x punnet strawberries
Shop-bought vanilla custard (best quality you can find)
1 x punnet blueberries
Everyone is invited to join The Big Jubilee Lunch, part of the official celebrations for HM The Queen's Platinum Jubilee this summer. Take part by trying out Nadia's Jubilee trifle for your celebrations!
---
GET READY TO TUCK IN TO THE BIG JUBILEE LUNCH!
The UK's annual get-together for neighbours is getting a right royal makeover this year. Millions are busting out the bunting for street parties, community BBQs and garden get-togethers.
To help you impress the neighbours this June, a host of celebrities have shared their favourite recipes. It'll be a mouth-watering Big Jubilee Lunch to remember. Get ready to tuck in from June 2-5!
Here's Nadia's easy and delicious dessert to get you started!
In a bowl, whisk the cream and vanilla extract until thickened. If you want, you could add some icing sugar for extra sweetness, although I don't bother.
Slice the Madeira cake, drizzle with sherry and spread jam on it. Find your best bowl and line the bottom with the slices. Build up layers of cake, strawberries, and custard.
When you have reached the top, put a circle of blueberries around the edge and top with the whipped cream, more strawberries and blue flowers to decorate.

Or try our Jubilee Raspberry Fondant Fancies!
Send it in!
The People's Friend team would love to see your creations. You can send them to peoplesfriend@dctmedia.co.uk for a chance to be shared on social media or in the magazine!
---
For more recipes, visit our Cookery section. Or you can subscribe to "The People's Friend" here, to make sure you'll never miss another one of our great patterns and projects.