The Big Jubilee Lunch: Roasted Vegetable, Pesto and Feta Tarts Recipe
---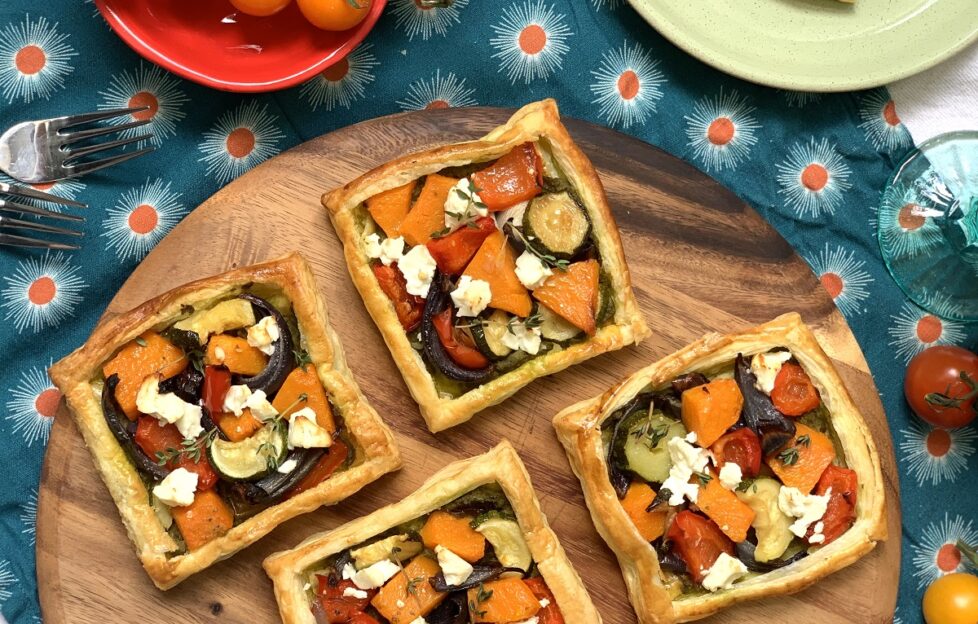 Recipe courtesy of Alice Fevronia, @alice.fevronia, for The Big Lunch
For the Puffy Pastry:
220 g (7¾ oz) plain flour
1 tsp salt
250 g (9 oz) unsalted butter
1 beaten egg yolk (for egg wash)
For the Filling:
½ a butternut squash
2 red onions
1 red pepper
1 courgette
100 g (3½ oz) pesto
75 g (2⅝ oz) crème fraîche
30 g (2 oz) feta cheese
Pinch of salt
Few sprigs of thyme
Recipe courtesy of Alice Fevronia, @alice.fevronia, for The Big Lunch
Everyone is invited to join The Big Jubilee Lunch, part of the official celebrations for HM The Queen's Platinum Jubilee this summer. Take part by trying Alice's roasted vegetable, pesto and feta tarts recipe for your celebrations!
---
GET READY TO TUCK IN TO THE BIG JUBILEE LUNCH!
The UK's annual get-together for neighbours is getting a right royal makeover this year. Millions are busting out the bunting for street parties, community BBQs and garden get-togethers.
To help you impress the neighbours this June, a host of celebrities have shared their favourite recipes. It'll be a mouth-watering Big Jubilee Lunch to remember. Get ready to tuck in from June 2-5!
Try this tasty Roasted Vegetable, Pesto and Feta Tarts recipe from GBBO's Alice Fevriona!
Makes: 6 tarts
To make the pastry, place the flour, salt and butter in a bowl and use a knife to cut the butter into the flour. With cold hands, rub it in just a little.
Add 150ml (5 fl oz) very cold water very slowly, just enough to bring it all together; you may not need all the water.
Wrap the dough and chill for at least 30 minutes.
Roll out the dough into a rectangle. Fold the top third over and the bottom third over that.
Place in the fridge for 20 minutes, and then repeat this process 4 times, rotating the dough through 90 degrees each time.
Pre-heat the oven to 220°C/425°F/Gas Mark 7.
To make the filling, chop the squash, onions, pepper and courgette into small chunks, add to a baking tray and toss in a little oil. Roast in the pre-heated oven for 20 minutes.
Reduce the oven to 200°C/400°F/Gas Mark 4.
Make sure the dough has rested in the fridge for at least 30 minutes before using, then roll out to about 35 x 25 cm (14 x 10 in) and divide into 6 squares, scoring a thin border around the outside.
Mix the egg yolk with 1 tablespoon of water and with a pastry brush, lightly egg wash the pastry.
Bake in the oven for around 15 minutes until puffed and lightly golden.
Meanwhile, mix together the pesto and crème fraiche.
Carefully push down the centre of the puffed tarts, fill with the pesto and crème fraiche, and top with the roasted vegetables, feta and salt.
Bake for a further 10 minutes, remove from the oven and sprinkle with thyme. Enjoy!

Or try Nadia's Jubilee Sherry Trifle!
Send it in!
The People's Friend team would love to see your creations. You can send them to peoplesfriend@dctmedia.co.uk for a chance to be shared on social media or in the magazine!
---
For more recipes, visit our Cookery section. Or you can subscribe to "The People's Friend" here, to make sure you'll never miss another one of our great patterns and projects.