Fiction Sneak Peek: June 18, 2022 Issue
---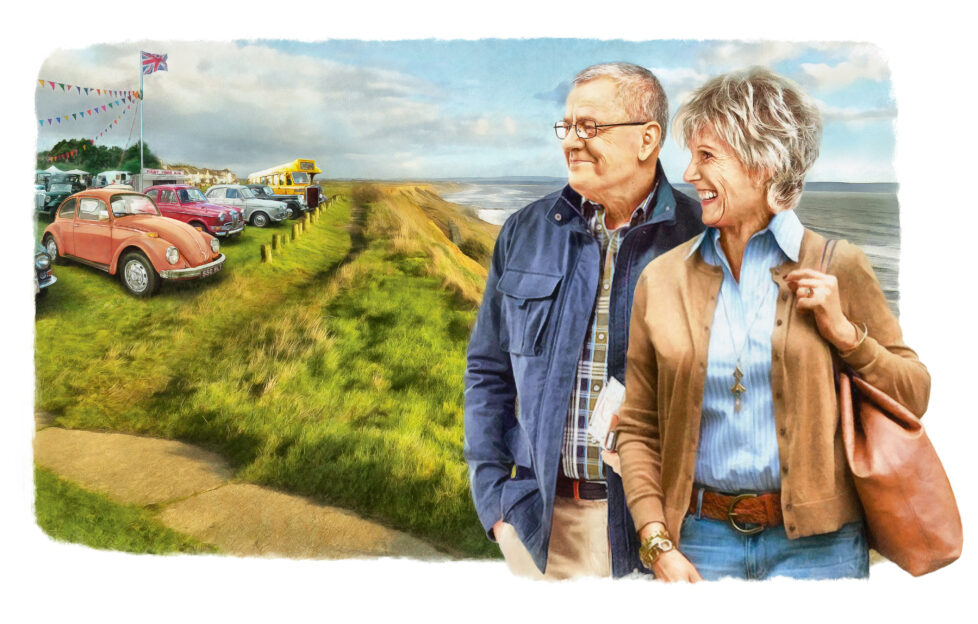 Artwork: Gerard Fay
We've got a week of reading all ready for you – with seven brand-new stories and two serials to enjoy.
Detectives Glyn and Chrissie are back, in our opening story – Val Bonsall's "Branching Out". The detective duo are investigating a case involving some dodgy workmen – or is there more to it? With artwork by Philip Crabb.
Sisters Jan and Maria have always been close, but since Maria's husband died, there's an invisible wall between them. "Like Old Times" is written by Teresa Ashby.
Julie is facing cinema trips without boyfriend, Paul, in Elizabeth McKay's "Separate Ways"…
…and we welcome a debut author next – Amanda Quinn. In "On The Road Again", an impromptu visit to a car show reminds one couple of what's most important…with artwork by Gerard Fay (above).
There's "A Holiday Cat-astrophe" next, when one couple's relaxing break turns out to be anything but! Gwen Rollinson's fun story is illustrated by Sarah Holliday.
When Helen points out that her sister-in-law-to-be is a bit of a chatterbox, it causes a family rift. Eirin Thompson's "Look Who's Talking" is illustrated by Fahimeh Tari.
Acronym-loving Jackie is floored when her husband leaves her, in our final story of this week. But she determines to get back on her feet ASAP. Gabrielle Mullarkey's Keep It Short" is illustrated by Sarah Holliday.
Serials
A new six-part serial starts today – "Summer At The Chateau", by Kate Finnemore. What does the season have in store for new arrivals to Saint-Martin-des-Vallees? Artwork by Mandy Dixon.
It's Part Two of Sarah Batten's "The Legend Of Wychwood Manor", and just who is the mystery woman spotted falling from the cliffs? Artwork by Sailesh Thakrar.
Series
Chloe and Alice's business is beginning to take shape, in Jan Snook's "Wedding Designs"…
…and in Glenda Young's "Riverside", Bullseye Bev has a lot to answer for!