The Windrush Story: Windrush Child by Benjamin Zephaniah
---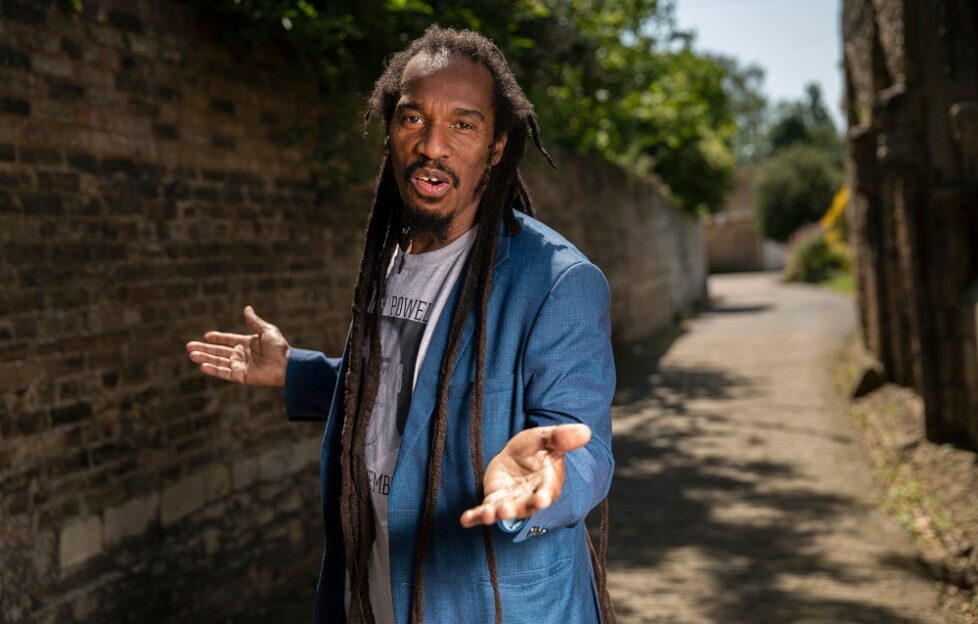 To celebrate Windrush Day 2022, we're sharing this 2021 feature on Benjamin Zephaniah and his book looking at the Windrush story from a child's perspective…
---
Benjamin Zephaniah is a busy man. He's famous for performance poetry, which is strongly influenced by the music and poetry of Jamaica, Benjamin is also an acclaimed novelist, musician, presenter and actor. He's appeared in hit shows such as "Peaky Blinders".
Benjamin tells me that he could never have anticipated achieving this kind of success as a child growing up in Birmingham.
"When you're raised in the kind of family I was raised in, you're told that writers are not people like you.
"These people that write books, they come from a completely different cultural and intellectual place. But I did always have a love of words.
"I got into trouble at school because I was always asking questions and challenging teachers.
"That, combined with mixing with the wrong crowd, got me excluded from school."
The Power Of Words
Benjamin turned his life around and is now one of Britain's best-loved poets and writers. He uses his words to speak out on local and international issues, including political injustice.
"I do a lot of school visits. Often the children will ask me about the greatest things that I've ever done.
"I think they expect me to say things like winning an award or meeting Nelson Mandela. But I always say that the best thing I've ever done is learn to think for myself."
One of the many ways that Benjamin expresses himself is through his novels for children.
His most recent book, "Windrush Child", tells the story of Leonard, a boy who arrives in the port of Southampton with his mother.
"I've always wanted to write something about Windrush for young adults, and I wanted to do it from a particular point of view.
"In my book, we follow this boy from Jamaica to England, and all the time you stay with him.
"I wanted the reader to grow up with him and see what it was like going to school at that time – the racism, the cultural differences.
"The boy can't understand why he's leaving the island paradise and going to a bedsit in Manchester.
"He can't understand why his parents think this is a better life."
A Child's Perspective
Benjamin says that it was important to him to write from the boy's perspective.
"I wanted to tell the Windrush story from the eyes of a young boy. I'm fascinated with the way children and young people see the world, because they see it from down there.
"When people talk about Windrush, they often talk about data and statistics, but there are human beings behind the stories.
"When I see that iconic bit of film, I'm watching the kids coming off that ship, holding Mummy's hand and just looking around.
"When I watch that I'm wondering what they are thinking and where are they now.
"That's really what I wanted to explore.
The Windrush Story
"It's such an important story, the Windrush story. The way that the Windrush generation changed Britain is immense.
"They changed the NHS, they changed the way the buses and trains operate.
"The programme that I'm making at the moment shows that they changed football – literally changed the way the game was played.
"I didn't realise, to my shame, until the other day that there were Windrush generation coal-miners in Nottingham and other places, too. Black men who went down into the coal mines."
Benjamin tells me that he believes words have the power and ability to connect the human race.
---
Read Alan from the Fiction Team's blog on the power of stories.