Features Sneak Peek: July 30, 2022 Issue
---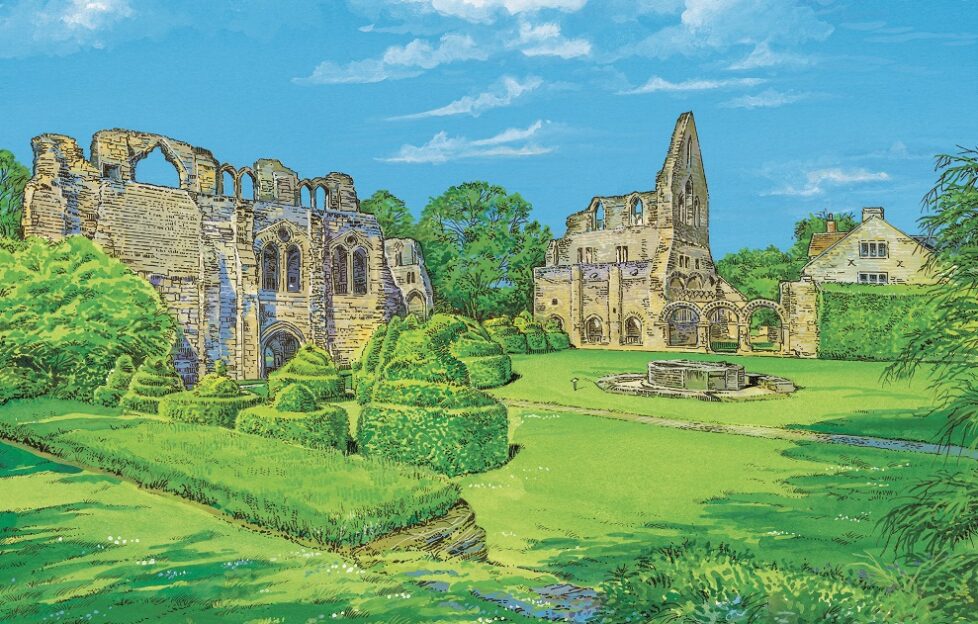 Illustration by DC Thomson Ltd.
Simon Whaley keeps up with the pace in the historic town of Much Wenlock, in the July 30, 2022 issue of "The People's Friend".
Join Simon as he visits Ippikins Rock. This craggy limestone outcrop on Wenlock Edge has far-reaching views across the glorious Shropshire countryside. According to geologists, all 17 miles of Wenlock Edge's wooded escarpment used to lie under a warm tropical sea. Quarrying has unearthed thousands of fossilised remains, all typical of creatures that once lived in much warmer seas.
The National Trust owns and manages some of Wenlock Edge, and there are glorious waymarked walks through the trees. Look out for dormice nest boxes on the trunks, for Wenlock Edge is home to the largest population of hazel dormice in Shropshire.
A welcoming road sign declares Much Wenlock as the birthplace of Dr William Penny Brookes, founder of the modern Olympic movement. The town's fascinating local museum explains how this came to be.
Our final destination is a circular stone tower, all that remains of Much Wenlock's windmill. There's a great view from up here and it's a lovely place to relax and reflect.
BBC Children's Programmes
For the past 100 years it has been a part of all our lives. Everyone recalls the programmes that brought them fun and laughter in childhood.
Some will have been on radio, many on television, but whether we listened or watched, children's broadcasting has been a constant.
Now, as part of a year of celebrations marking 100 years of broadcasting, the BBC is ensuring that this vital part of its output is given its rightful place.
The very first children's broadcast on radio was "Children's Hour" in 1922. The programme saw the commission of the first radio drama, the first musical and regular storytelling.
From "Watch With Mother" to "Blue Peter", the BBC has launched many beloved programmes.
Bill Gibb learns more about the BBC's most popular children's programmes.
Book Aid International
Reading a book is one of life's simple pleasures, but sadly, many people struggle to access good quality reading materials.
Thankfully, Book Aid, the UK's leading international book donation and library development charity, is working to change that by providing brand-new books to thousands of libraries, schools, universities, refugee camps, hospitals and prisons worldwide.
In the magazine, Dawn Geddes talks to Emma Taylor to find out more about how Book Aid are harnessing the transformative power of reading.
Groundswell Scotland
We all know how calming the sea can be in times of stress.
While most of us settle for a stroll along the beach, Groundswell Scotland, a non-profit surf therapy organisation based in the Scottish Borders, is encouraging women to go further and dip their toe into the world of surfing.
Founder and director Sally Harris wanted to bring a feminine energy into surfing and provide women with a way of being part of nature and moving through any trauma they have in their lives.
Find out more in the magazine.
Bayeux Tapestry Reconstruction
It seems fair to assume that Mia Hansson has a keen interest in history, given her current project of stitching her own version of the Bayeux Tapestry.
This tapestry is universally recognised as a memory of the world, given its depiction of coronations, battles and trials of life in the 11th century.
About six years ago, Mia heard that someone was creating a half-size replica of the Bayeux Tapestry. Mia thought that sounded fun but if you're going to go big, you might as well go full scale!
Ali Henderson caught up with Mia to find out more.
Elsewhere in the July 30, 2022 issue, we have a collection of delicious recipes for school-holiday snacks! Plus we have a craft project to make a short-sleeved top.
We hope you enjoy it. Let us know what you think.
---
Has this sneak peek at our July 30, 2022 issue encouraged you to subscribe to the "Friend"? Click here. If you do, your "Friend" will come straight to your doorstep! 
You can also take out a digital subscription, meaning your issue will come straight to your computer, tablet or phone! And it's great value for money. Click here for a sneak peek at that!