Fiction Sneak Peek: July 30, 2022 Issue
---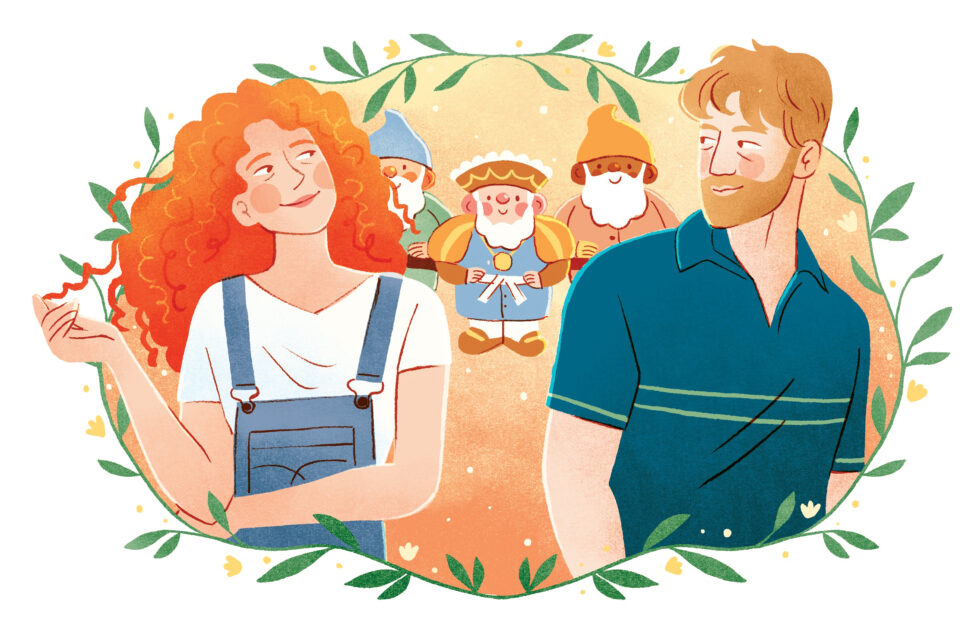 Artwork: Sarah Holliday
A very warm welcome to our whistle-stop tour of the fiction in this week's issue!
Our opening story this week is "A French Connection", by Claire Buckle. Phoebe and her gran bond over their holiday romances. Artwork by Ged Fay.
In "Getting To Gnome You", by Sara Partington, garden centre owner, Flora, is intrigued by her new neighbour. Artwork from Sarah Holliday (above).
When Marmalade the cat keeps bringing home assorted stolen items, can a post on a residents' Facebook page solve the mystery of who it all belongs to? "The Cat Burglar" is by Liz Filleul.
Finding a suitable birthday present proves something of a challenge, in "Something Special", by Sue Cook. Illustrated by Jim Dewar.
Judy has landed the lead role in a play, but in her heart lies a burden…"Tomorrow Is A Lovely Day", by Becca Robin, features artwork by Mandy Murray.
Can a trip to Cornwall help rekindle an old flame? "On Bugle Bay", by Carol Probyn, is illustrated by Mandy Dixon.
Penelope's gran harboured secret ambitions to be a spy, back in the day. As Penelope has some unanswered questions about her boyfriend, now seems as good a time as any to try out surveillance techniques! "The Name's Bond" is by Eirin Thompson.
Serials
A brand-new four-part serial starts today – "Love And Best Wishes", by Suzanne Ross Jones. Violet made a promise to her late husband, and is applying for a job with a greetings card company – but is it the right move? Illustrations by Kirk Houston.
In Part Two of Pamela Kavanagh's "The Apothecary's Apprentice", Jennet and Anthony continue to meet in secret. Meanwhile, the herb gatherers have returned to town… Artwork by David Young.
Series
There's a missing groom in this week's "Wedding Designs", by Jan Snook…
…while over in Glenda Young's "Riverside", there's an uninvited guest on George's boat trip…