Features Sneak Peek: August 6, 2022 Issue
---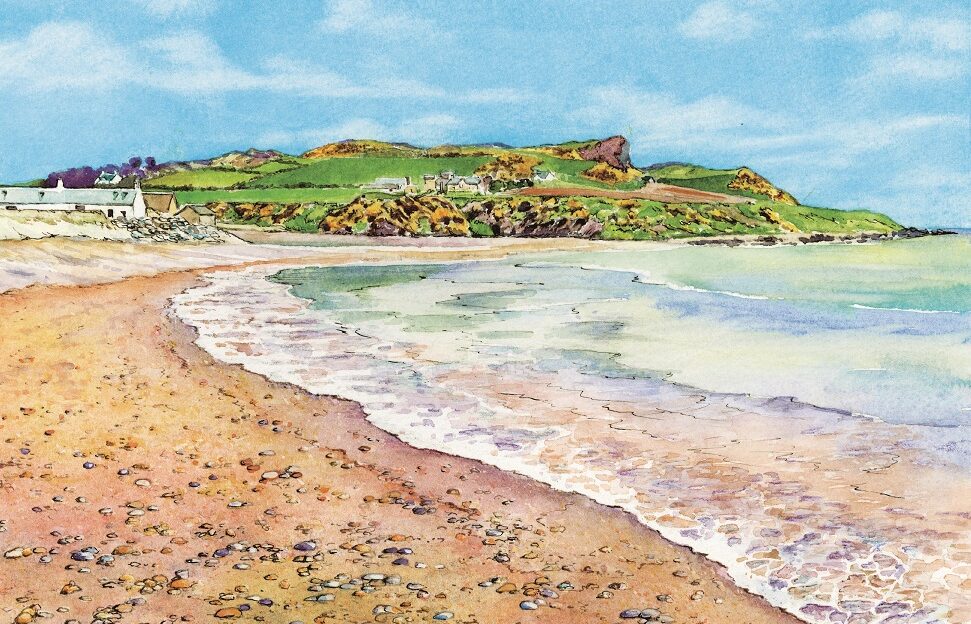 Illustration by DC Thomson Ltd.
Willie Shand enjoys a jaunt from Inverbervie to Johnshaven on Scotland's east coast, in the August 6, 2022 issue of "The People's Friend".
Join Willie as he walks along the Mearns coast. It's an easy walk, following the route of the former Inverbervie to Montrose railway line. We'll head down to the water's edge and spend time rummaging around the millions of rounded pebbles on the steep, shelving beach.
Later we'll pass the private school of Lathallan, which used to be Brotherton Castle. It was here that the Old Pretender, James VII, stopped off to visit his friend the laird before hot-tailing it to France. Unfortunately, the turmoil and destruction he left in his wake was only to be repeated when his son, Bonnie Prince Charlie, performed a similar disappearing act in 1746.
Willie shares this and many other tales in the magazine.
Free My Meal
Being able to eat when we need to is something that most of us take for granted, but food poverty is a real challenge for many people.
Thankfully, help is at hand through Free My Meal, a not-for-profit organisation that puts people who have a surplus of food in touch with those in need.
Dawn Geddes chats to the founder of the initiative, Hayley Steere, to find out more.
Truly Pawsome
If you were asked to think of a heroic animal, a cat probably wouldn't be the first one to spring to mind.
More likely you're imagining Lassie racing to the rescue, or even Skippy the Bush Kangaroo bounding off to rustle up a rescue party.
But with August 8 being International Cat Day, it's time to set the record straight, because as some fearless felines prove, it's not just border collies that get to save the day!
Sarah Muir uncovers acts of outstanding heroism by our feline friends.
Wild Farming Life
For many years, Lynn Cassells and Sandra Baer had indulged themselves in the pipe-dream of upping sticks and giving themselves a "simpler" life.
They wanted to be outdoors and work the land – to be the masters of their own destiny. Lynn and Sandra were also aware that realising their dream meant moving away from family, friends and secure jobs.
They clung on to the hope that realising their "escape plan" was feasible. And, against all odds, they bought the croft of their dreams, shrouded by the rugged landscape of the Cairngorm Mountains, a far cry from their home in south-east England.
Yvonne on the Features Team chats to Lynn and Sandra to find out more about their new life.
Elsewhere in the August 6, 2022 issue, we have a collection of recipes that are perfect for the summer holidays! Plus we have a knitting pattern to make a cardigan.
We hope you enjoy it. Let us know what you think.
---
Has this sneak peek at our August 6, 2022 issue encouraged you to subscribe to the "Friend"? Click here. If you do, your "Friend" will come straight to your doorstep! 
You can also take out a digital subscription, meaning your issue will come straight to your computer, tablet or phone! And it's great value for money. Click here for a sneak peek at that!