Fiction Sneak Peek: September 24, 2022 Issue
---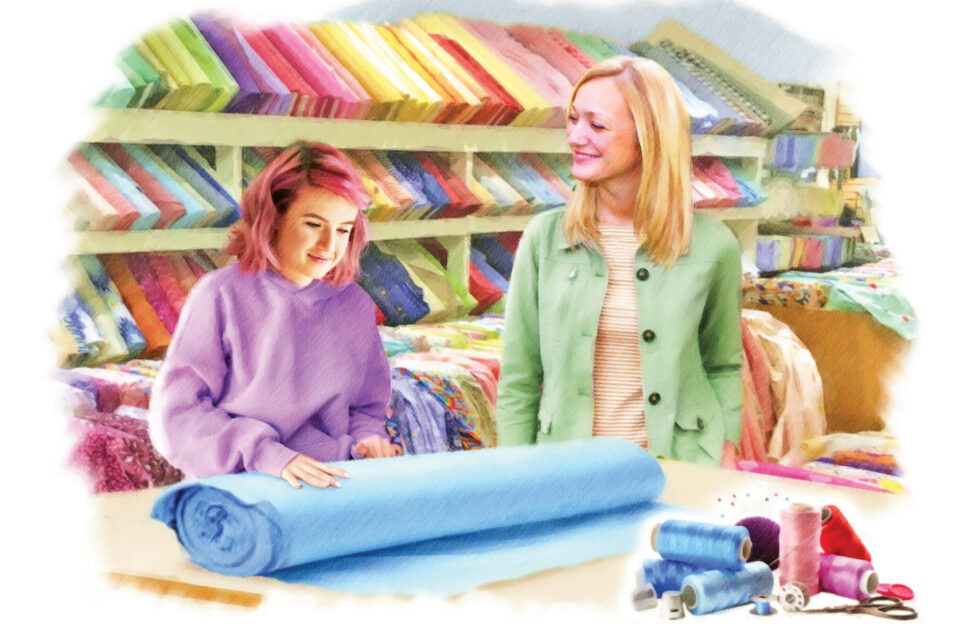 Artwork: Ruth Blair
Welcome! Here's our weekly sneek preview of the fiction in our latest issue.
Seven Brand-New Short Stories
This week's opening story is "On A Roll", by Gwen Rollinson. Can Rachael and daughter Chloe bond over their love of sewing? Artwork by Ruth Blair (above).
Linzi isn't sure her boyfriend's telling her the whole story, in "A Hidden Chapter". By Becca Robin, it's illustrated by Jim Dewar.
There's "Romance On The Rails", next, and it feels like something out of a film! By Fran Tracey.
Maureen and Jean have a difference of opinion, in Eirin Thompson's "In Your Dreams". With artwork by Ruth Blair…
…while one girl and her job have an important job to do, in Pauline Bradbury's "Team Maisie"! Artwork by Ruth Blair.
When Pamela passes her Eleven Plus and heads for grammar school, her parents feel as though they've won the pools. But Pamela feels the call of the outdoor life. "Teacher's Pet", by Christina Hollis, is illustrated by Pat Gregory.
Our final story this week is "Loved And Lost". The memory box had held precious memories, and now it was gone…by Teresa Ashby.
Serials
A brand new seven-part serial starts today – and a visit to an aunt in South Africa could be just what's needed. "Welcome To Hannah's House", by Ginny Swart, is illustrated by Gerard Fay.
In Part Two of Alison Carter's "London Calling", Florrie and Tony are finding that their friendship is rock solid, whatever happens…artwork by Andre Leonard. Final part in next week's issue.
Series
It's time to toast the kindness of strangers, in Jan Snook's "Wedding Designs"…
…while over on "Riverside", it's time for the Ship Inn's new weekly quiz night! By Glenda Young.