"The Magic Of Christmas" Has Arrived!
---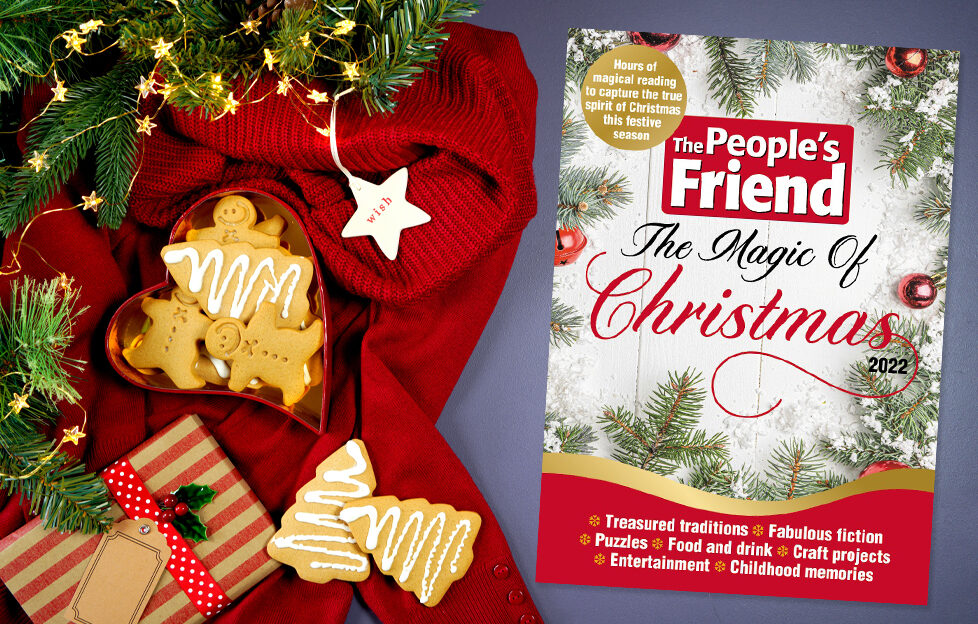 Copyright of DC Thomson. Flatlay image from Shutterstock.
Can you believe it's that time of year already? Christmas is in less than 100 days, which means it's time for the second annual "The People's Friend The Magic of Christmas" bookazine. Here's a little taster of what you can expect this year.
---
The last two years of Christmas have been different, to say the least. "The Magic of Christmas" bookazine was released for the first time last year after the quiet Christmas of 2020, but even in 2021 we weren't out of the woods yet.
Well, it's back for a second year and hopefully, a more normal and complete Christmas! Of course, this year isn't without it's trials and struggles, too. Which is why we've filled these pages with the true spirit of Christmas and to bring that cheer to everyone who reads it.
You may be starting to think about your Christmas shopping, or the more organised among you may have even already started! While you're filling your physical or online baskets with gifts, why not treat yourself to "The Magic of Christmas" too?
Inside, you'll find brand-new fiction, puzzles, cosy crafts, magic memories and all the things we love most about this time of year.
What's Inside "The Magic Of Christmas"?
The Twelve Songs of Christmas tells the familiar story of Christmas through the songs that were written for it. The Twelve Crafts of Christmas include felt baubles, yarn-wrapped candy canes, stockings and more to share with the little ones in your life. Get inspiration for Christmas recipes and show off to your guests and family with an extended Cookery section that even covers cocktails!
We take a look at the Bygone Days of "The People's Friend" Christmas issues of old and all the history that we've kept readers company through. And any film/TV buffs will love our Seasonal Screenings – our favourite festive showcases.
And let's not forget about our fabulous fiction. In our opening story by Alison Carter, "From The Heart", Nina wonders if the spirit of Christmas is a thing of the past. But then a truly-appreciated gifts helps her remember the joy is in the giving, as well as the receiving. This story features artwork by Manon Gandiolle.
"Making Merry" by Alison Wassell is the story of Gwyneth who, following her daughter's emigration Down Under, is facing her first Christmas alone. When sharp-tongued neighbour Dilys suggests getting together on Christmas day, it's a surprise to say the least! The illustration featured is by Sarah Holliday.
There's tonnes more Christmas cheer to find in "The Magic of Christmas" bookazine. It's available in some select stores, but the best way of getting your hands on it is purchasing from the DC Thomson Shop. We have lots of other products to offer that would make great Christmas gifts, too, like calendars, towels, diaries and jigsaws!
Wishing you all a happy and healthy Christmas season.