Features Sneak Peek: October 15, 2022 Issue
---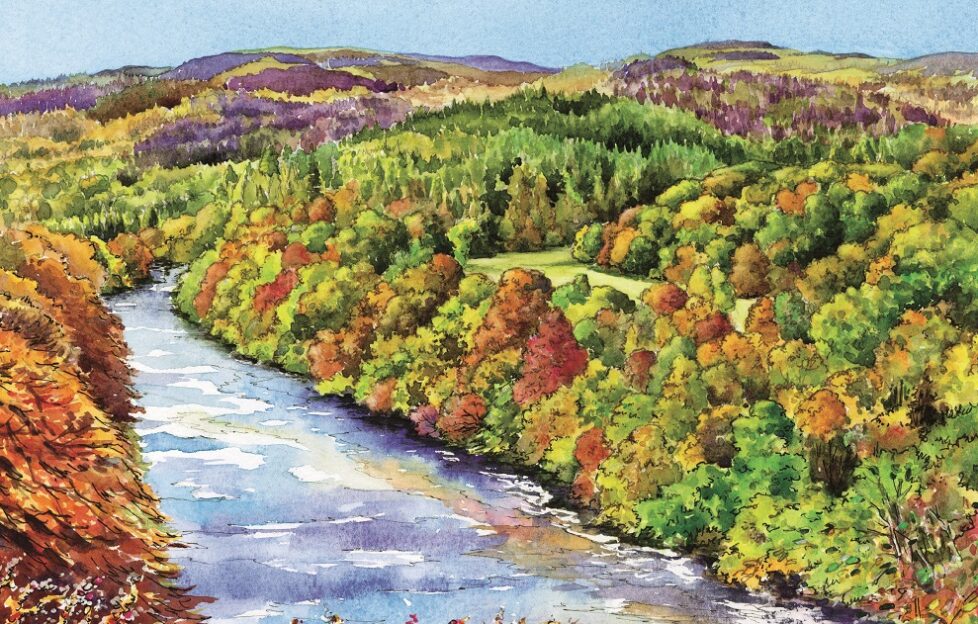 Illustration by DC Thomson Ltd.
Willie Shand heads for Perthshire, taking in glorious autumnal views along the way, in the October 15, 2022 issue of "The People's Friend".
When we stop off at Garry Bridge, three miles north of Pitlochry, it's to view the tree-filled Pass of Killiecrankie in all its autumn glory. The view over the river and away to Creag Eallaich is breath-taking. Join Willie as he walks up Craig Fonvuick. At 1,345 feet high, it's not as high as other Scottish hills, but the views are incredible.
While we're here we'll see Tenandry Kirk, which dates from the mid 1830s. This was built as a Chapel of Ease – a term relating to churches provided to accommodate worshippers who otherwise faced long walks to attend services. Before this church was built, some of Tenandry's parishioners had a good 24-mile round trip to walk every Sunday!
Home-Start
Sitting at a community centre, Caroline Mugambi reached her lowest ebb and broke down in tears as she struggled to look after her two young children.
But salvation came for Caroline through charity Home-Start in Suffolk – and now she is repaying that critical aid by helping others.
She has become a trustee of the family support charity, aiming to steer other mums clear of the troubles she faced. Bill Gibb learns her story in the magazine.
Dogs With Jobs
Most dog owners feel proud if their four-legged friend walks to heel, gives a paw or retrieves a ball.
However, there's a four-year-old springer spaniel called Bracken that can do all this and much more.
As an assistance dog trained by the charity Dog A.I.D., he can switch a light on, take his owners socks and shoes off and even empty the washing machine.
Lorna Cowan discovers more about Bracken's abilities in the magazine.
50 Years Of Emmerdale
For loyal fans of ITV's "Emmerdale", it's hard to believe that 50 years have almost passed since the first episode on October 16, 1972, when viewers were introduced to the Sugden family, who were living on Emmerdale Farm.
On daytime television twice a week., alongside the likes of "Crown Court", "General Hospital" and "Mr And Mrs", the programme was originally intended to run for only 26 weeks.
Five decades later, the award-winning soap airs on primetime TV every weekday evening, and rumours are rife as to what is planned for its 50th anniversary.
Join us as we go behind the scenes to remember some of our favourite characters and dramatic storylines.
Elsewhere in the October 15, 2022 issue, we have a collection of recipes to make on a budget. Plus we have a knitting pattern to make a tank top.
We hope you enjoy it. Let us know what you think.
Has this sneak peek at our October 15, 2022 issue encouraged you to subscribe to the "Friend"? Click here. If you do, your "Friend" will come straight to your doorstep! 
You can also take out a digital subscription, meaning your issue will come straight to your computer, tablet or phone! And it's great value for money. Click here for a sneak peek at that!