Features Sneak Peek: November 5, 2022 Issue
---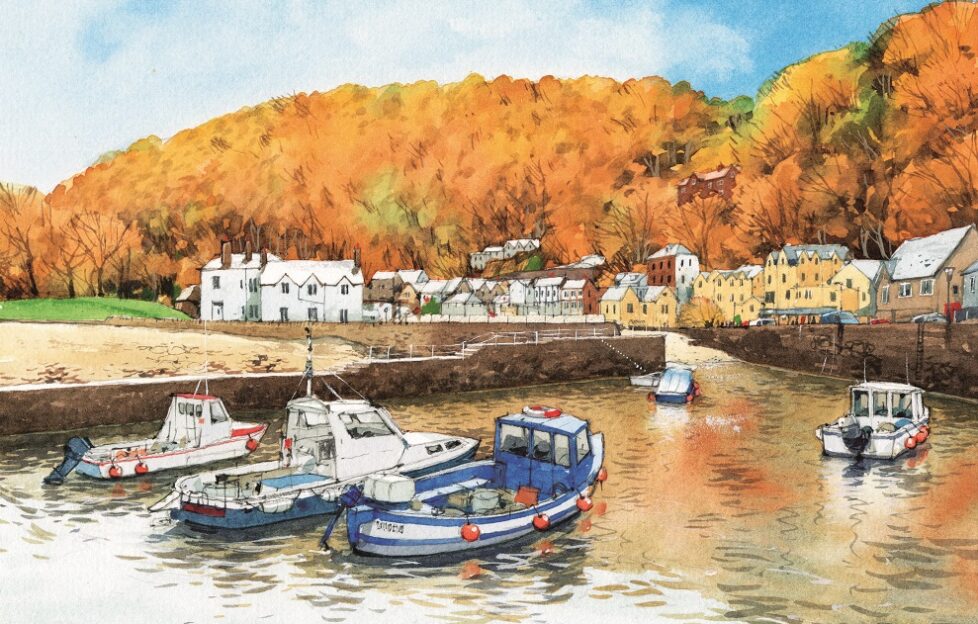 Illustration by DC Thomson Ltd.
Richard Webber experiences the highs and lows of beautiful Lynmouth, in the November 5, 2022 issue of "The People's Friend".
The tiny, picturesque village of Lynmouth, which hugs the rugged North Devon coast, is peaceful when we visit.
Holidaymakers amble along the streets, a handful of boats ride the gentle waves in the harbour and sounds of laughter fill the air. Join Richard as he visits such tourist attractions as a flood disaster exhibition.
Seventy years ago, enough water to supply the area's needs for more than a century crashed down from the hills of Exmoor during one fateful evening. A quarter of Lynmouth's buildings were swept away by the flood.
These days, the village has long since been rebuilt and, strolling down the main street, it's easy to see why Lynmouth is dubbed "Little Switzerland". Find out more about this beautiful area in the magazine.
Multilingual Radio Station
Jambo! Radio Scotland is the only multilingual radio station in Scotland. Aimed at people of African and Caribbean heritage, Jambo! Radio's shows are broadcast in languages that are commonly spoken by people in Scottish communities, including Swahili, Pidgin and Igbo.
Founder George Tah, explains that from its studios near Glasgow International Airport, Jambo! Radio broadcasts a mix of news, current affairs, politics, sport, religion, health and, of course, music.
Janey Swanson tunes into the multilingual station to find out more.
Bletchley Park
It was the top-secret location that saved countless lives.
The work at Bletchley Park, including the cracking of the Enigma Code, changed the course of World War II.
Those responsible, like Alan Turing, deservedly have their place in the history books. A Bletchley Park exhibition aims to shine a light on the normal people doing extraordinary work.
Bill Gibb chats to Peronel Craddock to find out more.
BBC Weather
For 100 years, the BBC has been telling us whether the weather will be sunny or stormy.
From hand-drawn maps to world-class technology, via some memorably unmanageable magnets, the Beeb has been predicting weather for as long as we can remember.
In the magazine, we pick the most unforgettable moments of the last century of BBC weather forecasting.
Elsewhere in the November 5, 2022 issue, we have a collection of vegan recipes. Plus we have a knitting pattern to make a cardigan.
We hope you enjoy it. Let us know what you think.
Has this sneak peek at our November 5, 2022 issue encouraged you to subscribe to the "Friend"? Click here. If you do, your "Friend" will come straight to your doorstep! 
You can also take out a digital subscription, meaning your issue will come straight to your computer, tablet or phone! And it's great value for money. Click here for a sneak peek at that!