Features Sneak Peek: November 26, 2022 Issue
---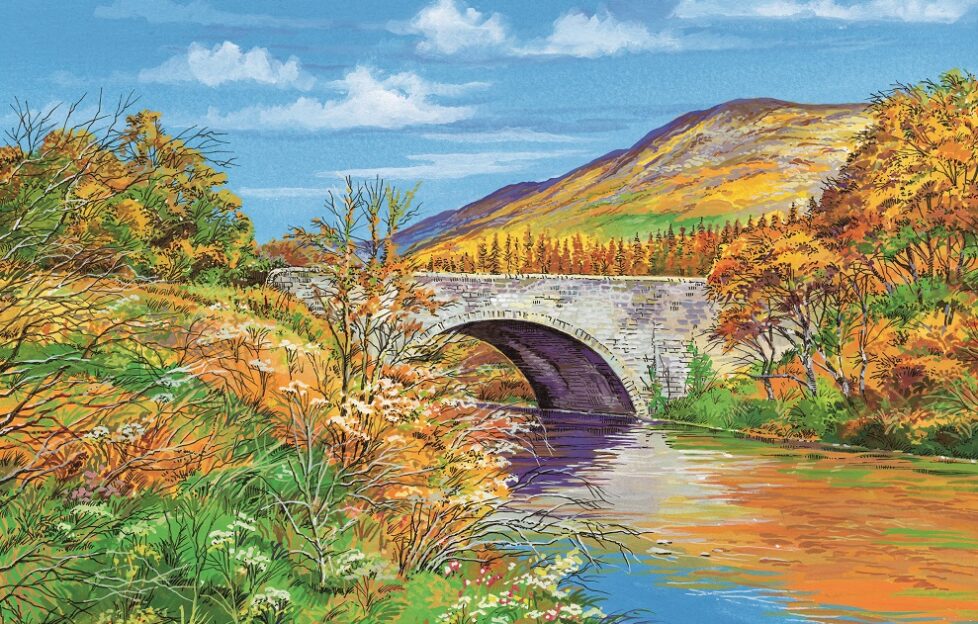 Illustration by DC Thomson Ltd.
Willie Shand takes us into a glen of myths and legends where the Lowlands meet the Highlands, in the November 26, 2022 issue of "The People's Friend".
Nowhere is the transition between the Scottish Lowlands and the Highlands more profound than passing through the Sma' Glen.
The old name for the glen was quite descriptive – An Caol Ghleann, the Narrow Glen. It's a short glen, often deprived of sunshine for much of the day by the enclosing hills, but a glen whose strategic importance has left it steeped in myth and legend – sometimes one indistinguishable from the other.
Join Willie as he explores this area in the magazine.
Supershoes
Years ago, Sarah White saw something on social media about a young lady in America who had painted shoes for poorly children.
Subsequently, she read about a three-year-old boy called Henry Allen who had been diagnosed with a very aggressive cancer. Her heart went out to Henry and his family. The spark to create Supershoes was ignited.
Ali Henderson speaks to Sarah about the charity providing custom shoes for young cancer patients.
80 Years Of Casablanca
Set during World War II, and filmed during the war in 1942, "Casablanca" tells the story of Rick Blaine, a cynical American expatriate who owns a nightclub in Morocco.
The venue is a popular haunt for spies, traitors, Nazis and the French resistance, and when Rick's old flame turns up with her fugitive husband, heart strings are tugged.
Humphrey Bogart and Ingrid Bergman played the lead roles, and the movie won an Oscar for Best Picture.
In the magazine, read more about the famous cast, much-loved songs, settings and memorable scenes, 80 years after the film first appeared on our screens.
The History Of London's Black Cabs
For over 300 years, London's licensed cabs have been taking people all over this always busy, often hectic city.
However, going by cab wasn't always the efficient, safe and comfortable mode of transport it is today.
Hackney coaches first appeared in London in the early seventeenth century. Wealthy coach owners hired out their coaches, horses and coachmen to recoup some of their costs. When they bought new coaches, they sold the old ones to innkeepers, who continued to hire them out. Licencing was introduced towards the end of the century.
Eventually, it became necessary for London cab drivers wanting to obtain their licence to pass the Knowledge, a test that gives them the ability to take anyone anywhere in the city. This test is still required today.
What is it that keeps London's black cabs streets ahead? Motoring historian Bill Munro lets Janey Swanson in on their secret.
Elsewhere in the November 26, 2022 issue, we have a collection of recipes offering a flavour of Scotland for St Andrew's Day. Plus we have a craft project to make a beautiful present sack.
We hope you enjoy it. Let us know what you think.
Has this sneak peek at our November 26, 2022 issue encouraged you to subscribe to the "Friend"? Click here. If you do, your "Friend" will come straight to your doorstep! 
You can also take out a digital subscription, meaning your issue will come straight to your computer, tablet or phone! And it's great value for money. Click here for a sneak peek at that!