An Interview With Andy Saunders: Apollo Remastered
---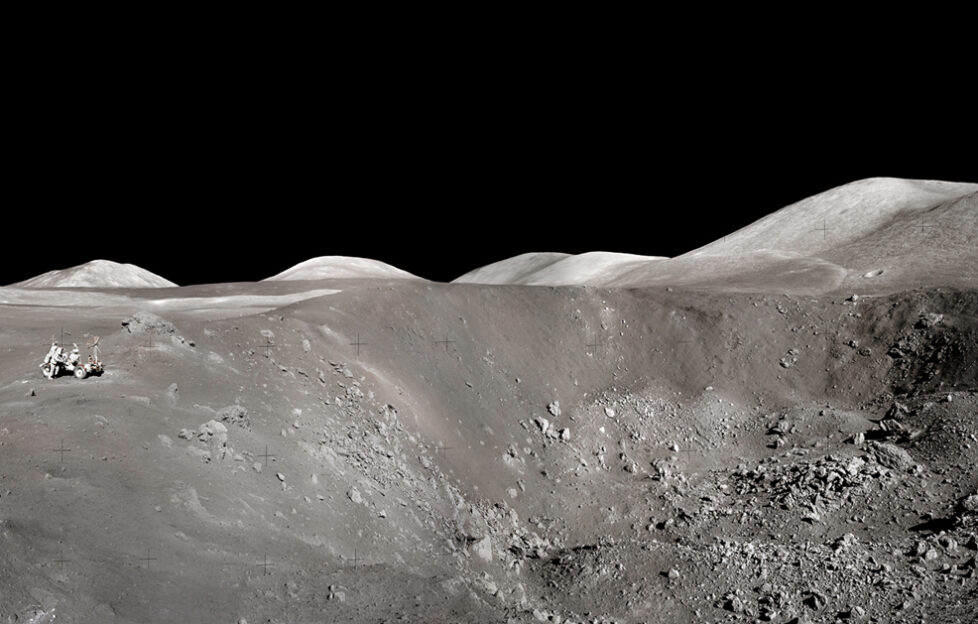 In this week's issue, we spoke to Andy Saunders about Apollo Remastered – his book featuring painstaking digitally enhanced images from the Apollo missions.
It was an absolutely fascinating interview, so we thought we'd share online some of the answers and photos that we just couldn't squeeze on to the page…
---
Did the time fly while you were doing the work, was it a total labour of love? Especially once you started to find hidden details?
"Yeah, I was doing 18 hour days for a while there. 
"And I found where Alan Shepard's golf balls landed! Shepard took golf balls up to hit whilst on the Apollo 14 mission, but nobody ever knew how far they went."
Shepard claimed "miles and miles", but Andy found that his second shot only went 40 yards or 120 feet! 
"I wanted this to be the ultimate photographic record. Like a greatest hits, as well as having new stuff. It's got to have all the classics in but I also wanted images that help tell the story. So I went through about 10,000 hours of image processing. And then there was probably half as long again researching them, because I went through all mission transcripts, the voice recordings, to work out exactly when the photograph was."
Which is your favourite of the missions? And your favourite image?
"As a mission overall, Apollo 9 probably got the best photography, even though it didn't go to the moon.
"I do get asked about my favourite image all the time! To make the book, I had to narrow it down from 35,000 images, which is almost impossible. I hired out the local village hall. Printed them all and when I got it down to about 600, I laid them all out on the floor. I used some poker chips to say which was in and which was out.
"It was a killer, an absolute killer narrowing them down! Obviously the front cover. I wouldn't haven given him [McDivitt] the cover if it wasn't a particular favourite, because it's got a bit of everything. He was in a bad state [the photo]. It's a really cinematic atmospheric shot. I love the ones that reveal the human side. You can see it looks like he's looking…full of wonder. It's such a historic moment – undertaking the docking."
People must have a really visceral reaction to your work. What's the feedback been like so far?
"It's been overwhelming, really. I've been contacted by people in far-flung countries as well as the UK. Particularly folk who are in the 60s and older who lived through it. It made a massive impact on their life, but they really haven't thought about it for 50 years.
"A lot of people have said that they've been brought to tears at the exhibition. I did some talks at the exhibition at the Royal Albert Hall, and I had grown men coming up saying, 'I got really emotional seeing that.' It's seeing these cherished memories brought back to life."
If you had the opportunity, would you want to go to the moon?
"If I could go anywhere in the solar system, I'd go to Tranquility Base. There's no question where, but I absolutely could not. Just the idea of putting that suit on! That helmet and then ram yourself into that tiny capsule. Those folks are just a different breed and I wish I could, but I just know I wouldn't be able to do it.  In a tiny module, basically strapped to the top of a 360-foot bomb!"

See the incredible "before and after" of Andy's work on this shot of astronaut Jim McDivitt. From a speck of light, to a fascinating image of him guiding the module by sight through a tiny window. McDivitt sadly passed away in October of this year, aged ninety-three.
And to top it all, Tracey from our Fiction Team – whose idea it was to speak to Andy for the PF in the first place – went along to his talk at the Glasgow Science Centre recently. A picture of Tracey and her family will be on a capsule headed to the moon soon! The other night she managed to snap a pic with Andy and the PF.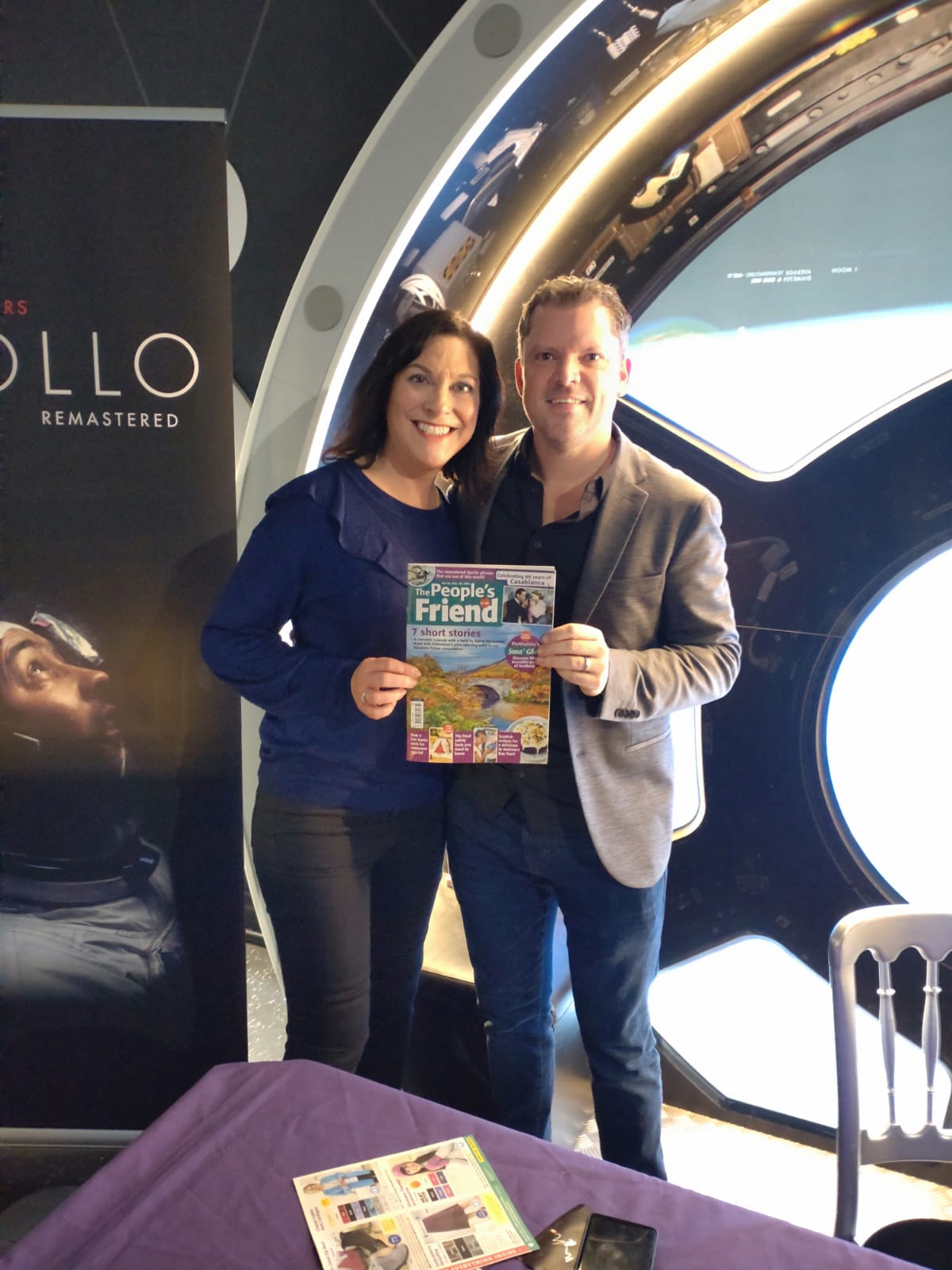 ---
Find out more about Andy's book, including how to buy it at the Penguin website.
Check out some of Tracey's blogs about the Apollo missions, celebrating Apollo 15's 50th anniversary and some fascinating facts about Apollo 13.